Description
Drink + Dine + Learn
Join us for this very special

Tempranillo

event
When: September 29th 4pm - 7pm

Where: /pôr/ wine house | 701 A Main St Louisville, CO 80027

Tickets: $70 per person / $130 per couple

You are cordially invited to join us for a four-course wine dinner featuring Tempranillo.
/por/ wine house is featuring the 5th in a series of the 18 Noble Grapes with Tempranillo.
4 courses, 4 wines, 1 incredible experience.

This 4-course dinner experience will feature 3 wines from the Tempranillo Grape and an additional guest wine. The menu will be prepared and paired by our culinary team to highlight the natural flavors of our premium wine selection.
Tempranillo - PART 5 of 18
If you've never had Tempranillo, or have only tried it in isolated circumstances, this event will quickly bring you up to speed and reveal a few tips about the often undiscovered varietal.
Tempranillo Wine Profile
Pronunciation: "temp-rah-nee-yo"
Tempranillo Characteristics
FRUIT: cherry, plum, tomato, and dried fig
OTHER: cedar, leather, tobacco, vanilla, dill, and clove
OAK: yes; typically aged 6-18 months in American or French Oak
TANNIN: medium-plus tannin
ACIDITY: medium-minus acidity
ABV: 13-14.5%
MAJOR REGIONS: Spain (over 80% of vineyards worldwide), Portugal, Argentina, Australia, USA
575,000 acres / 232,700 hectares (2010)
COMMON SYNONYMS:
Tinto del Toro, Tinta Fina, and Tinto del Pais (Spain); Tinta Roriz & Aragonez (Portugal)
OTHER NAMES:
Rioja, Valdepeñas, Ribera del Duero
---
Take your taste buds on an adventure around the globe. /por/ wine house will be offering the fifth in a series of the 18 Noble Grapes.
What Are The Noble Grapes? There are 18 red and white noble grapes (listed below) that define the complete range of wine flavors –from clear, zesty white to deep dark red wine. Here is the list of the 18 major grapes that are readily available and define a unique flavor of wine. Once you master this list, you will intuitively understand the major flavor profiles of most red and white wines in the world.
Noble grapes are also known as International Varieties which are grape varieties that are widely planted in most of the major wine producing regions and have widespread appeal. History has a lot to do with the prevalence of French wine grapes like Cabernet Sauvignon and Pinot Noir.
The Grape of the Month Wine Tasting Event brings this unique culinary experience to Louisville, CO, pairing fine wines with delicious food for (1) Noble Wine each month.
9 Red Noble Grapes
The wines below are organized from lightest to darkest.
Pinot Noir
The lightest red grape, trying Pinot Noir will help you to understand acidity and aromatics in red wine.
Grenache

The candied red wine grape, Grenache shows how red wines can be light and fruit forward at the same time.

Merlot

Merlot is can be lighter or bolder depending on how it's made. Usually it's fruit forward with smooth tannins.

Sangiovese

Sangiovese is aromatic like Pinot Noir, but has bigger tannins and is cherry fruit driven.

Nebbiolo

A savory high tannin/acid wine that is also very light in color –very few wines are like Nebbiolo.

Tempranillo

Tempranillo is earthy with rustic tobacco notes and high tannin.

Cabernet Sauvignon
One of the most balanced full-bodied wines of the world. Cabernet is savory with a very long finish.
Syrah

Syrah offers big, bold, dark fruit flavors up front with a subtle finish and lighter tannin. Flavors from olive to blackberry and tobacco.

Malbec
Candied similar to Grenache but instead of strawberry and cherry flavors it's more in the blueberry/blackberry realm.
9 White Noble Grapes
The wines below are organized from lightest to richest.
Pinot Grigio
Light and zesty high acid white wines.
Riesling
Dry to sweet white wines that smell like lime, honey and apricots with high acidity.
Sauvignon Blanc
Green and herbacious.
Chenin Blanc
Zesty white wines that smell like flowers and lemon.
Moscato
Sweet wines that taste like peaches and orange blossom.
Gewürztraminer
Off-dry to sweet white wines that taste of ginger and honey.
Sémillon
Dry medium bodied wines with lemon notes.
Viognier
Medium bodied white wines that smell like flowers.
Chardonnay
Full bodied dry white wines.
Co-hosted by David Jacoby from Grand Vin. David has worked for years in the wine industry and is the founder of WineSensei, offering custom wine parties and tastings. Whether you consider yourself a wine connoisseur or just a beginner, join us each month for a little culture, a little wine, and a lot of fun. Purchase your ticket for one or all of our upcoming Wine Tasting Events.
Zuccardi Q Tempranillo is sourced from select old vines on the Santa Rosa estate (2034 ft) in Mendoza. The front label image illustrates the stone walls of the Zuccardi winery rising from the Uco Valley soils symbolizing how the Andes mountains emerged millions of years ago. WINE DATA: GRAPE COMPOSITION: 100% Tempranillo APPELLATION: Valle de Uco, Mendoza ALCOHOL: 13.50% VINIFICATION: Grapes were manually destemmed and softly crushed. Fermented with selected yeast with daily pigeage and delestage. Long skin maceration after fermentation with complete malolactic fermentation in barrels. Maturation in combination of French and American medium toasted oak barrels for one year. TASTING NOTES: COLOR: Intense red ruby color AROMA: Ripe fruits such as figs, cherries, plums, integrated with spicy aromas due to the oak aging. FLAVOR: Soft entry with firm tannins and balanced acidity. Persistent finish.
The former vineyard manager for La Rioja Alta, Pedro Peciña started this estate in 1992, and started producing aged wines with the 1996 vintage. From the start, the estate has worked their vineyards as naturally as possible, and has championed traditional winemaking with extended aging in used American oak barrels and regular rackings every 6 months.
The estate holds ~50ha of vineyards located around the town of San Vicente de la Sonsierra, on the border of Rioja Alta and Alavesa. With a mix of calcareous clay soils and exposures, the estate can make careful selections for its multiple cuvees.
Rioja Crianza Selection of estate vineyards. 95% Tempranillo, 5% Garnacha /Graciano Minimum 2 years in barrel and 18 months in bottle.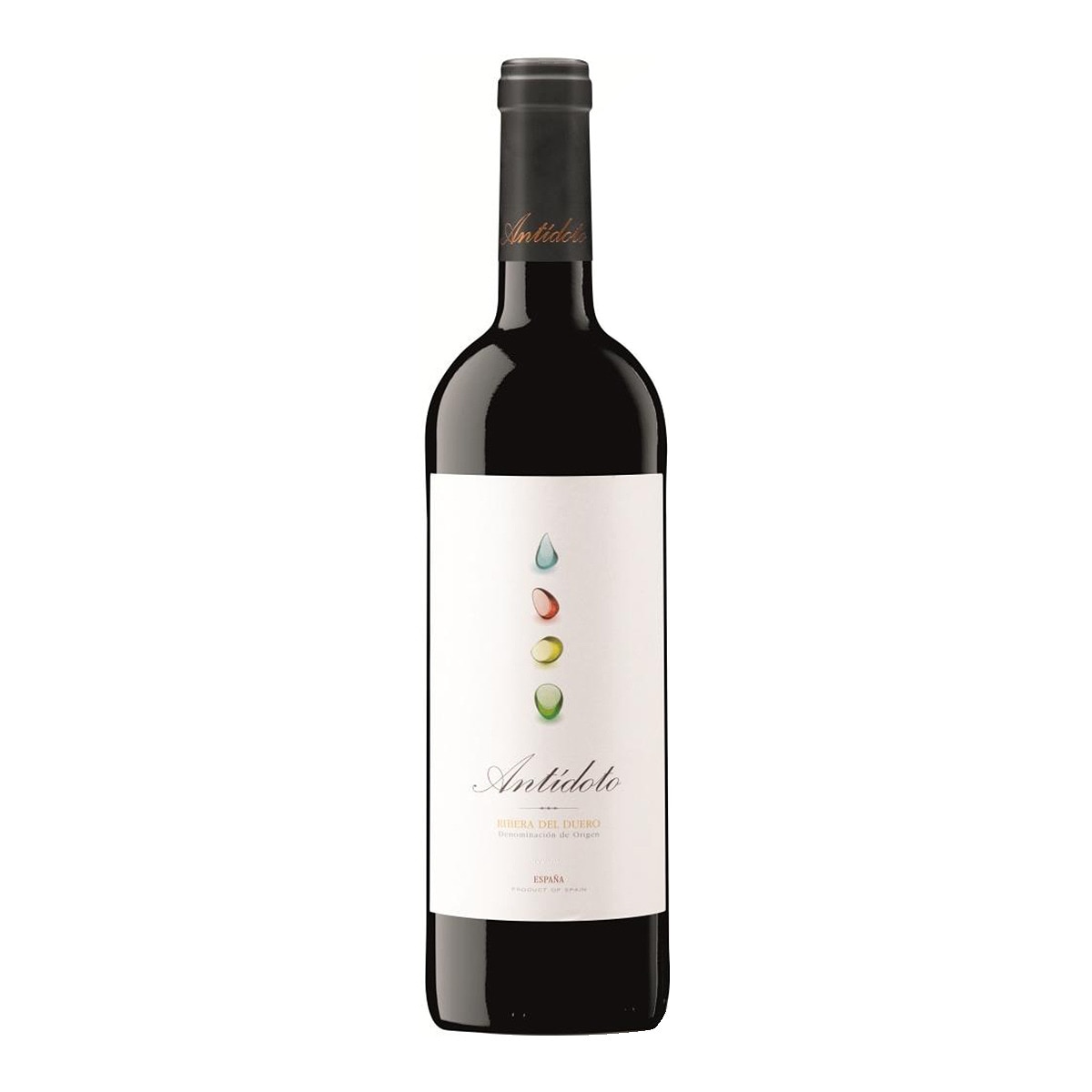 Established: 2010 Proprietor: Bertrand Sourdais & David Hernando Winemaker: Bertrand Sourdais Antídoto is located in the province of Soria, in perhaps the coolest microclimate of the Ribera del Duero. The resulting wines are considerably fresher and more elegant than is typical from the appellation. VINEYARD INFORMATION Soils: Sand with gravel (50%), sand/limestone 20% and clay 30% Vines: 100% Tinto Fino from over 300 small parcels throughout the Soria portion of Ribera del Duero. Most parcels are over 100 years old, and many contain ungrafted vines. Elevation: ~950 m average Appellation: Ribera del Duero Harvest: by hand.