VAPA 2018 Networking Event - Careers & Cocktails
Description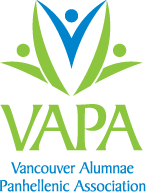 Events like VAPA's signature Networking Event give sorority women--wherever they are in their career journey–-the chance to meet alumnae from various career fields, whether politics and government, science and technology, marketing and communications, health and wellness, and much more.
This year, we're mixing things up to ensure you get the most of your time to connect with alumnae and with key industry representatives. This interactive networking event will give you the opportunity to meet with a diverse group of women representing careers in the private, public, and non-profit sectors. We are also excited to be gathering at a new venue at the heart of downtown Vancouver's waterfront - the very chic Terrace Room at The Rogue | Convention Centre.
Purchase your ticket now to secure your spot and discover the sorority network that extends beyond campus and chapter, and could launch you into your next job or career! Your ticket includes one cocktail, food, and a chance to win some fabulous door prizes! New this year: a special discounted rates for 2018 Graduates - our newest sorority alumnae.
Please join us for an evening of Careers & Cocktails. We look forward to seeing you!

For questions, please email us at info@vapa.bc.ca.

MEET OUR INDUSTRY REPRESENTATIVES
Florence Clifford (Delta Gamma)
Search Coordinator
WATSON Advisors Inc.
Florence Clifford supports the Search Practice in Board and Executive recruitment and client services team at WATSON.
Having previously worked in client care and customer service environments, Florence is committed to creating quality customer experiences and developing lasting customer relationships. As a former Senior Research Assistant in the Emotion and Self Psychology Lab at UBC, Florence worked on a study that looks at the effects of leadership styles on group dynamics in collaborative work situations. She currently volunteers as Recruitment Advisor with UBC Sororities.
Florence earned her Bachelor of Sciences degree with a double major in Biology and Psychology at UBC.
***
Based in Vancouver, WATSON is Canada's largest governance consultancy. Since 2005, WATSON has helped hundreds of organizations across many industries shape how they practice governance, educate their boards, and find their leaders.


The Honourable Judge Kathryn J. Ferriss (Alpha Omicron Pi)
Provincial Court Judge
Judge Ferriss obtained her law degree from the University of British Columbia in 1986 and was called to the B.C. bar in 1987. Between 1988 and 1993 she was legal counsel with the Family Maintenance Enforcement Program. In 1993 she became a family staff lawyer with what was then the Westminster Community Legal Services Society (LSS) and practiced in Port Coquitlam. She moved to the Legal Services Society's Vancouver office in 1997 where she continued as a family staff lawyer until 2002.

Between 2002 and 2015, Judge Ferriss was contracted by LSS to set up the Robson Square Family Duty Counsel Project where she was instrumental in the development, implementation and ultimate success of that program. During that time, she also acted as a consultant and coordinator with LSS regarding the Family Duty Counsel and Advice Lawyer programs in B.C. and the Justice Innovation and Transformation Initiatives. She briefly held the position of LSS Manager, Family Law Services, prior to her appointment to the Provincial Court on July 31, 2015. She is assigned to Surrey Provincial Court.
***
The Provincial Court of British Columbia strives to serve the public by providing an accessible, fair, efficient and innovative system of justice. The Court is committed to providing a forum for justice that: is independent, impartial and consistent, assures equal access for all, maintains respect for the rule of law, enhances confidence in the administration of justice and reflects core values of independence, fairness, integrity and excellence.
Sharon Hummel (Delta Phi Epsilon)
Manager, Student Recruitment & Market Development
Chartered Professional Accountants of British Columbia (CPABC)
Sharon Hummel has spent over a decade in recruitment working for organizations like The Art Institutes and the Beedie School of Business at Simon Fraser University. Strategic planning, brand awareness and education, and outreach are among her responsibilities at CPABC.
Sharon is a proud brand ambassador and a proven people connector, making connections with people and organizations to form mutually beneficial partnerships. She is noted for her commitment to supporting individual and team growth and success, encouraging enjoyment of one's journey while maintaining a work and life balance.
Sharon holds a Bachelor of Arts degree in International Relations from UBC as well as a Graduate Diploma in Business Administration from the Beedie School of Business at Simon Fraser University.
***
Chartered Professional Accountants of Canada (CPABC), one of the largest professional organizations in the province, is responsible for the training and certification of CPA students. CPABC is also responsible for the regulation and professional development of its members, and the protection of the public through its ethical standards and discipline processes.
Alison Obrecht (Delta Phi Epsilon)
Vice President
Child Development Foundation of BC
Alison Obrecht's career in non-profit spans nearly a decade and a half. As Vice President for the Child Development Foundation of BC, her focus is on developing the relationships and strategies needed to increase revenue in support of the Centre for Child Development.

Prior to joining the Child Development Foundation of BC, Alison was Senior Associate Director, Leadership and Major Gifts, and formerly Campaign Initiatives, at Simon Fraser University (SFU). In this role, she oversaw the annual program for student awards, bursaries, and scholarships while managing donor relationship at both the leadership and major gift level. Alison has also worked in fundraising leadership roles for Cystic Fibrosis Canada and Crohn's and Colitis Foundation of Canada.

She is noted for her expertise and talent in building relationships, particularly with donors, stakeholders, volunteers, and peers, making her a driving force for success in the teams with which she serves.
Alison holds a Bachelor of Arts degree in English Literature as well as the SMEI Diploma in Marketing & Sales Management from UBC.

***
The Child Development Foundation of British Columbia supports The Centre for Child Development by raising much needed funds to support the therapies and programs provided to children with special needs and their families. The Centre's team of 100+ staff provide therapeutic services each year to more than 2,700 children. The team of professionals include: paediatric psychologists, family service and key workers, occupational therapists, speech-language pathologists, physiotherapists, early childhood educators, supported child development specialists, recreation specialists, dietician, doctor, victims services workers, social workers and police.

Sonia Takhar (Gamma Phi Beta)
Policy Analyst
Greater Vancouver Board of Trade
Sonia Takhar's experience in public policy is truly global in scope. From pursuing her Master of Pubic Affairs degree at Sciences Po in France to working as a research associate for a firm in Singapore, Sonia has built up a depth of knowledge that spans a diverse range of policy issues. Noted for her strong skills in statistical analysis, Sonia has worked on multifaceted policy issues involving security and development concerns in the Middle East and Southeast Asia and sustainable development solutions resulting from the resource sector, specifically in the mining and oil industries. Among the organizations she has worked with are: the Inter-American Development Bank, Canada-ASEAN Business Council, The Conference Board of Canada, and the Asia Pacific Foundation of Canada.

Sonia holds a Bachelor of Arts in Political Science and Economics and Master of Public Policy and Global Affairs degrees from UBC.

***
The Greater Vancouver Board of Trade (GVBT) is Western Canada's most active and influential business association. The GVBT accelerates business success through advocacy and public policy initiatives, professional development, and educating and connecting the region's business community through its 100+ events per year. The GVBT engages with decision-makers to develop Greater Vancouver as a vibrant hub for commerce, trade, travel, and free enterprise.