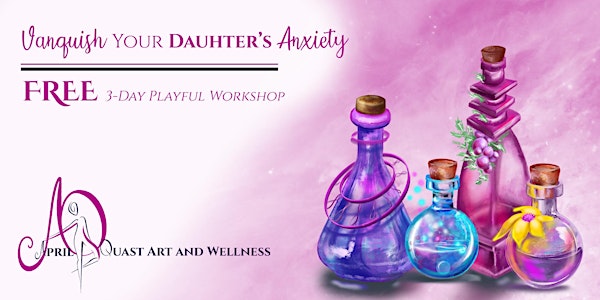 Vanquishing Teen Anxiety: 3-Day Workshop (Middletown)
Helping teens escape anxiety's cage and open doors of confident possibility with a mystical-artistical approach.
When and where
Location
Middletown Virtual Via Zoom Middletown, DE 19709
About this event
This workshop will be held live on Zoom, for moms and their daughters (ages 11-16) who are looking to overcome anxiety and live confident lives.
3 days of REAL WOMEN, in REAL TIME, making REAL CHANGE, and enjoying REAL PLAY…
Let me ask you this:
Do you look at your daughter in awe of all the possibilities her future holds, but feel so helpless seeing her trapped in a cage of anxiety?
WHAT IF… there was a magical solution that made it possible to playfully and effectively vanquish your daughter's anxiety while simultaneously strengthening her confidence to live her unique impact?
WHAT IF … this solution didn't involve restricting her social media and trying to micro-manage her responsibilities…after all, you've already tried to fight both of those battles.
WHAT IF… a little mystical make-believe could help your daughter face her life with clarity, confidence, acceptance and purpose… not doubt, anxiety, avoidance and overwhelm?
WHAT IF… magic potions could actually cure bad habits and empower your daughter to confidently make adult-trusted choices?
WHAT IF… your daughter could see the super hero in herself, and embrace the adventure of self-discovery to live out her unique impact?
WHAT IF… if was all fun?
WHAT IF… you could do it together?
Asking "WHAT IF" is the first step to empowering your daughter to conquer her anxiety and build rock-solid confidence for making adult trusted choices.
As a mom of 3 girls, an artist and yoga instructor, I invite you to trust something a little different. I dare you to ask "WHAT IF", embrace the power of imagination and join me for my FREE 3-day workshop.
I help teen girls re-discover their confident, bad-ass selves while using imaginative play to build an anxiety-busting toolbox.
Empowering possibility is my passion.
Let me show you.
This workshop is totally FREE and it's 3 days of artistic play, creative movement, imagination and bonus freebies designed to:
• conquer anxiety
• build mother/daughter connection, and
• empower kick-ass confidence
I've jam-packed every bit of value I could possibly fit into such a short amount of time… all to get you and your daughter living your best anxiety free, confident lives right away.
I made this for you, because I want you to fully embrace this:
The uniqueness that each of you holds, is the powerhouse of possibility that the world is waiting for you to live.
We can't allow anything to hold her back! Read that again:
The uniqueness that each of you holds, is the powerhouse of possibility that the world is waiting for you to live.
Why would I offer so much for free?
First, it's because I've seen way too many women (of all ages) give in to self-doubt, anxiety and overwhelm because they can't see their own greatness. I know that you are the unique ingredient that our world needs and that your impact can't be wasted or delayed.
Second, as a mom, artist and coach, I'm a creative introvert that knows the power of connection. I know that an intimate community of supportive women can make all the difference in what feels possible.
*This workshop is for mothers AND their daughters.
These 3 days are for young women like yourselves, that are ready to unlock anxiety's cage with the key of imagination and start opening doors of impactful possibility? We all want to know what we do matters but anxiety keeps you locked in a cycle of self-doubt that keeps you from confidently diving into action.
Make this your first big step! Bravely take action and sign up for this Free 3-Day adventure to playfully vanquish anxiety!
Are you ready for this awesome opportunity?
1. I want to show you the power of confidence and that the way you and your daughter see yourselves, your ideas, your quirks and passions are exactly enough to pave the path to the individual and joint possibilities your futures hold.
2. I want to empower you with the power of imaginative play and take you on a mystical-artistical adventure that will give you each room to dream your dreams and empower each other's greatness.
3. I want to show you both that taking control of your time, health and goals is life changing and it CAN be fun.
You don't have to have any experience with art or yoga for this workshop to make its impact, you just have to have 7:00pm– 8:00pm EST, Monday – Wednesday, blocked out in your calendar, a pencil and paper, comfy clothes, and most importantly a child-like curiosity ready to seek out adventurous possibility.
Here's a Sneak Peek of the week:
DAY 1: Women of all ages are no stranger to the fast pace, on-the-go lifestyle…so much so that most of us don't even know what pause actually feels like. Day 1 is about starting from a place of rest, embracing a child like imagination as a new twist on meditation and letting it sweep you away on a mysterious adventure. If anxiety is a cage, imagination is the key to unlock it. Get ready to do a really different kind of yoga and discover your artsy side.
DAY 2: Do you believe in fairies? Your beliefs hold power. Today we will playfully poke at some of our beliefs while getting the opportunity to actually do a little play. As adults and growing teens, play can be very challenging. It feels weird, awkward and sometimes even a little wasteful, but during this workshop you will get a chance to take the load off and feel the light-hearted freedom of being a kid again and test new ideas and beliefs in a safe low-risk environment.
DAY 3: Today you will discover your secret identity as a super hero. Your personal powers are the magic behind vanquishing anxiety and completing your life's quests. I know it all sounds a little crazy, but when you learn to let go of the "shoulds" and "supposed-tos" and finally embrace your passionate possibilities, cool things can really start to happen. Today we will conjure some magical potions that will change your lives permanently.