VANISHING SAIL - The Story of a Caribbean Tradition
Description
Award Winning Feature Documentary presented by Boatshed.com & Classic Boat with introduction by Mark Horton, maritime and historical archaeologist, television presenter and writer + post screening Q&A with producer Justin Sihera.
On the island of Carriacou in the West Indies, the last wooden sailboat builder dreams of saving a great tradition passed down the generations from Scottish settlers that sailed there centuries ago. The film follows Alywn Enoe's journey of determination and resilience over three years, from hauling trees with his sons, to a final traditional launching ceremony. Stories of the old Caribbean - trading by sail and smuggling contraband interweave a tribute to the independent spirit of a small island community.

"A fascinating story of personal perseverance, ribald tales of smuggling at sea and the completion of the beautiful wooden sloop in a race against time to enter the thrilling Antigua Classic Yacht Regatta." Wooden Boat
"An insightful and poignant documentary that is part social history and part Herzogian portrait of resilience and determination in a far-flung locale." Indiewire
"A haunting, captivating story that will pull heart-strings and etch in the mind of every viewer." Classic Boat
"Beautiful..." Derek Walcott
WINNER of the 2017 Donald Gosling MARITIME MEDIA AWARD for Best Television or Film Contribution.
---
Vanishing Sail is currently available for screening at Film Festivals, Film Societies, Cinemas, Boatbuilding Academies, Maritime Heritage Institutions, Yacht Clubs, Coastal and Caribbean communities, Special Events & Fundraisers Worldwide.
Trailer & further information: VanishingSail.com
THANK YOU TO OUR PRESENTING PARTNERS!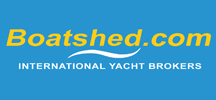 "Boatshed, famous for disrupting the brokerage trade with innovations, is very pleased to partner with the creative and innovative film maker Indian Creek Films. We at Boatshed have a real passion for boating and sailing, and a fine film like Vanishing Sail helps people to know the great experience of sailing." Neil Chapman, Boatshed.com