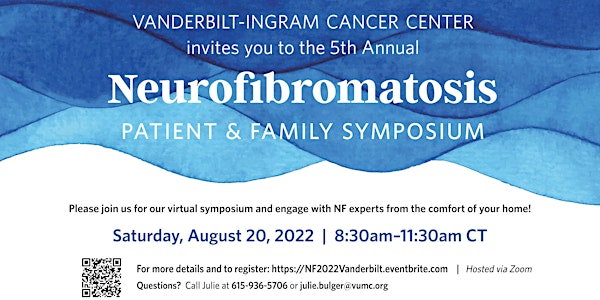 Vanderbilt Neurofibromatosis (NF) Virtual Patient and Family Symposium
This free virtual event is open to anyone impacted by Neurofibromatosis and their caregivers.
About this event
This event is sponsored by the Children's Tumor Foundation.
Please join us for a virtual event where you can learn from and engage with Vanderbilt physicians and community experts in Neurofibromatosis- all from the comfort of your home!
Agenda:
8:30 a.m. Welcome and Overview of Agenda
Paul Moots, MD
Co-Director, Vanderbilt Neurofibromatosis Clinic Professor of Neurology: Division of Neuro-Oncology, Vanderbilt-Ingram Cancer Center
Vanderbilt University Medical Center
8:40 a.m. …On the Horizon in Neurofibromatosis Treatment
Bruce Korf, MD, PhD
Associate Dean for Genomic Medicine, Dept. of Genetics, Heersink School of Medicine Wayne H. and Sara Crews Finley Endowed Chair in Medical Genetics Chief Genomics Officer, UAB Medicine and Co-Director of the UAB HudsonAlpha Center for Genomic Medicine University of Alabama at Birmingham
9:10 a.m. Malignant Peripheral Nerve Sheath Tumors (MPNST)
Vicky Keedy, MD, MSCI
Associate Professor of Medicine
Clinical Director, Sarcoma
Vanderbilt-Ingram Cancer Center
9:30 a.m. Genotype/Phenotype Correlations in NF1 and NF2
Jennifer Brault, MD, MS
Assistant Professor, Department of Pediatrics Divisions of Child Neurology, Genetics and Genomic Medicine, Co-Director, Neurofibromatosis Clinic Monroe Carell Jr. Children's Hospital at Vanderbilt
9:50 a.m. Children's Tumor Foundation, NFCN, and VICC NF Clinic Updates
Paul Moots, MD
10:00 a.m. NF Tennessee Update Skyler Moots, M.Ed. Executive Director, NF Tennessee
10:10 a.m. Pain and Pain Management in Neurofibromatosis Paul Moots, MD
10:30 a.m. Many Faces of NF – Art Therapy for Neurofibromatosis Rachel Mindrup, MFA
Assistant Professor, Richard L. Deming MD Endowed Chair in Medical Humanities Creighton University
11:00 a.m. Open Forum for Audience Questions
"Ask the Experts"
Questions? Feel free to email julie.bulger@vumc.org or call her at 615-936-5706.