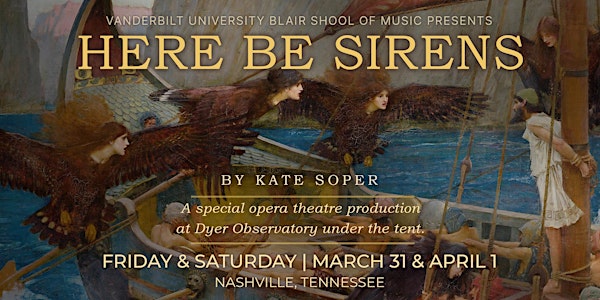 Multiple dates
Vanderbilt Blair School of Music presents Here Be Sirens
Vanderbilt Blair School of Music presents Here Be Sirens, by Kate Soper, a special production at Dyer Observatory in Nashville.
By Vanderbilt University, Blair School of Music
Date and time
Starts on Friday, March 31 · 7pm CDT
Location
Vanderbilt Dyer Observatory 1000 Oman Drive Brentwood, TN 37027
About this event
Joy Calico, Distinguished Professor of Musicology and expert in new music theatre, will set the stage for you before the curtain. Dr. Calico's talk will begin at 7:00 with the curtain at 7:35p.
Book by Kate Soper, with additional texts by Plato, Theobaldus of Cambridge, Homer,Erasmus, Raimbaud de Vacqueiras, Tibullus, Edna St. Vincent-Millay, ThomasCampion, Michael Drayton, Iamblichus, Dante, John Milton, and Sappho (trans AnneCarson)
Described by the New Yorker as "erudite, hilarious, furiously inventive," Here Be Sirens presents the daily life of three sirens, who kill time on their island as they await an endless procession of doomed sailors. Peitho revels in the luxurious sensuality of their rite; Phaino stonily enacts the ritual with no inner feeling; and Polyxo longs for escape into the world of the real, delving into centuries of scholarship and research on her species in an attempt to untwist their circumstances.
As the opera goes on, the sirens re-enact the abduction of Persephone, encounter (and battle) their favored sisters the Muses, and leave no rock unturned to plumb the depths of their own origins in this work of "audacious, genre-bending music theatre" (Wall Street Journal).
Parking is limited. If you will be driving, add one parking reservation per car to your order. Those without a parking reservation will not be able to park at Dyer observatory.
Used by arrangement with European American Music Distributors Company, U.S. and Canadian agent for Schott Music Corporation, New York, NY