Location
Roundhouse Community Arts & Recreation Centre
181 Roundhouse Mews
Vancouver, BC V6Z 2W3
Canada
Refund policy
Contact the organizer to request a refund.
Eventbrite's fee is nonrefundable.
Sales Have Ended
Ticket sales have ended
Online sales have ended but you will still be able to get tickets at the door! Doors are at 7:00 pm and show is at 7:30.
The Songwriters Association of Canada presents SongBird North "Where Writers Sing and Tell" Hosted by Shari Ulrich
About this event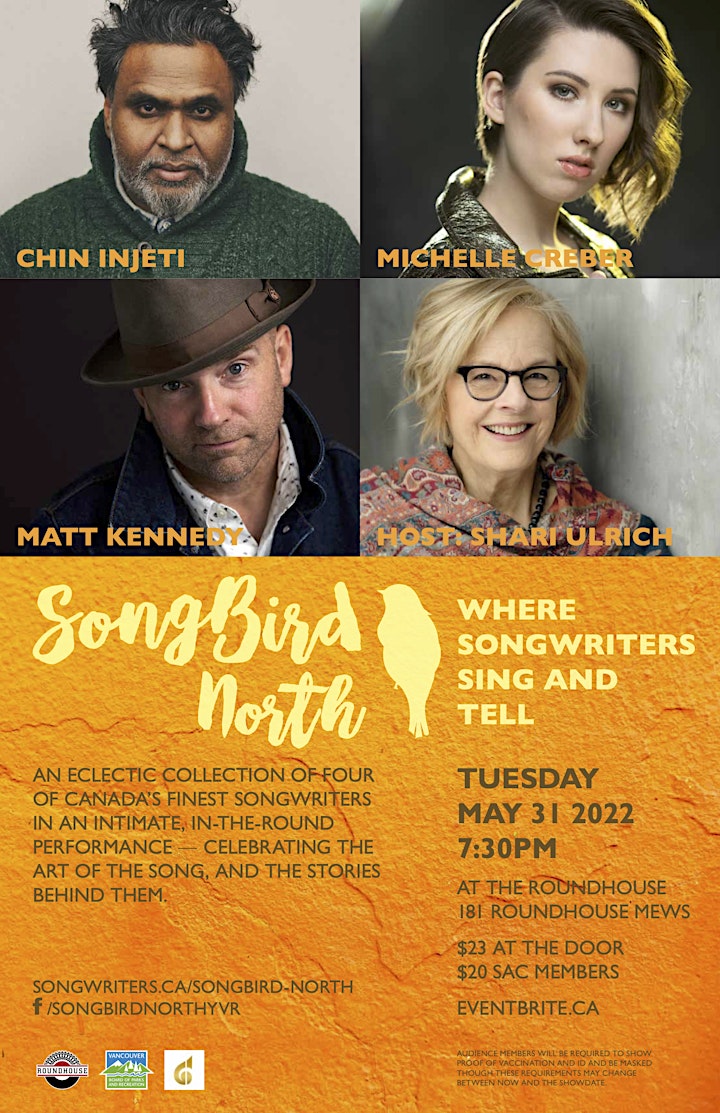 Featuring: Michelle Creber, Chin Injeti & Matt Kennedy
The Songwriters Association of Canada's SongBird North celebrates with a powerhouse line-up of singer-songwriters: host Shari Ulrich will share the Roundhouse stage with Michelle Creber, Chin Injeti and Matt Kennedy. Bringing together rising stars with established, often iconic artists, and showcasing a range of styles and backgrounds, SongBird North offers an evening of great songs, great stories, and fascinating insights into the creative process. It's a one-of-a-kind opportunity to get up close (but not too close!) and personal with the music and the artists who create and perform it.SongBird North: Where Writers Sing and Tell is produced by Shari Ulrich for the Songwriters Association of Canada. The SAC gratefully acknowledges the support of the SOCAN Foundation. For more information on the SAC's mandate, activities and membership programs, please visit www.songwriters.ca.
BACKGROUND: Since 1995, SongBird North (formerly Bluebird North) has been a mainstay in Vancouver for songwriters from across the continent, as a bi-monthly showcase that features four talented singer/songwriters of widely varying styles, on stage together, taking turns playing their original songs and sharing stories with one another and the audience about their work. While the series was started in Toronto and has toured nationally, Vancouver remains its longest-standing host city. www.songwriters.ca
ABOUT THE PERFORMERS – May 31, 2022
Michelle Creber - Michelle Creber is a 22 year-old singer, songwriter, actor and multi-instrumentalist with eight albums to her credit. Her last two all-originals albums, "Storm" and "On Display" made it onto the Top-100 Billboard charts. Rooted in pop, Michelle's songs feature a powerful voice and a unique writing style, paired with clever lyrics and emotional depth. Her music is described as relatable, honest, and inspiring; she feels strongly about standing up for the underdog, challenging the status quo, and tackling injustices. Michelle is a prolific songwriter with a large and varied catalog. She is also a dynamic and seasoned life-long performer who has done concerts throughout North America, Europe, Asia & Australia. www.MichelleCreber.com
Chin Injeti - Chin was first known as a member of Bass is Base formed at the UofT in 1993. which was also his launch as a producer. When the group disbanded in the late-1990s, he was already working with eclectic acts ranging from the classical sound of The Canadian Tenors to trip-hopping Esthero and reggae rockers Bedouin Soundclash. Joining forces with DJ Khalil (a.k.a. Khalil Abdul-Rahman), he would go on to work on Eminem's Recovery and the Marshall Mathers LP2, as well as scoring a best gospel Grammy for Lecrae's Gravity. Now with multiple Grammys and Junos, his credits range from Drake, Gwen Stefani and Pitbull to Pink, the Vancouver-based singer, musician, songwriter and producer is always in demand. The last two years has afforded Chin time to mentor and work with with local and national up-and-comers as well, including being the production mentor for B.C.'s Cole James' contribution to the Canadian Songwriters Challenge. But more importantly, it gave him the time to focus on his own music, writing, recording and releasing singles.
Matt Kennedy - Matt Kennedy has been singing and playing guitar and mandolin for decades on stages in western Canada. He grew up in Calgary and can't remember not having a song in his head. Matt is songwriter, singer and guitarist in the five-piece Vancouver band Headlong Hearts (Formerly The Farmteam) who released their all-original record What We Call Forever in spring 2022. The band works together to refine and arrange Matt's songs and bring them to life. Headlong Hearts have a busy summer ahead playing around BC, including West Vancouver's Harmony Arts festival on August 1st.
Shari Ulrich began writing songs at the end of the reign of The Hometown Band in 1977. Her first song "Feel Good" was a hit for the band. Her solo career followed in 1978 with radio hits with "She Remembers", "Bad Bad Girl", "Romeo", "Every Road" and others. Since then she has released nine albums of original material along with another 16 with collaborations with Pied Pumkin, UHF (Bill Henderson & Roy Forbes) and BTU (Barney Bentall & Tom Taylor) Her work has garnered two Juno Awards and several nominations, an induction into the BC Entertainment Hall of Fame, and a 2014 Canadian Folk Music Award (CFMA) for English Songwriter of the Year. She has been producing and hosting Bluebird North and SongBird North both nationally and locally, since 1996 and at the Roundhouse since 2005. https://www.shariulrich.com/
Note: Out of caution and concern for the safety of both artists and audience, patrons will be asked to provide ID and proof of COVID-19 vaccination upon entry to the performance hall. Masks are also recommended. For updates please refer to the SongBird North- Vancouver Facebook Page.