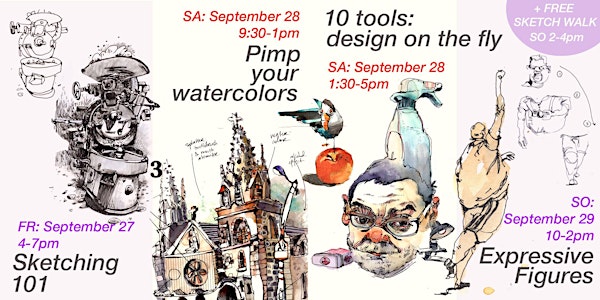 Vancouver: Urban Sketching Intensive Weekend!
When and where
Location
Opus Art Supplies 1360 Johnston Street Granville Island Vancouver, BC V6H 3S1 Canada
Description
Get ready for an Urban Sketching Intensive! This weekend can push your sketching skills to the next level!
You want to get more comfortable in your sketching? You want to capture the moments of your life and the places you visit? But a big problem for you is finding the time or know-how to improve? Commit to one fun and educational weekend to push you to the next level!
Please read the FAQs at the end before signing up!
Find below:
- description of workshop weekend
- description of each workshop
- more info about the instructor
- FAQs
---
WORKSHOP WEEKEND:
- the weekend is comprised of 4 workshops that complement each other. We will cover my approach to drawing, simple watercolor strategies and effects, design on the fly and capturing lively people.
- each workshop consists of about 2.5 hours of instruction, demos, short exercises and one-on-one feedback as well as about 1 hour of free sketching time and more feedback to apply what you have learned in a larger piece.

- you will receive a detailed handout for each workshop ahead of time and for future reference ( ~ 60 pages of knowledge in total for all 4 workshops!).
- each workshop can also be taken individually.
-material list and further details will be shared with students that have signed up closer to the date.
-minimum 13; maximum 18 students
---
WORKSHOPS:
FRIDAY
1. SKETCHING 101: How to sketch anything fast, free, direct and with confidence
Fr, September 27; 4-7pm;

In this class we will start with the basics of sketching. This class is for the total newbie as well as for those who wish to become looser and more confident in putting their lines on paper. It is an excellent foundation for the other classes to come.
We will cover topics such as what to look for in an object when we sketch it, how to become confident in contour drawing as well as using line weight and texture to add volume and interest. We will also cover simple ways to add value on the go and darken certain areas for interest.
This class will consist of many short exercises and demos as well as plenty of time to draw a larger piece synthesizing all that's been covered in the end.
The workshop comes with a handout that illustrates every aspect.
SATURDAY
2. PIMP YOUR WATERCOLORS: review the basics and add new tools to your repertoire
Sa, September 28; 9:30-1pm;
Watercolor can be equally frustrating and exhilarating for the urban sketcher. In this workshop we will start with a review of the basics and attack some of the most common problems sketchers run into.
We will explore two quick coloring strategies useful for outside and then go one step further and introduce tools you can use to pimp your watercolors on the go!
We will splatter with toothbrushes and alcohol, apply paint with a straw, use markers to add value and punch, try our hands at colored pencils, gouache and gel markers and play with watercolor on pre-treated paper.
We will produce many small sketches, giving participants the chance to identify what they like out of a wide range of tools. This workshop is bound to expand your repertoire. Oliver will provide a comprehensive handout, demonstrations and feedback throughout.
The workshop comes with a handout that illustrates every aspect.
3. 10 TOOLS to design on the fly: turn weak elements into a strong sketch
Sa, September 28; 1:30-5pm;
Often we see an item that appeal to us—a piece of furniture, a button, something on display on the street —but we don't sketch it because it a weak motif by itself.
In this workshop we will learn strategies to combine many disparate elements into an interesting and good looking spread that tells the story of a place. I will introduce 10 strategies to form a rich picture out of individual elements. We will do short demonstrations and exercises to get familiar with these. Participants will then select from the tools presented and draw their own 2 spreads. Half way through one-on-one feedback will help to solidify the approaches. In the end we will develop our work further and add a center of interest. For this we will use the watercolor skills we developed in class 2. (If you did not take this class, this is o.k. also). We will share our work and discuss the results.
The workshop is suitable for students at all levels, because of its multi parallel nature. Some of the tools presented may be easier or harder to apply for individual student, but everyone can choose how much they would like to challenge themselves. The workshop is also largely independent of drawing ability, which makes it exciting for beginners and more seasoned sketchers interested in composition on the fly.
The workshop comes with a handout that illustrates every tool. Examples from the handout will be discussed.
SUNDAY
4. How to draw EXPRESSIVE FIGURES
So, September 29; 10-2pm;
In this class we are iumping in the deep end - working our way towards drawing people that move!
If you would like to add lively people to your sketches but don't know how, this workshop is for you. In this session I will share applicable knowledge about various body parts. We will learn to identify quickly what interests us in a figure and focus to capture this essence with line. We will learn how to 'buy time' with combining and assembling people into a scene - a "Frankenstein" cut and paste method. If there is time, we will add watercolor selectively for interest. This workshop offers a step-by step curriculum and is suitable for everyone – beginner to professional. Plenty of individual feedback will be provided. Lots of sketching time! At the end everyone will have sketched people and feel exhausted yet exhilarated to continue their journey.
The workshop comes with a handout that illustrates every aspect.

5. Sketch Walk: FREE and OPEN TO ANYBODY
So, September 29; 2-4pm;
Let's sketch aound Granville Island with Oliver Hoeller! This is free to attend for anybody and without instructions.
---
INSTRUCTOR
When he was 9 years old, Oliver wanted to be an artist, a scientist and a pirate. He had a gallery in his bedroom and caught salamanders for his terrarium. Fast forward: Oliver holds a PhD in molecular biology, and in 2015 combined his passions: He runs an illustration service focused on sciency topics.
Oliver loves drawing outside, and report on what he sees. He has published a travelogue No Road In No Road Out: Slowboating the Amazon, which was selected as a finalist for the Reportager Award. He tends to see the humorous and ironic and has taught sketching workshops for several years in the US and Europe.
Find more about him here:
oliverhoeller.com
Instagram
Urban Sketchers
Youtube
and if you have any questions, please get in touch:
hoelleroliver@gmail.com
---
Just one more thing - please read these frequently asked questions before signing up!
Where will the workshops be held?
The workshops will be held at location(s) close to the Art Supply store on Granville Island. This is going to be our base and workshop location should the weather be really bad.
I am a beginner. What's best for me?
The whole weekend series is suitable for eager beginners. I do recommend starting at the beginning. We wil build your skills as we go! You may find that there is a lot of material that we cover. Consider the weekend as a workout where you will drink from a fire hose!
I have been sketching for a while. What's best for me?
The whole weekend series is very suitable for you. I am sure you will find something new to explore in every workshop. E.g. while the watercolor workshop deals with fundamentals in the first half, in the second half we will play with ways to enhance your watercolor sketch that you may not have considered. In fact, the whole weekend series is probably best for you, because you may be able to absorb the largest amount of information!

Can I take only one or two workshops?
Yes, while the workshops have some continuity, they are also free standing units. Please be advised, that concepts from earlier workshops will not be discussed in depth in later ones. E.g. how to draw loosely and adding watercolors is only a tiny component of the "Expressive Figures" workshop.
What if the weather is bad?
In this case the workshops will be held inside the Art supply store.
What if not enough students sign up for every workshop?
I am aiming at a minimum of 13 students/ workshop. If this number can not be reached, that workshop may not be held. If for this, or any other reason, I will need to cancel the workshop (weekend), you will receive a full refund of your fee.
Participants agree that photos taken of the workshop can be used on the Urban Sketchers online platforms for promotion of future workshops.
Welcome to the Urban Sketching Intensive!