Description
You're invited to attend the Inorganic User Group Meeting!
Join us for a day of learning and sharing with fellow inorganic users. This is a great opportunity to see the latest advances in technology and learn new novel applications in elemental analysis.
We want to hear from you!

The work you do helps to ensure the safety of the places we live, the food we eat and the air we breathe. We want to hear about your latest discoveries at the meeting. Please contact us using the information below if you are interested in presenting a topic.

Lunch will be included.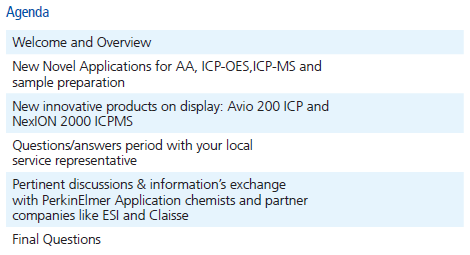 For more information:
Thomas.hey@perkinelmer.com / 604-376-6499
Timothy.freeman@perkinelmer.com / 780-906-1116