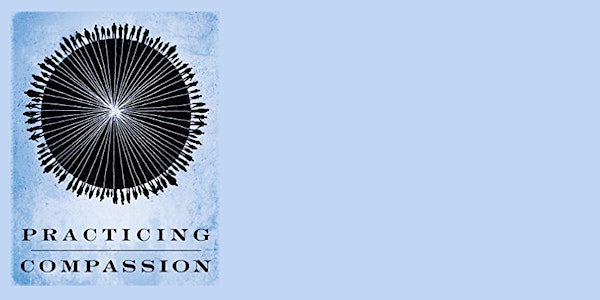 Vancouver Clergy & Lay Learning Event: Compassionate Spirituality
Description
We are clearly living in anxious times. Our communities are deeply divided and sometimes it's hard to navigate how we are to move forward as individuals as well as faith communities. Dr. Frank Rogers, author of "The Way of Jesus, Compassion in Practice," has been invited to help us circumnavigate our way into the future, offering healing and hope in a broken world. Following the way of Jesus, Dr. Rogers offers a way to live compassionately "when our world threatens to consume us, throbbing with boundless discrimination, violence, and greed."
The Vancouver District invites you to join us as we develop our personal spiritual lives and explore practical ways to be compassionate in a fractured world. It is our belief that Jesus offers us a real solution to the challenges before us. And that solution is to act as God's heartbeat; pumping grace into whatever community we find ourselves a part. Together we will explore how Jesus teaches us how to be at peace and how we can help heal our anxious world in the months and years to come.
Following our Compassionate Spirituality training, we will close this portion of the program with worship and communion led by District Superintendent Rev. David Nieda. Following worship, the District Leadership Task Force wanted to provide some practical church leadership workshops for those interested. We encourage all participants to sign up for a workshop to enhance their leadership at the local church. Please note that due to time limitations, we can only offer one timeslot for workshops.
---
Theme: Compassionate Spirituality in Anxious Times
Tentative Schedule (subject to change)
9:30am-10:00am - Registration
10:00am- 12:30pm - Opening and Keynote I and II with Frank Rogers
12:30pm- 1:15pm - Lunch
1:15pm- 1:50pm - Keynote III with Frank Rogers
1:50pm- 2:30pm - Worship & Closing Communion
2:45pm- 4:00pm - Workshops
Workshops:
Finance and Trustees: TBA - PNW Treasurer's Office
Join Rik for an overview of the key functions of local church finance and trustees committees. The ministry of capital stewardship plays a critical role in the community of faith accomplishing its mission for God. Even if your church uses some form of single board governance, those responsible for these functions are encouraged to come. Recommended for both new and ongoing committee members. Our time might include: Insurance, building management guidelines, non-profit status, parsonage standards, worker's compensation, Safe Church responsibilities, salary worksheets, W-2 forms, tax exemptions, church budgets and everything in between.
Staff/Pastor Parish Relations: Rev. David Nieda – Vancouver District Superintendent
The S/PPRC plays a vital role in support of the pastor and ministry of the local church, working as the main mission interpreter between the pastor and congregation. District Superintendent David Nieda will unpack this important role and cover the key personnel functions of the S/PPRC committee. Important for new and ongoing committee members. Even if your church uses some form of single board governance, those responsible for these functions are encouraged to come."

Missions – Climate Justice: Myrna Manier and Stephanie Parsons – Satsop UMC
If you're looking for an introduction to Climate Justice this workshop is for you. Climate Justice has been an ongoing theme of ways in which United Methodists can engage in relevant and meaningful mission to our community and the world. In this workshop, Myrna Manier and Stephanie Parsons from Satsop UMC will be using Climate Justice based on the 2016 PNW Mission U plenary material and study book by United Methodist Missionary Rev. Pat Watkins.

Discipleship – 30 Days of Glory Challenge: Janet Kourey – Willapa UMC
Want to learn how to develop your church's discipleship? Join this workshop led by Janet Kourey, lay person from Willapa UMC, who has led the 30 Days of Glory Challenge at her church for the past several years. From Janet's brochure: "I thought being a good Christian just meant going to church on Sunday and not breaking the 10 Commandments. However, through sermons, Bible study and reading on my own I realized that God wants so much more from us. I began to wonder how I could become better at glorifying God every day in everything that I do, and that led to the 30 Days of Glory Challenge. The purpose of the 30 Days of Glory Challenge is to practice doing things each day to glorify God so that it becomes a natural part of our daily routine to think about and glorify God in everything we do."

How to Engage Your Church in Compassionate Spirituality:
Dr. Frank Rogers and Rev. Heather Sparkman – Pastor Rochester UMC
Compassionate Spirituality can change the culture of your congregation. If you're interested in helping your church deepen its discipleship process and engage in the Compassionate Spirituality, join Frank and Heather as this workshop will introduce you to some tools to facilitate this process.

GNW Local Church Revitalization Process: Rev. Steve Ross – Director of Church Vitality, Oregon Idaho AC
Join Steve as he introduces a new Greater Northwest Area wide church revitalization process to be rolled out over the coming year. The process of revitalization is organic and begins with a commitment to growing a spiritually committed team. This is the seed from which vital mission and ministry can grow. Come and hear about how this process can help your church find new vitality!
Relationship-Feueled Transformation: Rachel Neer - Exec. Dir. of Project Transformation: Pacific Northwest
Join Rachel Neer, Executive Director of Project Transformation: Pacific Northwest, for conversations about the exciting new program coming to the Vancouver District this summer! We will talk about the importance of compassion, empathy, and understanding in the midst of all our relationships we seek to build this summer. We will have plenty of time for questions and answers about Project Transformation for anyone who would like to know more!
---
FAQs
What can I bring into the event?
Bring yourself. If there is a Finance or SPRC workshop-specific question, "What do I put on this form/ How does the group answer this question," please send that question in advance to the workshop host and they can try to incorporate the answer into their program.
How can I contact the organizer with any questions?
Call toll-free at 1-888-818-4288
Email: vancouver@pnwumc.org
Do I have to bring my printed ticket to the event?
No. Your name and ticket information will be already available at the registration table. Please check in with the registration table when you arrive.
Do I have to pay online? / Can I pay at the door?
While it is preferable that you pay online, we also recognize that it presents a hardship for some people. If you prefer to pay by check, simply select that option on the registration page. Checks can be mailed to:
District Service Center
PO Box 13650
DesMoines, WA 98198
Pay to the order of: PNWUMC Treasure // Memo: Vancouver Training Day
Please mail your check by the 17th to allow time for mail to travel and be credited. If you need to bring the check with you to the event, please fill it out before coming so that the lines at registration move swiftly. Credit card will also be accepted at the door. Please DO NOT BRING CASH.
Will there be childcare?
Yes. Childcare will be provided at no additional cost to you. If you need childcare - please send the child's name and age and any dietary restrictions. Also - we will need a contact number for the guardian at the location and another number for an emergency contact. Please notify us at: vancouver@pnwumc.org
What is on the menu?
Your lunch is being catered. We are working with Grounds for Opportunity, a training cafe that helps people learn the trade and find jobs, for the lunch at this event. We will have a soup and salad bar. There will be vegetarian and gluten-free options. If your dietary needs are excessive, we ask that you consider bringing supplementary foods so as to stay well-fed throughout the event.
For those who are not traveling a far distance and wish to do so, small sharing items such as cookies are welcome. (please no nuts)
How can I promote and spread the word about this event?
Please email Sabrina Venture at vancouver@pnwumc.org for bulletin insert information.
Bulletin inserts and poster info will also be available for download in the Vanoucer District Newsletter.
You can also like us on Facebook, publish information about the event on your church website, write a short story about your expereince at the event and send it to the Channels Newsletter, and gather a group to promote ridsharing!
Organizer of Vancouver Clergy & Lay Learning Event: Compassionate Spirituality