Vancouver, Canada - June 16 - Pre-release screening of The Other Side of th...
Description
A reminder to all the parents out there~
Babes in arms are A-OK to attend the screening, and will not be charged admission (there is storage for strollers, too). However, this film screening is not a good fit for bigger toddlers and/or young children.
The other, more pressing reason to be clear about kids not attending is due to the fact that we are waiting on the rating of the film by the Consumer Protection BC folks, and until that is in, just to be on the safe side, VIFF's Vancity Theatre has instructed us to act as if this were an 18+ film (though, in all likelihood, it won't be rated as anything more than PG-G). Once again, this means that no tickets should be purchased in advance for minors/no minors should be in attendance on June 16th (but babies in arms, on laps, are fine!). --Emma Kwasnica, contact person.

Two ticket options:
1) $15 for ticket/admission to the screening or
2) $25 for ticket/admission AND a signed, numbered copy of the Limited First Edition of the film

The Limited First Edition will be produced in July, available in August of 2012.
It will be the 3-1/2 hour completed film and include expanded version of the
2 hour screener shown on Father's Day 2012 Pre-Release Tour.

Actual release date has not been determined and it may be months,
so this is opportunity to get one of the first copies at a discount rate.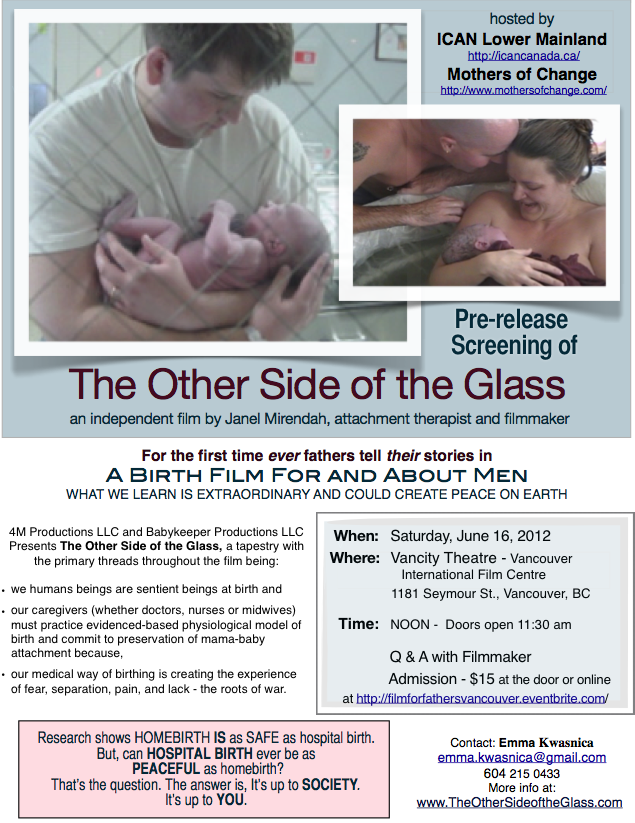 SCHEDULE FOR NATION-WIDE SCREENINGS
This is also a fundraiser for the sponsors and filmmaker

Saturday, May 19 - Columbia, MO
4:00 and 7:30 pm
Holiday Inn Executive Center, Bradley Room
$5 admission
Sponsored by filmmaker
Contact Janel at babykeeper@gmail.com
Saturday, June 2 - Macomb, IL
2 p.m.
Multicultural Center at WIU

Sponsored by Western Illinois Birth Services and the Macomb Area Birth Circle
Contact: Jennifer Vaugh Trias
jvtrias@gmail.com
FB event: http://www.facebook.com/events/229879737125157/
Saturday, June 9 - Temecula CA
10:30-1:30 pm
The Holistic Chamber of Commerce, 27432 Enterprise Circle West, Suite #102 Temecula, 92590 CA
Sponsored by Conscious Birth, Conscious Parenting Group & Karen Pecora of Blessed
Beginnings Midwifery and Founder of The Nesting Place
Contact: Karen Pecora at 915-970-5437 or karensmidwifery@gmail.com
https://www.facebook.com/events/408628672503754/
June 11 - Los Angeles, CA
7-10 Pm
The Sanctuary Birth and Family Wellness Center, 11965 Venice Blvd. Ste 307, Los Angeles, CA 90066
Sponsored by Los Angeles Birth Circle
Contact: Stephanie Dawn
www.stephaniedawn.com and http://www.birthsanctuary.com
Wednesday, June 13 - Santa Cruz, CA
6:30-9 pm
The Santa Cruz Village Birth Center, 149 Josphine St. Suite A, Santa Cruz, CA 95060
Sponsored by The Santa Cruz Village Birth & Family Enrichment Center
Contact: Krystal Long at santacruzvillage@gmail.com or 831-216-6262
Saturday, June 16 - Vancouver, British Columbia, Canada
NOON - 3:30 pm
Vancouver International Film Centre
1181 Seymour St, Vancouver BC Canada
Hosted by ICAN Midland and Mothers for Change
Contact: Emma Kwasnica
604-215-0433
emma.kwasnica@gmail.com
Tuesday, June 19- Denver, CO
1:30 pm
Sponsored by Magic Moments Birth Services
Margaret W. Carpenter Recreation Center, Room C, 11151 Colorado Blvd, Thornton, CO 80229
Contact: Janeen Raygor at janeenlraygor@hotmail.com or 720-371-1134
https://www.facebook.com/events/326165647436585/
Saturday, June 23 - Cumberland, MD
5pm
Allegany Arts Council 9 N. Center St. Cumberland MD
Contact: Meredith Lovell at 301-616-3279 or lovell.meredith@gmail.com
Donations welcome, FREE.
https://www.facebook.com/events/389451687762247/
Wednesday, June 27 - Tidewater, VA
6:30-9:30 pm
United Jewish Federation of Tidewater & The Simon Family JCC
5000 Corporate Woods Drive, Virginia Beach, VA 23462
Sponsors: Birth Matters VA and the Southeast Chapters
Contact: bmv.tidewaterchpt@gmail.com
Saturday, June 30 - Augusta, GA
12:00-4:00 pm
New Life Natural Food Community Room
2825 Washington Rd 30909
Sponsors: Better Augusta Birth Experience (BABE)
Contact: Lynn Reed 706-833-5101
Email: AugustaBirthNetwork@comcast.net
Website:
www.AugustaBirthNetwork.org