| | |
| --- | --- |
| VA/NC RUF Fall Conference 2016 | |
Event Details
Come join us for an amazing weekend with RUF at Eagle Eyrie Conference Center outside of Lynchburg, VA!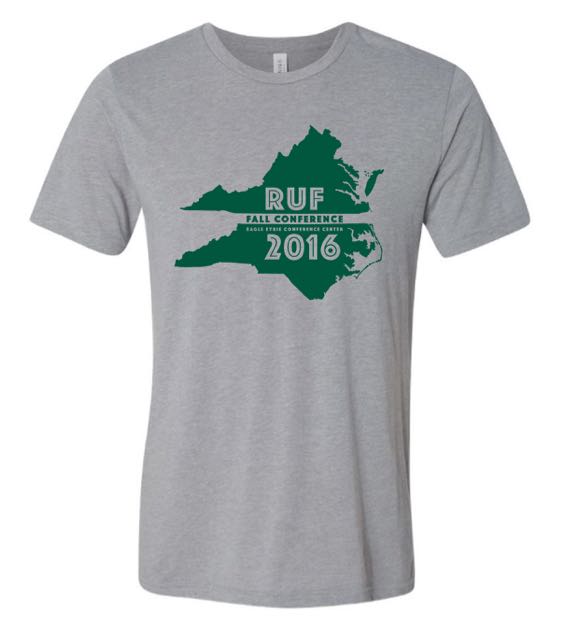 What Schools will be there?
Christopher Newport University
East Carolina University
James Madison University
Liberty University
Lynchburg College
Randolph College
Sweet Briar College
University of North Carolina- Wilmington
Virginia Commonwealth University
Virginia Tech
William & Mary
Cost:
Cost for the conference is $100, which includes room and board. Scholarships are available! Talk to your campus minister if you need a scholarship. He will give you a special code to enter during registration, using the "enter promotional code" link. You can pay with a credit card to complete your registration online. If you would prefer to pay by check, choose the "other payment options" link and follow the instructions. You will make all checks out to RUF and give them directly to your campus minister.
You can purchase a Fall Conference T-Shirt below (a really comfortable, gray Canvas Tri-blend shirt). T-Shirts are $11.00 (plus a $1.54 Eventbrite fee). You can pick them up at Fall Conference. 
What to bring:
Clothes (bring a raincoat), Bible, notebook, linens or sleeping bag, pillow, and towel. You also might want to bring a frisbee, football, or assorted games for free time. Also, we'll take a hike together so bring appropriate shoes.
Our Speaker:
Glenn Hoburg is the Senior Pastor of Grace DC- Downtown- a Presbyterian Church located in Washington, DC. Glenn and Meg Hoburg came to Washington, DC in the summer of 2003 to assist with the planting of Grace DC. Their previous ministry experience working with the Presbyterian Church in America's campus ministry (RUF) at Harvard University, and on the staff of Christ the King Presbyterian Church, Cambridge, MA, encouraged their love of cities and vision for ministry. Glenn had also lived in Boston during the age of spandex while attending Berklee College of Music. Prior to that they attended Covenant Theological Seminary and served on the staff of two churches, Christ Presbyterian in Nashville, TN (1990-1993) and Kirk of the Hills in St. Louis (1993-1997). Glenn and Meg have two teenage daughters, Madeline and Isabelle. The Hoburgs are grateful and enthusiastic for the opportunity to both serve God and raise their family in Washington, DC.
Glenn will be speaking to us about the Family of God- College is often the first time we live away from our families. The primary place where we sought things as basic as food and clothing, and as essential as support and guidance, is no longer right there--and yet, our need for family doesn't go away.  We now have to find it elsewhere. Perhaps for the first time we have to form a new "family". Even if you're commuting to school, there is still a major shift in your relationship base in moving from dependance to independence. In this season of life God doesn't mean for us to live as "orphans", instead he's provided the Family of God. What does this mean at college? How do we learn to be the family that God intends? A place of support, vulnerability, deep commitment, love and service. Our earthly families were to model this, but never serve as the ultimate fulfillment of it. Learning to be the Family of God at school--this is our calling.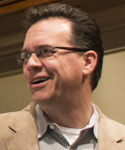 Tentative Schedule:
Friday, Sept. 30
7:30-8:30 PM Registration
9:00-10:15 Large Group
10:15-11:00 Small Groups

Saturday, Oct. 1
8:00-8:45 Breakfast
9:00-10:30 Large Group
10:30-11:30 Small Groups
12:00-12:30 Lunch
12:30-5:30 Free Time!
6:00-6:45 Dinner
7:00-8:30 Large Group
8:30-9:00 Small Groups
9:30-10:30 Trivia Competition
10:30-12:00 Campfire and S'mores &/or Dance Party

Sunday, Oct. 2
8:00-8:45 Breakfast
9:00-10:30 Large Group
10:30-11:30 Clean up and Go Home
Have questions about VA/NC RUF Fall Conference 2016?
Contact RUF
Where

Eagle Eyrie Conference Center
1 Eagle Eyrie Drive
Lynchburg, VA 24503


Organizer
Although RUF is sent to the campus by the Presbyterian Church in America, we welcome students from any and all walks of life. We are here for the "convinced" and the "unconvinced." Students from a wide variety of church and religious backgrounds are involved in RUF on over a hundred campuses in the United States. But what is unique about RUF? Read More!