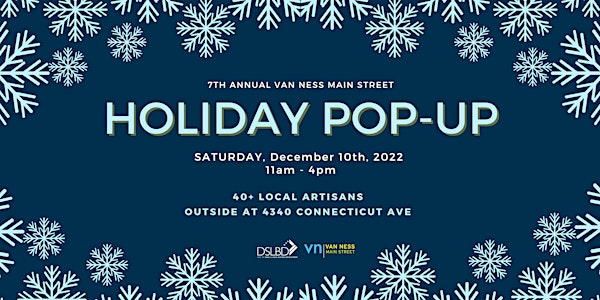 Van Ness Main Street's 7th Annual Holiday Pop-Up!
We're back for our 7th pop-up year, outside at 4340 Connecticut Ave, NW in Van Ness!
When and where
Location
4340 Connecticut Ave NW 4340 Connecticut Avenue Northwest Washington, DC 20008
About this event
Everyone's favorite pop-up shopping event is back for its seventh year on Saturday, December 10th from 11 AM - 4 PM at 4340 Connecticut Ave in Van Ness. This year's event, hosted by Go Puff and sponsored by Freedom Church DC, includes over 40 local artisans, a Holiday Hunt for prizes, the Vienna Singing Princesses, Photo Time with the Ice Queen and Snow Man and a Feed the Family Cleaning and Hygiene Product Drive.
Holiday Hunt & Selfie Contest for Kids and Adults. 11 am - 3 pm
KID'S VERSION: Pick up a Holiday Hunt map at the VNMS Welcome table at 4340 Connecticut Avenue. Find little stuffed penguins inside of, or in the windows at participating Holiday Hunt businesses and mark them on your map. Return your map to the VNMS Welcome Table to collect your prize by 4 PM! Prizes range from:
Candy Canes
100 Hershey's filled holiday candy canes
Rick Riordan/Politics & Prose T-Shirts and bookmarks (while supplies last)
Flavor Garden coupon for Holiday Funnel Cake and Ice Cream Scoop
ADULT VERSION: Pick up a Holiday Hunt map at the VNMS Welcome table at 4340 Connecticut Avenue. Take a selfie with a penguin in a participating Holiday Hunt business and post it to Instagram. Tag both @VanNessMainSt and @DSLBD. Collect your prize at the Welcome Table by 4 PM! Prizes range from:
$100 gift certificate from Rosemary Bistro
$50 gift certificate from E.M. Spa and Lashes
$25 gift card and a tote from Politics & Prose
$25 gift certificate from Italian Bar
Two-night gift certificate including parking from Days Inn.
Participating businesses (so far): Italian Bar, Rosemary Bistro, Politics and Prose, Bread Furst, Flavor Garden, Italian Pizza Kitchen, Calvert Woodley and The UPS Store.
Vienna Singing Princesses
Perfect for the whole family, the Vienna Singing Princesses join the Van Ness Holiday Pop-Up from 11 AM - 1 PM outside at 4340 Connecticut Avenue. Don't miss the Ice Crew Meet and Greet and Photo Time with the Ice Queen, Ice Princess, Ice Prince, and Snow Man!
Feed the Family
This year we're collecting cleaning products and personal hygiene items (soap, toothpaste, sanitizer) for Feed the Family. Bring items with you and drop off at our donation table. Thank you!
Holiday Pop-Up Participating Artisans:
All Very Goods
Artologica
BeauBow
Best Life Organics
Blue Moon Aquarius
BuilderChicks
Cafe Medrano
Candor All Natural
Color Without Borders
DC is my City
District Harvests
Em & Em Pottery
Fast Snail Creative Greetings & Design
Handcrafts by Ruby
Indiblossom by Anuradha Mehra
JenHud Studios
La Boite à Chaussettes
Lita+Ro Soy Candles
Lola Earnestine
Misty Morning Knits
Nairobi's Candle Co.
Naked Decor
Nurture Designs
Palo Borracho
PatientlyCrafted
Pink House Pottery
Rasevic Landscape Company
Relume
Rose Glow Tea Room. LLC
Saber Woodworking
Soak & Relax
Sheree Brand Art Co
Starland by Hand Jewelry
Taeri ceramics
To Bead Or Not To Be
TrishtanFoods Handmade
Victory Dance Creative
Viera Naturals & Wellness
Wild Places Prints
Yinibini Baby
*We are no longer accepting vendor applications for this event.
The 7th Annual Van Ness Main Street Holiday Pop-Up location is a short walk from the UDC red line metro exit. Make a plan to spend the day shopping, eating and drinking for a festive time up and down Connecticut Avenue!
Rain Date: Sunday, December 11th, 11am - 4pm.
Sign up for our newsletter to learn about our 2023 calendar of events >> here.