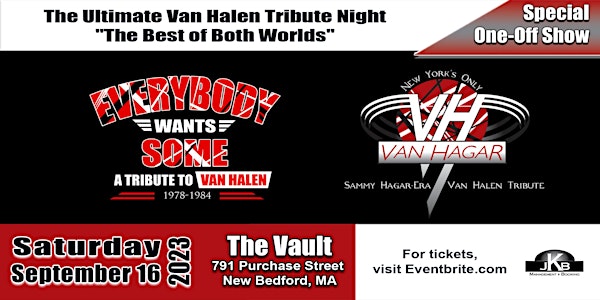 Van Halen Tribute Night featuring Everybody Wants Some & Van Hagar
JKB Entertainment Group presents "The Best of Both Worlds" Van Halen Tribute Night featuring Everybody Wants Some & Van Hagar at The Vault.
Date and time
Saturday, September 16 · 8 - 11pm EDT
Location
The Vault Music Hall 791 Purchase Street New Bedford, MA 02740
About this event
It's been over 21 years since David Lee Roth and Sammy Hagar gave fans the chance to see them on a co-headlining tour. While we don't expect both singers to ever tour together again, you can experience all the Van Halen classics from both the Roth and Hagar eras at The Vault in New Bedford, MA, on Saturday, September 16, 2023, in a special concert presented by JKB Entertainment Group/Limelight Magazine. It is a 21+ event.
"The Best of Both Worlds" one-off concert will feature two Van Halen tribute bands. Hailing from central Massachusetts, Everybody Wants Some will perform the David Lee Roth era songs of Van Halen from 1978 to 1985 while the New York-based Van Hagar will perform the Sammy Hagar era songs. It will be an unforgettable night of music from both bands!
Saturday, September 16, 2023
$20.50 General Admission
$32.50 Early General Admission*
*You can enter The Vault up to one hour before GA doors beginning at 6:30 PM with the option for hi-top table seating and dining.
Tentative schedule:
6:30 PM/7:30 PM – Doors Open (depends on ticket type)
8 PM – Everydody Wants Some or Van Hagar (to be determined by coin clip at sound check)
9:45 PM – Van Hagar or Everybody Wants Some (to be determined by coin clip at sound check)
EVERYBODY WANTS SOME
Everybody Wants Some is a Van Halen tribute band that formed in 2016. They have quickly established themselves as one of the premiere classic Van Halen tribute bands in Massachusetts.
The members of the band are die hard Van Halen fanatics who love the power of what Van Halen brought to the world from 1978 to 1984 – that raw, hard-driving party rock music you had cranking in your car cruising around when you were in high school.
They capture that power and energy from Eddie, Alex, Mike, and Dave. From Eddie's incredible fret work to Alex's thunderous beats to Mike and Ed's beautiful harmonies and of course Dave being Dave. They give you that experience of when you saw Van Halen in concert for the first time.
VAN HAGAR
Formed in 2015, Van Hagar initially started as something else entirely. The possibility of playing a few Sammy Hagar era Van Halen songs morphed into a full on tribute band that continue to grow in popularity with each live performance.
Van Hagar brings you all the hits that made Van Halen one of the biggest acts of their time. Faithfully reproduced and executed with precision, Van Hagar bringing you the best of Van Halen from the Sammy years.
If you attended their Vault performances in the past, you know they put on a great show!
PLEASE NOTE THE FOLLOWING:
MUST BE 21 or OLDER with Valid ID for Entry.
All ticket sales are final. There are no refunds or exchanges unless the concert is postponed or cancelled.
There is NO SMOKING OR VAPING allowed inside The Vault or in the bathrooms. If you are caught doing either, you will be escorted off premises and forfeit your tickets.