Changing lives 1 portrait at a time: "Moving and heartfelt", Outstanding!!! , Storytelling at it's finest, Inspirational"
About this Event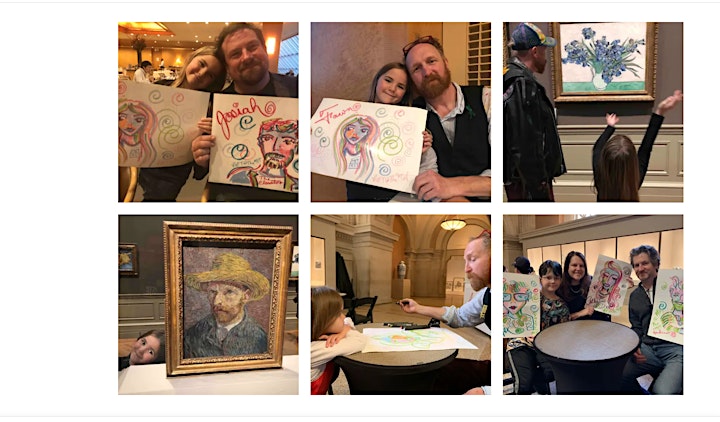 The performance Salon welcomes Vincent Van Gogh:
Over 60 people have rated this experience 5 stars @ The Met, MoMa and around the world: Edinburgh, NYC, London, S.F., Ct, Arles France, Mons Belgium, Amsterdaam, Cincinnati, Orlando.
Break bread with the man himself and celebrate Life, Art and great Food during an intimate immersive experience.
Join Vincent around the fire place as he paints an inspiring portrait of his life. Nourish your body heART and soul with an extraordinary vegan meal.
10 person maximum capacity. Guests will see the world renowned performance, have a home made meal and walk away with a portrait from Vincent.
BYOB
Coffee, tea and Non-Alcoholic drinks included
Art Supplies available or bring your sketchbook.
Links and reviews from Vincent's Wandering:
Tippayanet (Lens)·December 2019
Immersive storytelling like experiencing a live stage show of Vincent Van Gogh while receiving positive feeling and colourful drawing portrait in the end. Walter is a talented person who is not only look alike Van Gogh, but also has an emotional connection with another perspective of story about Van Gogh's life. Thank you, Walter.
Joe· November 2019
This was a singular, beautiful, fascinating, immersive, magical experience. To have lunch with Vincent... I don't know who enjoyed it more, my 6 year old daughter or me. I can not recommend Vincent/Walter highly enough. We were incredibly lucky to have this interactive one-man tour de force and tour d'art! If you're wondering how to make your day or trip or life unforgettable, spend a few hours with this amazing man.
Amy· November 2019
Our family had a wonderful time experiencing Van Gogh through Walter's show. He did a wonderful job making the story relatable to our kids- ages 13, 10, and 4. It was the perfect way to bite off a small piece of a huge museum and come away with a deep understanding of a legendary artist.