Vampire Lore from Transylvania to Ancient Peru
Description
"Vampire Lore from Transylvania to Ancient Peru"
Presented by Sharonah Fredrick
Assistant Director, ACMRS
Open to the public - $10 at the door - Refreshments will be served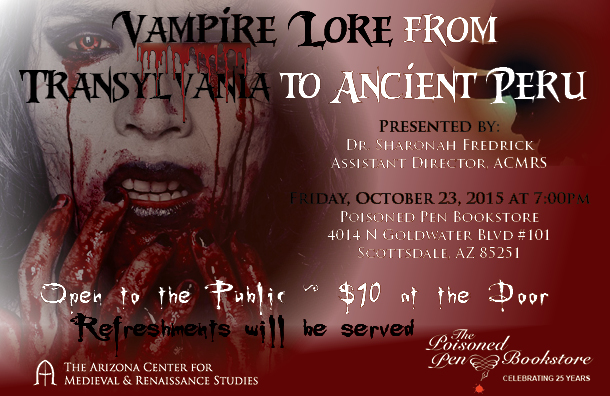 From the historical Vlad Tepes, the bloody count of Transylvania's Early Modern period, to the fanged deity Ai Aipec, sacred icon of Peru's pre-Incan Moche kingdom, the vampire phenomenon has captured humanity's morbid fantasy. Chronology and geography notwithstanding, the vampire is sometimes imagined nightmare and sometimes embroidered historical fact/fiction. "Undead" characters of the male and female varieties literally haunt the global imagination. Sixteenth-century noblewoman Elizabeth Bathory drank peasant blood to maintain her youthful appearance; and the feared Kharisiri demon of the Bolivian Altiplano sucked the life-essence from Aymara children. These tales indicate class and religious conflicts whose actual histories surpass any horror story. Join us for a spooky evening where we search for the real-life meanings beyond the supernatural, the historical role that the fictional "vampire" played in the collective imagination of medieval and Early Modern peoples, and for a discussion of contemporary versions of the older, and chilling, legends.
Organizer of Vampire Lore from Transylvania to Ancient Peru
The Arizona Center for Medieval and Renaissance Studies (ACMRS) was founded in 1981 as a state-wide research unit charged with stimulating the interdisciplinary exploration of medieval and Renaissance culture. Its activities cover a period roughly from AD 400 to 1700. ACMRS coordinates programs at ASU, Northern Arizona University in Flagstaff, and the University of Arizona in Tucson. Among the activities and programs the center sponsors are a semi-annual distinguished lecture and ad hoc lecture series, an annual distinguished visiting professorship, an annual conference, a public symposium, and summer study-abroad programs in the United Kingdom and Italy. The Center also awards undergraduate and graduate certificates in medieval and Renaissance studies to students completing required coursework.
---
MAJOR RESEARCH PROJECTS AND PUBLICATIONS
MAJOR RESEARCH FUNDING SOURCES
National Endowment for the Humanities

Program for Cultural Cooperation Between Spain's Ministry of Education, Culture and Sports and U.S. Universities

Iter Inc., (University of Toronto)

Samuel Kress Foundation

Institute for Humanities Research