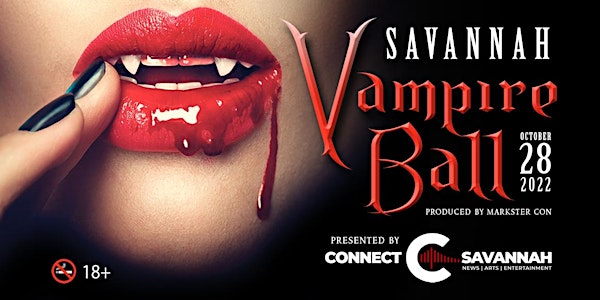 Vampire Ball III (Savannah, GA)
Creatures of the night descend on Georgia's oldest city for a hauntingly good time, complete with music, drinks, photos and more! (21+)
When and where
Location
Ships Of The Sea Maritime Museum 41 Martin Luther King Junior Boulevard Savannah, GA 31401
About this event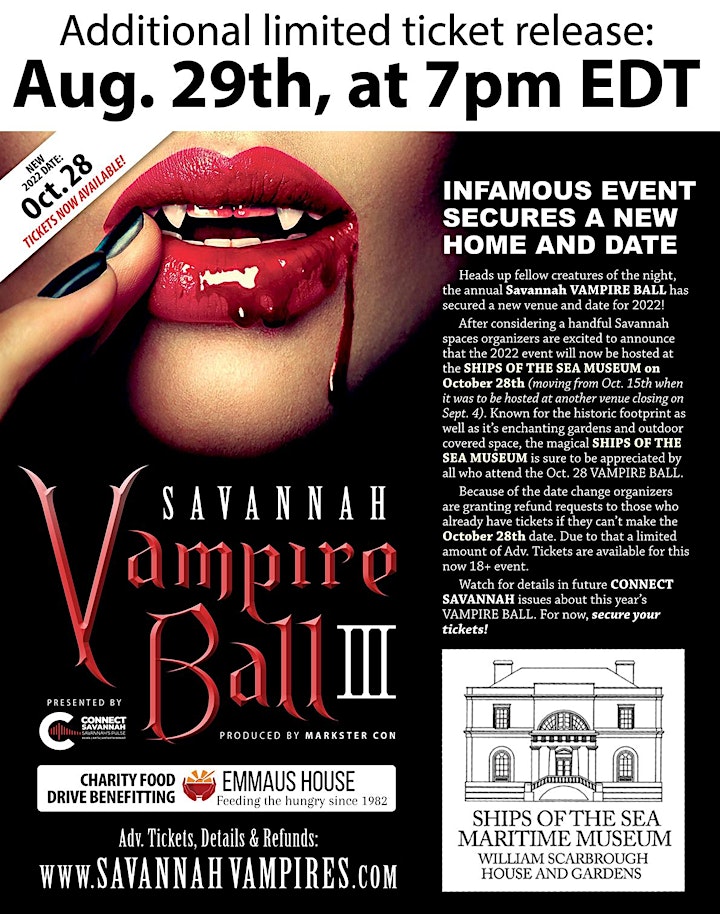 INTERESTED IN TICKETS: Due to the venue (and date) change, more tickets have released and are now available. Ships Of The Sea Museum, the new venue host can accompany more attendees compared to the original venue which closed on Sept. 4th, 2022 and therefore could not host the Vampire Ball 2022.
REFUNDS: If you already have tickets but can't attend due to the date chance, please submit a Refund Request by Oct. 1st, 2022 via forms.gle/1Qv7DM7T8eKTBdEH6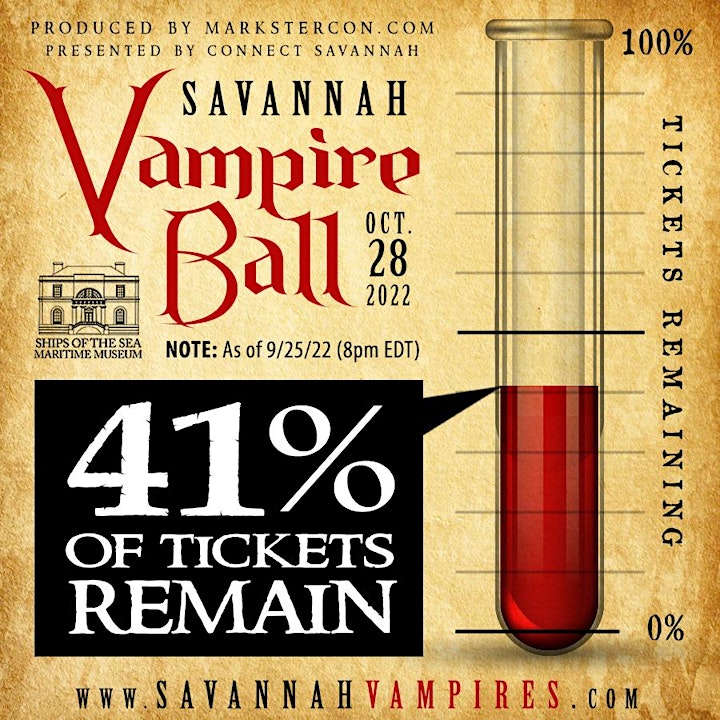 On Friday, Oct. 28th, 2022 (rescheduled from Oct. 15th due to the original event host closing on Sept. 4th) join your fellow creatures of the night as it'll be time to ascend again into Georgia's oldest city for a night like no other.
Grab your capes, sharpen your fangs, dust off your boots and come quench your celebratory appetite as Markster Con's VAMPIRE BALL returns for one evening only (8pm-Midnight, 18+, non-smoking) for a 3rd year - rescheduled for Oct. 28th, 2022.
EVENT HOSTED BY: Ships Of The Sea Museum
EVENT PRESENTED BY: Connect Savannah
EVENT WEBSITE: www.SavannahVampires.com
REFUND REQUESTS (submit by Oct. 1st): forms.gle/1Qv7DM7T8eKTBdEH6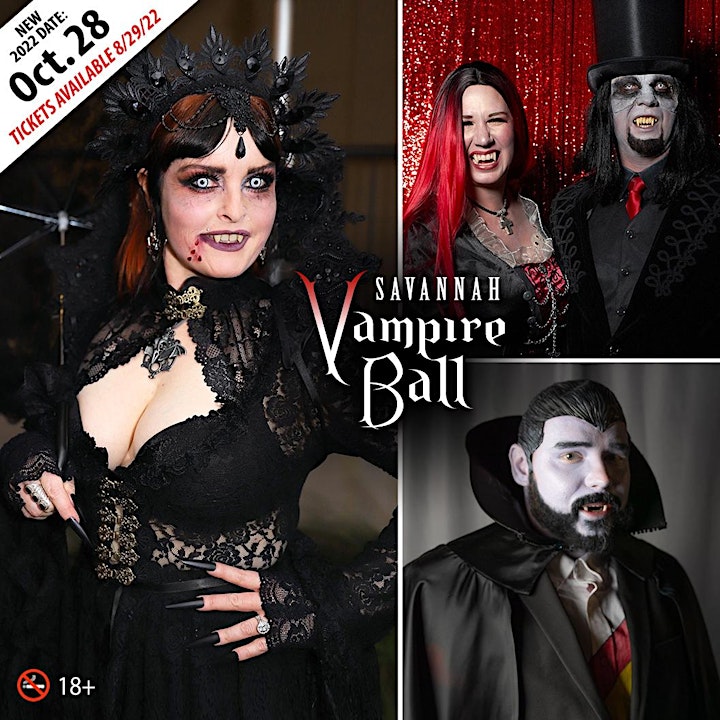 Details are still forming but so far it's shaping up to be a bloody good time:
➡️ Special vampire-themed SHIPS OF THE SEA drink specials
➡️ Featured and Roaming Photographers
➡️ Crowning of a Vampire King & Queen
➡️ Late-night DJ / dancing
➡️ FREE DRINKABLE BLOOD BAG (350ml) with 'Early Bloodsucker' tickets
➡️ Charity CANNED FOOD DRIVE: Every 2 cans donated equals 1 raffle ticket. The more cans donated means more raffle tickets to win donated raffle prizes, benefitting Emmaus House of Savannah.
➡️ ....and much more will help round out the night!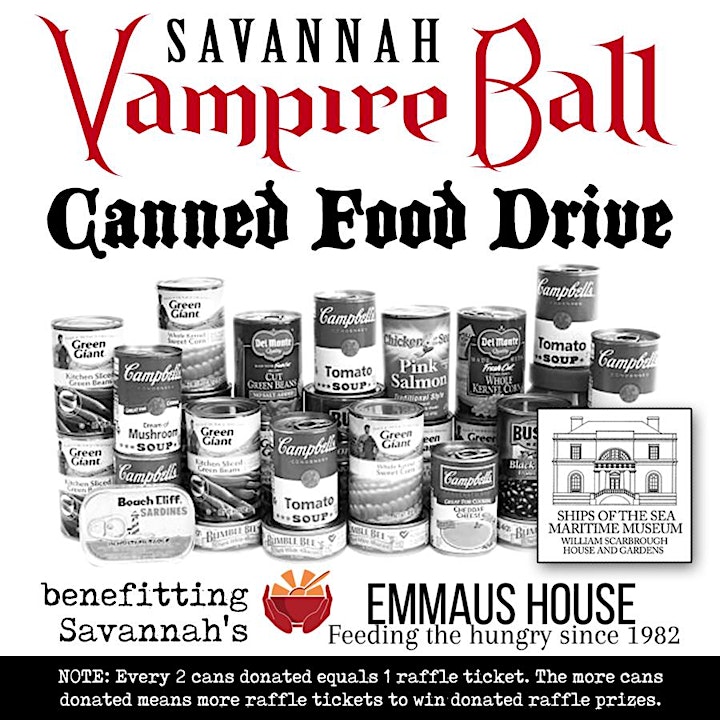 Go ahead and get Oct. 28th, 2022 on your creepy calendars and don't delay in securing an Adv. Ticket as we can't guarantee any will be left night of the event – the last two years the VAMPIRE BALL was hosted in Savannah it sold out almost 2 months in advance!
NOTE: The Vampire Ball is 18+ and requires a ticket for entry .
GENERAL CONTACT: markstercon.savannah@gmail.com
TICKET CONTACT: markstercon.tickets@gmail.com
EVENT WEBSITE: www.SavannahVampires.com