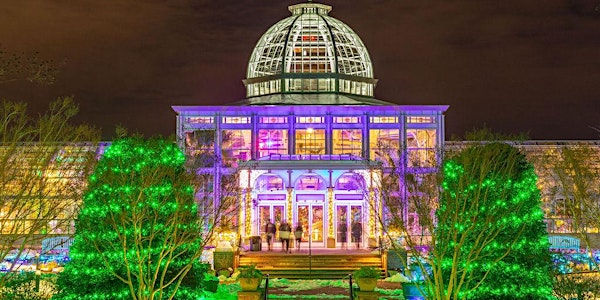 VALUE NIGHTS | Nov. 21-Dec. 15: Dominion Energy GardenFest of Lights
One of the region's most popular events! Tickets available online ONLY with timed arrivals. FLEX ticket options.
When and where
Location
Lewis Ginter Botanical Garden 1800 Lakeside Avenue Henrico, VA 23228
Refund Policy
Contact the organizer to request a refund.
About this event
These are VALUE TICKETS for Nov. 21, 2022-Dec. 15, 2022.
$17 Adult
$8 Youth
$27 FLEX Adult (see FLEX details below*)
$18 FLEX Youth (see FLEX details below*)
Children under age 3 do not need a ticket.
Group Tickets are available here as well; $17 per person.
Looking for tickets for Dec. 16-Jan. 1? Visit PEAK NIGHTS.
Looking for tickets for Jan. 2-8? Visit BONUS NIGHTS.
Museums for All guests, please visit Museums for All (Nov. 21-Dec. 15) or Museums for All (Dec. 16-Jan. 8).
Dominion Energy GardenFest of Lights, Nov. 21, 2022-Jan. 8, 2023. Closed Thanksgiving and Dec. 24-25.
This is a rain or shine event. No refunds. Proceeds benefit the Garden.
TICKETS
Tickets are available online ONLY (no walk-ups). Each half-hour has a limited number of tickets available.
*FLEX Tickets allow a one-time transfer of your ticket to another date and/or time. Rebooking is subject to availability. FLEX tickets cannot be used to reschedule on nights that are already sold out. Certain restrictions apply**.
If you have a FLEX ticket, you can contact the Garden at flex@lewisginter.org for ticket transfers. Non-FLEX Tickets cannot be transferred and are non-refundable.
ARRIVAL
Arrive at the time on your ticket or up to 30 minutes after that time. Example: if your ticket says 4 p.m., arrival time is between 4-4:30 p.m.
Please have your tickets with QR code showing (either on your smartphone or printed) and ready for scanning.
Please carpool if you can. We do not have an indoor space for meet-ups and parking is limited.
LIGHTS, DISPLAYS & MORE
This year's theme is "Seeds of Light."
Part of the magic of winter nights is how a twinkle of light can transform the darkness. In the natural world, seeds hold a similar mystical power. So tiny, yet so mighty, seeds are the "spark of life" containing the secrets of a never-ending creation. Through the sparkle of more than a half-million lights, imaginative displays, and memorable experiences, GardenFest takes inspiration from seeds and fruits to reveal an interconnected world of incredible diversity, amazing strategies, and enduring beauty.
Millions of lights line garden paths and twinkle in trees under the night sky. This is a walk-through experience designed so you and your loved ones and friends can relax, have fun and make special memories in a magical outdoor setting.
A 20-foot-tall, cut, live tree in the Conservatory. Decked out in a botanical theme, this tree promises to be a favorite photo opportunity.
Model trains return to the Kelly Education Center
Trees decorated by Henrico County Public Schools students brighten the Lora Robins Library; botanical decorations also grace the cozy Library Reading Room.
The Kelleher Warming Fire in the Children's Garden is a great spot to warm up, drink hot chocolate, and roast s'mores (available for purchase at the nearby Carriage House).
The Garden Shop is known as one of the best gift shops around and is full of great holiday gift ideas. Treat yourself or shop for presents for the special people on your list.
SPECIAL NIGHTS
Free Member Nights: Jan. 2-8, 2023: Admission is free for members on these evenings.
GardenFest for Fidos Nights: Leashed dogs allowed on Monday, Nov. 21, 2022; Monday, Dec. 5, 2022; and Monday, Jan. 2, 2023
Live Music on select Thursday nights; visit bit.ly/GardenFEST to learn more.
FOOD & DRINK
The Restaurant at Lewis Ginter (Garden Cafe) has sit-down dining; the Jingle Bar and Grill (Tea House) has "grab and go" casual fare and a bar.
The Restaurant at Lewis Ginter* (location: Garden Cafe)
Nov. 25-Dec. 18: Thursdays-Sundays only
Dec. 19-Jan. 1: Nightly
Open 5-8:30 p.m.; last reservation at 8:30 p.m.
Festive holiday dinners. Reservations highly recommended and are online only through OpenTable.
*When making a reservation, please make sure that you book your GardenFest ticket before choosing a time for dining.
Jingle Bar & Grill (location: Tea House)
Nov. 21-Jan. 8; 4:30-9 p.m.
Grab and go items such sandwiches, soups, salads and snacks. Drinks include sodas and water, plus adult beverages. The space includes tables for first-come, first-served seating, and items are packaged so that you may enjoy them as you walk through the lights.
Espresso-A-Go-Go: hot drinks, s'mores kits, and snacks available for purchase in the Children's Garden Carriage House (near the Kelleher Warming Fire).
Jingle Bar (location: Cochrane Rose Garden; subject to weather)
Dec. 16, 17, 21-23, 26-31; 5-9 p.m.
Adult beverages and non-alcoholic drinks and snacks for purchase in the Cochrane Rose Garden.
**FLEX TICKET TRANSFER POLICY
Guests MUST have purchased a FLEX ticket in order to transfer their tickets
Same day ticket transfers will only be completed up to 4 p.m. All other ticket transfers will be completed within 48 hours.
Guests will not be refunded the difference if they select a lower-priced ticket
Guests switching from a VALUE/BONUS night to a PEAK night will be required to pay the difference for upgrading to a FLEX PEAK ticket. (ie: Guests cannot switch from a FLEX VALUE/BONUS NIGHT ADULT ticket to a PEAK GENERAL ADULT ticket.)
Dominion Energy GardenFest of Lights, Nov. 21, 2022-Ene. 8, 2023. Cerrado el Día de Acción de Gracias y Dic. 24-25.
Este evento se llevara a cabo con o sin lluvia. No hay reembolso. Las ganancias benefician al Jardín.
ENTRADAS
Las entradas están disponibles en línea SOLAMENTE (no se venderán en ventanilla) Cada 30 minutos tiene un límite de entradas disponibles.
AL LLEGAR
Favor de llegar a la hora indicada en su boleto o hasta 30 minutos después. Por ejemplo, si su boleto dice 4 pm, la hora de llegada es de 4-4:30 pm.
Favor de tener el boleto con el código QR listo para escanearse. Ya sea en el teléfono o en el boleto impreso.
Favor de considerar compartir el transporte. Nuestros lugares de estacionamiento son limitados.
LUCES, DESPLIEGUES & MAS
El tema de este año es "Semillas de Luz" (Seeds of Light).
Parte de la magia de las noches de invierno, es cómo el tintineo de luz transforma la oscuridad. En el mundo natural, las semillas guardan un poder místico similar. Tan pequeñas, pero tan ponderosas, las semillas son la "chispa de la vida", conteniendo secretos de una creación sin fin.
Este año, Dominion Energy GardenFest of Lights celebra esta maravilla con el tema "Semillas de Luz" (Seeds of Light). Mediante la chispa de más de medio millón de luces, despliegues imaginativos, y experiencias inolvidables, GardenFest se inspira en semillas y frutos para revelar un mundo interconectado de increíble diversidad, estrategias asombrosas, y belleza eterna. Ilumina tus noches esta temporada con una visita al Jardín Botánico Lewis Ginter.
• Millones de luces a lo largo de los caminos y en los arboles bajo el cielo nocturno. Dominion Energy GardenFest of Lights es una experiencia para recorrer a pie diseñada para que tú y tus seres queridos se relajen, disfruten y tengan recuerdos especiales en una atmósfera mágica al aire libre.
• Un árbol natural de 20 pies de altura Decorado con tema botánico, este árbol promete ser una gran oportunidad para tus fotos favoritas,
• Las maquetas de trenes regresan al Kelly Education Center
• Arboles decorados por estudiantes de las escuelas del Condado de Henrico iluminan la biblioteca Lora Robins; así como decoraciones botánicas alegran el Cuarto de Lectura de la biblioteca.
• La fogata Kelleher Warming Fire en el Jardín de los niños, es un area perfecta para calentarse, tomar chocolate caliente, y rostizar malvaviscos para s'mores (disponibles a la venta en el Carriage House).
• La Tienda del Jardín es conocida como una de las mejores tiendas de regalo de la zona. Y esta llena de regalos ideales para la temporada. Consiéntete a tí o a aquellos en tu lista.
NOCHES ESPECIALES
Noches Gratis para Miembros: Ene. 2-8, 2023: La entrada es libre para miembros en estas fechas.
Noches de GardenFest para Fidos: Perros con correa son bienvenidos los lunes, Nov. 21, Dic. 5, 2022; y Ene. 2, 2023
Música en vivo en ciertos jueves por la noche; visita bit.ly/GardenFEST para más información.
COMIDA Y BEBIDA
El Restaurante en Lewis Ginter (Garden Café) tiene mesas para sentarse a cenar; El Jingle Bar and Grill (Tea House) ofrece comida informal, empaquetada para llevar así como un bar.
Restaurante en Lewis Ginter (ubicación: Garden Cafe)
Nov. 25-Dic. 18: Jueves-Sábado únicamente
Dic. 19-Ene. 1: de noche
Abierto de 5-8:30 p.m.; última reservación at 8:30 p.m.
Para cenas de temporada se recomienda hacer reservaciones en línea mediante OpenTable. *Al hacer una reservacion asegurese de haber comprado las entradas a GardenFest antes de escoger la hora de la reseva)
Jingle Bar & Grill (ubicación: Tea House)
Nov. 21-Ene. 8
Abierto de 4:30-9 p.m.
Opciones para llevar como sandwiches, sopas, ensaladas y bocadillos para ser disfrutados ya sea durante la caminata, o, quien prefiera sentarse a cenar, el lugar tambien ofrece mesas (no hay reservación, es por orden de llegada). Hay bebidas como sodas y agua, además de bebidas para adultos.
Espresso-A-Go-Go: bebidas calientes, kits para hacer s'mores, y bocadillos disponibles a la venta en el Carriage House en el Jardín para Niños, (cerca de la Fogata Kelleher).
Jingle Bar (ubicación: Jardin de Rosas Cochrane (Cochrane Rose Garden; sujeto a cambios por clima)
Dic. 16, 17, 21-23, 26-31
5-9 p.m.
Bocadillos y bebidas en venta en el Jardín de Rosas Cochrane.
ANSWERS TO FREQUENTLY ASKED QUESTIONS
GardenFest and Lewis Ginter Botanical Garden will be closed on Thanksgiving, December 24 & 25.
The attractions are all outdoors and it is a walk-through show. Please dress accordingly.
The event is rain or shine and is canceled only in cases of extreme inclement weather. Any closure notices will be posted to the Garden's homepage and on social media.
Proceeds benefit Lewis Ginter Botanical Garden. There are no refunds. This is a rain-or-shine event. Garden member tickets are non-transferable to non-members.
Garden members must be prepared to show a member ID card.
Those purchasing "General Admission" tickets through the "Museums for All" initiative must be prepared to show SNAP or WIC card.
Parking is free, but it is limited.
Busiest nights tend to be weekends and the week prior to Dec. 25.
Outside food and other items may not be brought into the event.
For questions about the event, please call (804) 262-9887 or email contactus@lewisginter.org
During the ticket purchase process, anyone using an email address that is not recognized by the Eventbrite system will be asked to set a password the first time. If you have previously purchased tickets on Eventbrite you will not need to do this. You can access your GardenFest tickets from your email confirmation and either print them or show them on your smartphone when you arrive. There is no need to login to Eventbrite or use the Eventbrite App unless you would like to do so, or for some reason are unable to retrieve your email tickets.
On many phones, the tickets are attached as a pdf at the bottom of the confirmation email.
-----
RESPUESTAS A PREGUNTAS FRECUENTES
• GardenFest y el Jardín Botánico Lewis Ginter, estarán cerrados en el Día de Acción de Gracias y el 24 & 25 de Diciembre.
• Las atracciones son al aire libre y el evento está diseñado para caminar. Favor de vestirse adecuadamente.
• El evento se llevará a cabo con o sin lluvia y sólo se cancelará en el caso de clima extremo. Cualquier clausura se publicará en la página web y en redes sociales.
• Las ganancias benefician al Jardín Botánico Lewis Ginter. No hay reembolso, Las entradas para los miembros no son transferibles a no-miembros.
• Los miembros del Jardín deberán mostrar su tarjeta de membresía.
• Aquellas personas que compran "Admisión General" por medio del programa Museos para Todos, deberán mostrar su tarjeta SNAP o WIC.
• EL estacionamiento es gratis, pero limitado.
• Las noches con más visitantes son en los fines de semana y la semana antes del 25 de Diciembre.
• No está permitido traer comida de afuera.
• Si tiene mas preguntas acerca del evento, favor de llamar al (804) 262-9887 o enviar un correo electrónico a contactus@lewisginter.org
• El Sistema de compra de boletos Eventbrite requiere registarse con una dirección de correo electrónico y una contraseña la primera vez que se usa. Si ya haz comprado boletos en años pasados, no es necesario registrarse otra vez. Una vez comprados los boletos, puedes accesarlos desde el correo electronico de confirmación, generalmente enviados adjunto en formato PDF. Muéstralos en la entrada, ya sea impresos de antemano o desde tu teléfono No es necesario bajar la aplicación.