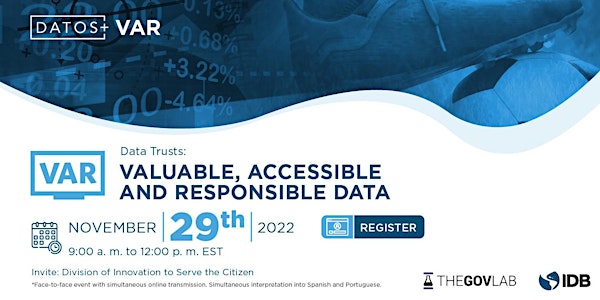 Valuable, Accessible and Responsible Data: An IDB & GovLab Conference
​​This event features two public panels on the promise of national data strategies and the operationalization of data collaboratives.
About this event
Data Trusts: Valuable, Accessible and Responsible Data: An IDB & The GovLab Conference
A hybrid event on Tuesday, November 29, 2022.
​​This event features two public panels with public and private sector experts on the promise of national data strategies, as well as a closed interactive studio exercise to operationalize advice to craft responsible and sustainable data governance and re-use models.
Details
Date: Tuesday, November 29, 2022
Time: 9:00AM -12:00PM EST
Location: Inter-American Development Bank (IDB) — 1300 New York Avenue NW, Washington, D.C. United States and ZOOM
Hosts: The GovLab & Inter-American Development Bank
Format: Hybrid—Online public panels
Zoom Meeting URL: https://iadb-org.zoom.us/webinar/register/WN_lAnFrLJvSa-p3CBemHwlDw
Meeting ID: 84848071184
***
Data has become a fundamental resource for society at large. Embracing change, innovators across governments, companies, and social impact firms have turned to new models of data access and data sharing to unlock data's potential for effective services and the public good. At a national level, countries are coordinating efforts to define strategies to use and experiment with data to drive innovative and progressive public policies. These strategies include models such as data trusts, trusted intermediaries, data spaces, and data collaboratives, which demonstrate ways of bringing together different stakeholders to utilize the same data.
However, there are concerns about how to conceive a national strategy between multiple approaches to data management and how to move forward, especially in a Latin American context. Overcoming this confusion is essential because the potential of accessing the "treasure of data" resulting from digital transformation is immense. At the same time, there are risks that new forms of access, if poorly implemented, may present to privacy and other rights. Current efforts show that there is no panacea to a national data strategy (NDS)—which is why now is the time to experiment with methods and models to find fit-for-purpose ways to leverage data.
This conference combines practical advice with real-world practice by featuring international data experts across public and private sectors to help decision-makers in Latin America learn about the challenges and best practices for responsible and sustainable national data strategy creation and implementation.
We invite you to register for the two panels streamed online: Panel 1: Emerging Policy and Data Models and Panel 2: Innovative Operational Models from a Sectoral Approach.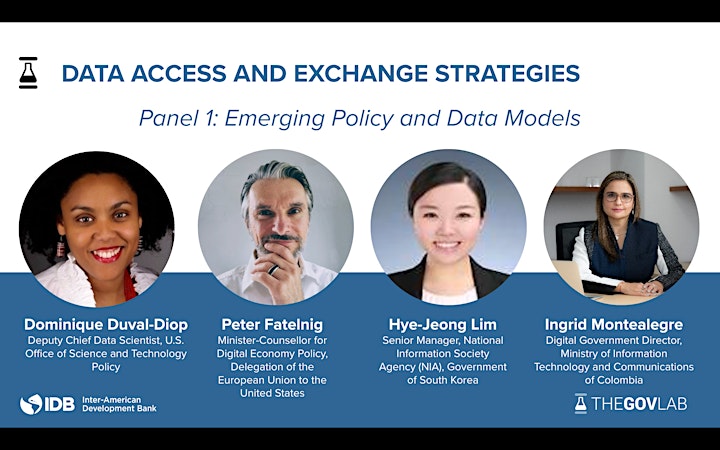 Panel 1: Emerging Policy and Data Models
What are the key considerations for policymakers seeking to create national data strategies? In this conversation with public sector and policy experts, we explore previous methods to facilitate data access and exchange needs. This panel will detail the common problems faced by policymakers, how and why data was a beneficial tool in addressing national challenges, and the benefits and risks of data access, re-use, and collaboration.
PANELISTS
Moderator: Stefaan Verhulst, Co-Founder and Chief Research Officer, The GovLab
Panelist: Dominique Duval-Diop, Deputy Chief Data Scientist, U.S. Office of Science and Technology Policy
Panelist: Peter Fatelnig, Minister Counsellor for Digital Economy Policy. Delegation of the EU to the US
Panelist: Hyejeong Lim, Senior Manager, National Information Society Agency of Korea (remote)
Panelist: Luisa Fernanda Medina, Digital Government Deputy Director, Ministry of ICT Colombia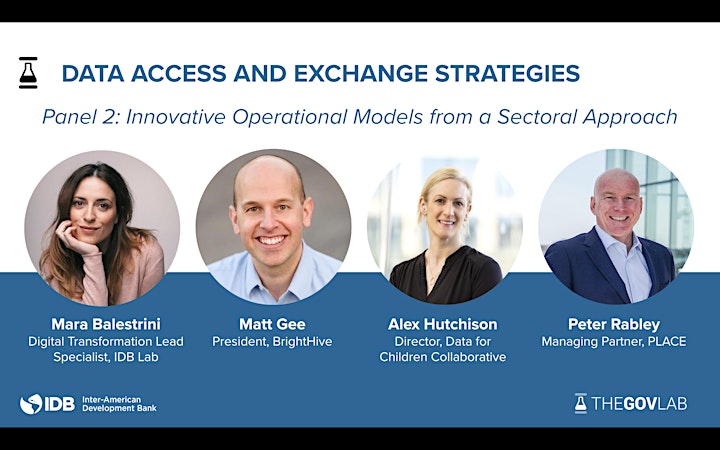 Panel 2: Innovative Operational Models from a Sectoral Approach
As a result of digitalization, the private sector has become one of the dominant data holders in society. Much of that data that could be beneficial to society if accessed and re-used to generate insights that can benefit policymakers and the public at large, yet remains closed for most. Several have sought to establish data collaboratives—a variety of different forms of public-private collaborations that seek to democratize access to data. This panel will explore lessons learned in setting up data collaboratives and consider different models for data access and collaboration from a sectoral approach. It will further discuss initiatives by non-governmental actors and look at the practical requirements and benefits of cross-sectoral data partnerships.
PANELISTS
Moderator: Arturo Muente, Modernization of the State Lead Specialist, Inter-American Development Bank
Panelist: Mara Balestrini, IDB Lab
Panelist: Matt Gee, President, BrightHive
Panelist: Alex Hutchison, Director, Data for Children Collaborative
Panelist: Peter Rabley, Managing Partner, PLACE
About The Governance Lab
The Governance Lab's mission is to improve people's lives by changing the way we govern. Our goal at The GovLab is to strengthen the ability of institutions — including but not limited to governments — and people to work more openly, collaboratively, effectively, and legitimately to make better decisions and solve public problems. We believe that increased availability and use of data, new ways to leverage the capacity, intelligence, and expertise of people in the problem-solving process, combined with new advances in technology and science, can transform governance. We approach each challenge and opportunity in an interdisciplinary, collaborative way, irrespective of the problem, sector, geography, and level of government. For more information, visit thegovlab.org
About the Inter-American Development Bank
The IDB is the main source of multilateral financing and expertise for sustainable economic, social, and institutional development in Latin America and the Caribbean. The IDB Group is the leading source of development finance for Latin America and the Caribbean. The group comprises the IDB, which has worked with governments for 60 years; IDB Invest, which serves the private sector; and IDB Lab, which tests innovative ways to enable more inclusive growth. For more information, visit www.iadb.org/en
Register At: https://var-data.eventbrite.com/
Find Us At
The GovLab
Inter-American Development Bank