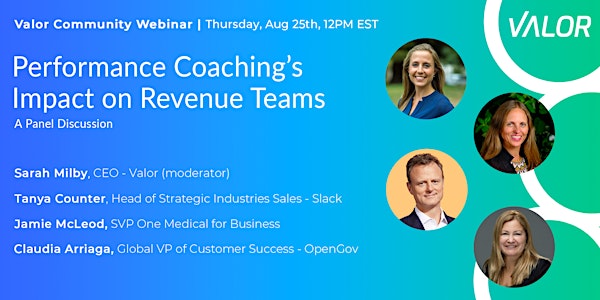 Valor Community Discussion: Performance Coaching's Impact on Revenue Teams
Join Valor for a virtual Community Panel Discussion on Performance Coaching's Impact on Teams with Top Revenue Leaders
About this event
Join Valor for a Panel discussion with three impressive Revenue leaders and members of its Community on Thursday, Aug. 25th at 12 PM EST on Performance Coaching's Impact on Revenue Teams.
Sarah Milby, CEO & Founder of Valor Performance, will be moderating a hand-picked panel of revenue leaders and members of the Valor community to discuss strategies, tactics and learnings, covering:
Supporting AND developing: Strategies to retain, develop and appreciate top performers
Turn Resilience Into Revenue: The Power of Mindset Coaching for Team Performance
Coaching the Coach: Why give Seasoned, Senior Sales Leaders a Coach

Our impressive panelists will be:
Tanya Counter, Head of Strategic Industries Sales - N America at Slack, a Salesforce Company. Tanya has been with Salesforce for close to 9 years. For several years in a row, Salesforce has been named #1 on Great Place to Work's list of the World's Best Workplaces! Tanya and her team are responsible for accelerating transformation, driving growth and customer success across global companies. Tanya leads by example by giving back, mentoring, developing top talent, and creating an atmosphere of authenticity, diversity, trust and fun. In addition, Tanya is the Executive Advisor for the Salesforce Women's Network and Salesforce Outforce in Atlanta. Prior to Salesforce, Tanya held various positions at Oracle, SAP, Siebel, Unisys after beginning her career in banking. Tanya holds a Bachelor of Science in Business Administration, Accounting from Auburn University. Outside of work, Tanya enjoys yoga, meditation, real food, art, travel and the outdoors! Tanya is also on the Art Papers Board. Art Papers is an Atlanta-based nonprofit organization with an educational mission to provide accessible forums for documenting, examining, commissioning, and presenting contemporary art and culture in the world today.
Jamie McLeod, SVP, One Medical for Business. As a Valor executive sponsor and participant, Jamie runs the Enterprise division at One Medical, recently acquired by Amazon. Jamie previously held the position of SVP of Sales & Business Development at Virgin Pulse, an employee well-being solutions company.
Claudia Arriaga, Global Vice President of Customer Success at OpenGov. Claudia Arriaga is Vice President of Customer Success for OpenGov, the leader in modern cloud software for local governments and state agencies. Arriaga oversees a team that serves the unique needs of over 1,100 local governments and state agencies, ensuring that government leaders achieve their goals around resiliency, collaboration, efficiency, and transparency. She has over 20 years of experience serving the public sector with technology, software, and consulting services. She has an MBA from George Washington University.
To Join the Webinar
Join from a PC, Mac, iPad, iPhone or Android device: Please click this URL to join. https://valorperform.zoom.us/j/86490029710