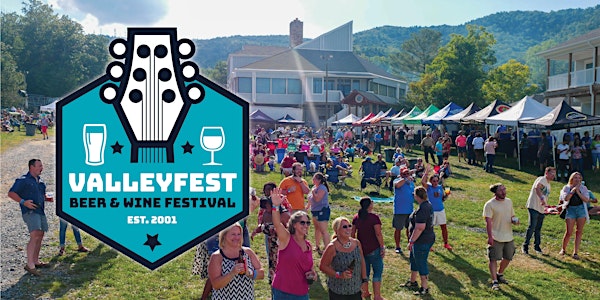 ValleyFest Beer & Wine Festival 2022
Event Information
Performers
Tunnels End
Parker Barrow Project , Pebble to Pearl, Koda and Marie of Chamomile and Whiskey
Location
Massanutten Resort
4616 Massanutten Drive
Massanutten, VA 22840
Join us on the mountain for ValleyFest 2022 on May 28, 2022 on the slopes of Massanutten Resort!
About this event
Your ticket includes admission to the festival PLUS 8 tickets for beer sampling and a mug or cup (while supplies last)! This year's beer line up includes 5 limited release special tappings! View the full beer, cider & seltzer line up at massresort.com/valleyfest!
​​Kids 10 & Under | Free
At the Gate | $45
2022 Band Line Up
Koda and Marie of Chamomile and Whiskey | 12 noon - 1 PM
Chamomile and Whiskey came about like all good, simple things--by making two things into one. In the case of this group, Marie Borgman and Koda Kerl--native musicians of Nelson County, Virginia--combined chamomile tea with Evan Williams whiskey one evening. They decided that what they had made tasted like their sound.
Although the group has evolved since forming in 2011, it, like the subtle mixture of herbal tea and whiskey, has matured and found its own sly, subtle voice. If a band has feet, then Chamomile and Whiskey has both on them firmly on the ground. But if a band is a living thing like a plant--which the best bands are--Chamomile and Whiskey has grown from roots set deep in Americana, blues, Celtic, old-time and the singer-songwriter tradition of the south.
The group has developed a more electric sound with Drew Kimball on guitar and enhanced the foundational fiddle and guitar sound with drummer Stuart Gunter. Their last studio album was recorded in 2019 in Nashville by Ken Coomer of Wilco and Uncle Tupelo. It sounds like music that is lived in and lived through. Their sound tastes like Chamomile and Whiskey.--
Pebble to Pearl | 1:30 - 2:30 PM
P2P is road bound, touring up and down the East Coast to venues like the House of Blues in Orlando to the Canal Room in NYC. They bring a collaboration of professional musicians and vocalists from the southwest and Mid-Atlantic who have shared stages with the likes of Chuck Shaffer Picture Show, Rome in a Day, Army of Me, Minus-One, The Blackjacks, JunkFood, The Hint, My Favorite Highway, Fight the Lion, The X's, Shane Hines and the Trance, JurisFiction, All Time Low, Jimmie's Chicken Shack, Welbilt, The Speaks, Crash Boom Bang, Rude Buddha, Everyone But Pete, Klymaxx, Salt & Pepa, Chrisette Michelle, Erykah Badu, MC Lyte, Keke Wyatt, Chico Debarge, Estelle, Hello Tokyo, Chuck Brown, Paula Campbell, Backyard Band, Yolanda Adams, B.B. King, Genuine, Missy Elliot, & Tweet.
They have no boundaries with visible influences from legends like Stevie Wonder, Michael Jackson, Tina Turner, and Chaka Khan, to the new generation powerhouses ranging from Beyonce and Rihanna, to Joss Stone and Lenny Kravitz. Their self-entitled EP, debuted in March 2018, holds no bounds in blending a combination of funky blues rock with hard hitting and flawless vocals. If you haven't seen them in action, you are missing a key note in the chromatic scale. They throw in everything but the kitchen sink into their show and leave a lasting impression and the need for wanting more.
Parker Barrow Project | 3 - 4:15 PM
The Parker/Barrow Project is a Country Grunge Band based out of the City of Music – Nashville Tennessee. It is the latest project to be produced by Drummer/Song Writer Dylan Turner and features the powerfully raw vocal dominance of Lead Singer and Front Woman extraordinaire Megan Kane.
The duo places high value on their relationship through music and are truly kindred in spirit. From their intimate acoustic sets to powerful high energy full band shows it is apparent that Kane and Turner are exactly where they want to be. Being a full time touring act This down to earth band flies high on stage and works hard to take you along on the flight.
Tunnels End | 4:45 - 6:15 PM
Tunnels End is a high energy, crowd engaging, talent filled band that thrives in the live music scene. They leave nothing on the table and will keep your audience entertained from start to finish.
2022 Food Vendors
Sherri's Crab Cakes
Bayou Kitchen
Chef Thomas Marzolf Featuring Authentic Bratwurst's
K's Grill
Vova's Kettle Corn
Just Fries
Posh Fairy Floss (cotton candy)
2022 Arts & Craft Vendors
Green Hummingbird - Fair trade clothes & accessories
Sophia Alexander Candle Co - Candles, wax melts, soap, cosmetic items, resin art
Ten Thousand Villages - Fair trade clothes & accessories
Shenandoah Hemp Supply - Localy grown hemp and cbd products, oil, clothing
Lilla Rose - Hair jewelry clips, etc
TK's Crafts & Creations - Wreaths crochet items
Nutt House Wine & Wood - Re-purposed wine barrel items; Lazy Susan's coat racks
Tee's Garden Stones - Garden and stepping stones to purchase or paint; a few plants
Eclectic Amy Creations - Jewelry
Frog Designs - Shirts and tumblers
Alexander Bros - Leather goods
ValleyFest tickets are non-refundable. Rain or shine event. Adult ticket purchase includes festival admission, 8 tickets for beer sampling, and a mug or cup (while supplies last). Ticket price does not include food or beverages. Canned beverages are not available for sampling.
MUST PRESENT VALID ID at the gate to consume alcoholic beverages. Please drink responsibly - Pourers may refuse service to anyone who appears intoxicated. Wine & ciders are for sale by wineries/cideries present at event.
NO OUTSIDE FOOD OR BEVERAGES PERMITTED. NO COOLERS, PETS, OR WEAPONS of any kind are permitted. All bags, chairs, strollers will be checked. All event attendees will be required to follow current COVID-19 federal and state guidelines, along with guidelines set forth by Massanutten Resort.
Proceeds benefit community initiatives supported by the local Rotary Clubs of Harrisonburg and Rockingham County.
Event Address | 4616 Massanutten Drive, Massanutten, VA 22840
Performers
Tunnels End
Parker Barrow Project , Pebble to Pearl, Koda and Marie of Chamomile and Whiskey
Date and time
Location
Massanutten Resort
4616 Massanutten Drive
Massanutten, VA 22840
Refund policy