Valley Publicity Summit, presented by SPJ

Saturday, September 19, 2015 from 8:00 AM to 1:00 PM (MST)
Event Details
ONLINE REGISTRATION NOW CLOSED!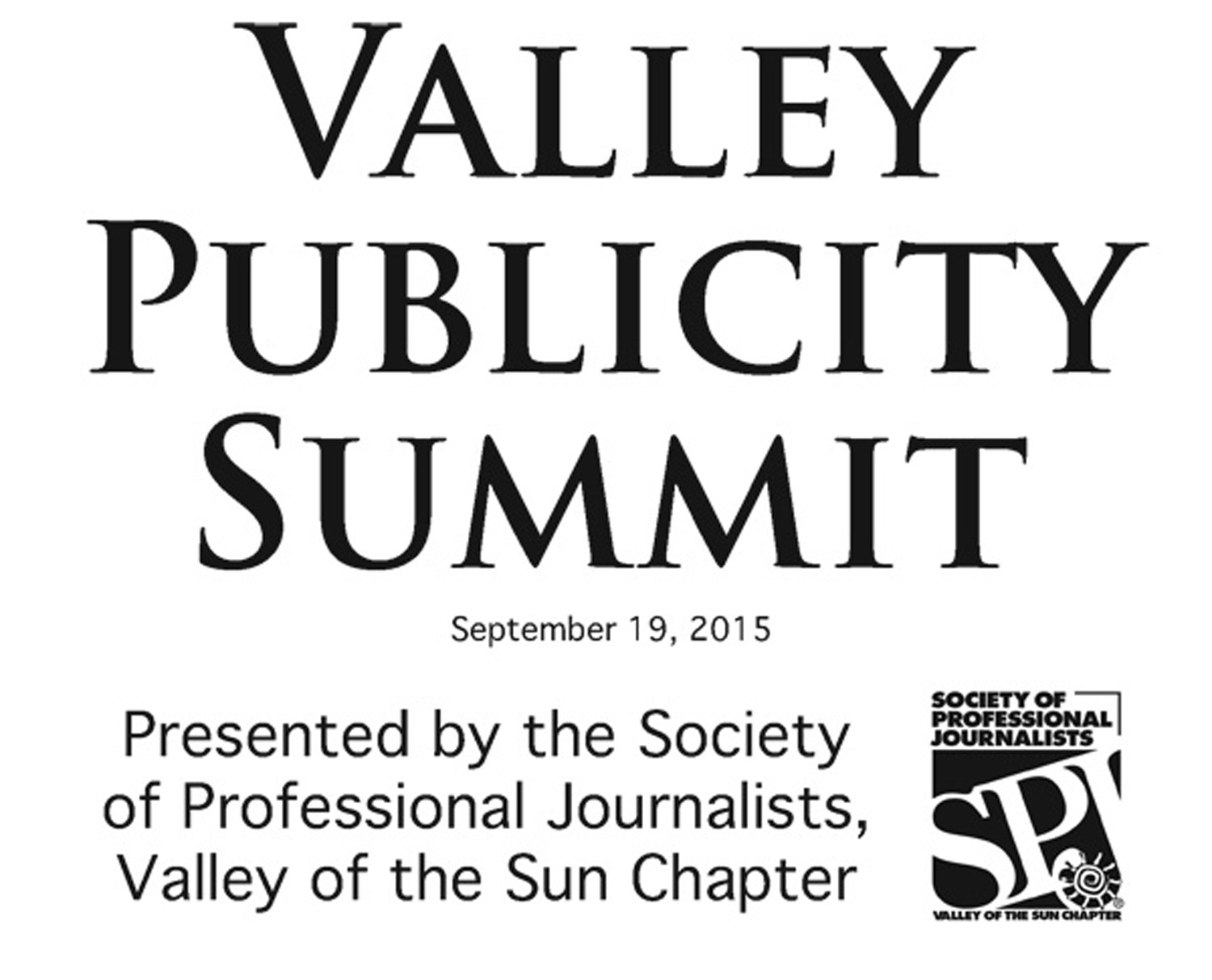 Online registration ended 7 p.m. Thursday, Sept. 17. Those not registered by then may participate in walk-in registration onsite on the day of the event, 8 a.m. to 11 a.m. Saturday, Sept. 19. Walk-in registration is $125 per person. Walk-ins will not be billed; payment is due upon registration at the event. Cash or check only.

The event that brings journalists and public relations professionals together for an entire Saturday morning is returning soon!
It's the best Saturday morning in Valley media-PR relations.The Society of Professional Journalists presents the Valley Publicity Summit, hosted by SPJ, the amazing event where a roomful of locally based journalists share insights, give their story pitch preferences and industry updates with area public relations practitioners. In fact, we've arranged to have two rooms!

You could contact our more than 20 journalists expected to attend on your own over the course of a typical year, but at the Summit you can accomplish the same thing in one day!

Here journalists will guide PR practitioners in their interactions and respond to their story interests. Likewise, PR professionals have the opportunity to acquaint journalists with potentially newsworthy information.
And bring your real pitches to pitch!
25 VALLEY JOURNALISTS HAVE AGREED TO PARTICIPATE SO FAR: Melissa Larsen, managing editor, Arizona Foothills magazine; Mary Ann Bashaw, managing editor, Raising Arizona Kids magazine; Richard Ruelas, Arizona people reporter, The Arizona Republic and azcentral.com; Shawndrea Corbin, assistant editor, Phoenix Home & Garden magazine; Venita James, communities director, The Arizona Republic and azcentral.com; Lauren Saria, food editor of Phoenix New Times; Kathy Tulumello, business editor, The Arizona Republic and azcentral.com; Sue Doerfler, retail/innovations/entrepreneurs reporter, The Arizona Republic and azcentral.com; Michelle Jacoby, editor-in-chief and publisher of Bite Magazine; Ilana Lowery, editor-in-chief of the Phoenix Business Journal and Eric Jay Toll, the Journal's economic development, banking and finance, infrastructure, transportation and utilities reporter; Terrance "T.F." Thornton, North Valley news editor, Independent Media Inc; Carrie Jung, reporter, KJZZ (91.5 FM-NPR); Jennifer Jones, senior content coordinator, KTVK-TV (Channel 3) and KPHO-TV (Channel 5-CBS); Scott Davis, senior assignment editor, KTVK-TV (Channel 3) and KPHO-TV (Channel 5-CBS); Paul Ihander, news director/assistant program director, Bonneville Media-Phoenix (KTAR-FM/KTAR-AM); Cassie Rathbun, planning producer/MMJ, EVB Live, KPNX-TV (Channel 12-NBC); Eric Watson, assignment editor, KPNX-TV (Channel 12-NBC); Elvia Diaz, editor, La Voz and TV y Mas; Maritza L. Felix, senior reporter, Prensa Hispana; Nicole Crites, evening anchor, KTVK-TV (Channel 3); Debra Utacia Krol, freelancer specializing in environmental reporting, issues involving Indian country and travel writing; Tom Gibbons, editor, Talk of Arizona online quarterly; Susan Lanier-Graham, freelance luxury food, wine and travel writer; and Christina Barrueta, WriteOnRubee freelance food and beverage writer.
LOCATION: One again we're gathering at SkySong, ASU's Center for Innovation, Technology and Imagination at the southeast corner of Scottsdale and McDowell roads in Scottsdale. Easy access from Loops 101 and 202. As we were last year, we're on the second floor of Building 1, on the northeast corner of the property.
PARKING: Enter from McDowell Road entrance just east of Scottsdale Road. Do not park along streets bisecting the complex from north to south or east to west. Instead, after entering from McDoweel, turn left (east) into parking lot. Any uncovered space is available free. Do not park in covered spaces. Then walk south to the main entrance Building 1, which is in the center of the building. Elevator lobby is immediately inside entrnace to take you to second floor.
REFUND POLICY: Refund requests made to phoenixspj@cox.net on or before 5 p.m. Friday, Sept. 4 will receive a 100 percent refund, minus a $10 processing fee. Refund requests made to phoenixspj@cox.net between 5 p.m. Sept. 4, and 5 p.m. Sept. 15 will receive a 75 percent refund, minus a $10 processing fee. No refund requests received after 5 p.m. Tuesday, Sept. 15, will be honored.
Questions? Email phoenixspj@cox.net or visit phoenixspj.org. The hashtag for this event is: #pubsum15
SCHEDULE
8 a.m.                  Arrival -- Continental breakfast (Global Room 201, 2nd floor, SkySong Building 1)
8:45 a.m.             Welcome -- Public relations and journalism, then and now
9 a.m.                 "Super Panel" -- Eight (maybe nine) journalists talk about pitches they love (and hate)
10:30 a.m.           Speed-pitching with journalists in two rooms (Innovation Room 241, Imagination Room 249)
1 p.m.                  Event ends
For its support of the 2015 Valley Publicity Summit, Valley of the Sun SPJ expresses its sincere gratitude to Fingerpaint:

The chapter also extends its sincere appreciation to R&R Partners and to News Exposure, aka Media Monkey Biz, for their additional support of the 2015 Summit:


_______________________________________________________
Our event organizing committee consists of Valley of the Sun SPJ chapter members and several public relations practitioners in the Valley. Proceeds to benefit the Valley of the Sun SPJ chapter.
NOTE: While every effort is made to ensure the participation of journalists who have agreed to be part of this year's Summit, circumstances beyond SPJ's control may result in changes to the list of participating journalists. We will make sincere efforts to keep the list of participating journalists current.
Attendee List
Sort by:

Date

|

First Name

|

Last Name
When & Where

SkySong
1475 N. Scottsdale Road
Scottsdale, AZ 85257


Saturday, September 19, 2015 from 8:00 AM to 1:00 PM (MST)
Add to my calendar
Organizer
The Society of Professional Journalists is a national journalism association that since its founding in 1909 is dedicated to providing social, educational, and service activities to professional and student journalists at daily newspapers, community newspapers, magazines, broadcast outlets, journalism websites and media blogs.
The Valley of the Sun Chapter of the Society of Professional Journalists, chartered in 1958, regularly sponsors journalism activities and events for reporters, editors, writers, freelancers, producers, publishers, and public relations professionals living and working in the Phoenix metropolitan area.