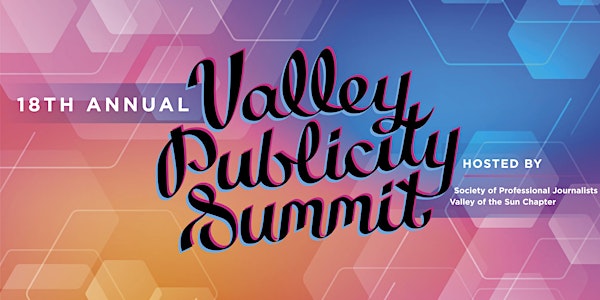 Valley Publicity Summit 2022, presented by SPJ
The best Saturday morning in Valley media-PR relations, the 18th annual Valley Publicity Summit, presented by SPJ (#pubsum22), returns!
When and where
Location
Vista del Sol, Arizona State University, Tempe 701 E. Apache Blvd. Tempe, AZ 85287
Refund Policy
Refunds up to 1 day before event
Eventbrite's fee is nonrefundable.
About this event
Don't miss the return of the best Saturday morning in Valley media-PR relations. The 18th annual Valley Publicity Summit, presented by SPJ (#pubsum22), is the valuable, amazing event where a roomful of locally based journalists share insights, give their story pitch preferences and industry updates with area public relations practitioners (keep scrolling down!) on Saturday, Oct. 15, 2022.
You could contact our more than two dozen journalists expected to attend on your own over the course of a typical year, but at the Summit you can accomplish the same thing in one day!
Here journalists will guide PR practitioners in their interactions and respond to their story interests. Likewise, PR professionals have the opportunity to acquaint journalists with potentially newsworthy information.
And bring your real pitches to pitch in our famed 3-minutes-per-pitch "speed pitching" session!
COVID-19 PROTOCOLS: As of early September, the federal Centers for Disease Control and Prevention (CDC) have determined that the risk of transmission in Maricopa County is LOW. This means people may choose to mask at any time. People with symptoms, a positive test, or exposure to someone with COVID-19 should wear a mask. You may check your county's status at anytime here. We join ASU in suggesting that everyone get vaccinated (and boosted) against COVID-19, to be frequently tested for the virus and to follow protocols about face coverings inside buildings and in crowded places.
As of Sept. 21, here's a list of media professionals expected to join us at this year's Valley Publicity Summit:
ABC15: Kianey Carter, assignment manager; Lauren Wilson, enterprise managing editor; Kellie McCown, planner; Nicole Gutierrez, Things to Do journalist
AZ BIG MEDIA: Kyle Backer, staff writer
ARIZONA CAPITOL TIMES: Colleen Sparks, managing editor
ARIZONA DIGITAL FREE PRESS: Terrance Thornton, founder
ARIZONA'S FAMILY: Katie Faller, planning producer
ARIZONA REPUBLIC: Representative to be named
ARIZONA REPUBLIC: Kathy Tulumello, news director
CITY SUNTIMES/QUEEN CREEK SUNTIMES: Kelly Mixer, managing editor
ECULEUS GROUP PUBLISHING: Natasha Beal, publisher (North Phoenix News, North Tatum Times, Paradise Valley View, Scottsdale North News, The Scottsdale Standard, Upper Westsider)
FOX 10: Christine Goodfriend, planning editor; George Obi, executive producer
FREELANCE: Geri Koeppel, Phoenix New Times food/drink, Times Publications/East Valley
FREELANCE: Jill Schildhouse, Phoenix Home & Garden and other media
GREEN LIVING MAGAZINE: Dorie Morales, publisher
INDEPENDENT NEWSMEDIA: Janet Perez, Florence/Queen Creek editor
IN MARICOPA: Lee Shappell, executive director
PHOENIX BUSINESS JOURNAL: Greg Barr, editor-in-chief
PHOENIX MAGAZINE: Leah LeMoine, managing editor
SCOTTSDALE PROGRESS: Alex Gallagher, reporter
SEDONA MONTHLY: Teresa Traverse, managing editor
THE LIST: Todd Covelli, producer/multimedia journalist; Rebecca Guldberg, producer
12NEWS: Representative to be named
WEST VALLEY VIEW: Christina Fuoco-Karasinski, editor
We will list more participating journalists as they are secured.
NOTE: While every effort is made to ensure the participation of journalists who have agreed to be part of this year's Summit, circumstances beyond SPJ's control may result in changes to the list of participating journalists. We will make sincere efforts to keep the list of participating journalists current.
Back with Barrett: We're excited to once again be hosted by Arizona State University's Barrett, the Honors College, at the community center at the ASU Vista del Sol residential community, 701 E. Apache Blvd., just south of Apache Boulevard on the ASU Tempe campus.
NEW THIS YEAR: MAIN GATHERING SPACE at the start of the event is in the theater inside the Vista del Sol Community Center (map below), as well as other shade structures poolside. This event will be presented RAIN OR SHINE.
COVID-19 PROTOCOLS: We strongly recommend ASU's COVID-19 protocols at this event. As of early September, those protocols recommend (1) wearing masks outdoors when physical distancing is not possible and (2) that participants be fully vaccinated against the coronavirus.
PARKING: Do not park in the parking garage at the south end of the property. Parking is free on that Saturday in two places. We will have event staff along the routes to guide you:
1. The Vista del Sol East Parking Lot immediately adjacent to our meeting spaces. Enter campus via Spence Avenue -- just south of the Rural and Apache intersection -- then travel west along the curving driveway to ultimately reach the lot next to the dome.
2. The parking lot at the University Lutheran Church, 340 E. 15th St., Tempe, immediately to the west of the Vista del Sol complex. If the Vista del Sol East Parking Lot is full, go back to Rural Road, turn north to Apache, then west to College Avenue. Then proceed south to 15th Street and head east toward the church and lot. Exit your vehicle and walk across McAllister Avenue, where you'll find a pedestrian gate in the wall separating McAllister from the campus. Go through the gate and head east. It's about 100 feet to the pool area and 50 more feet to the Vista del Sol Community Center. Again, we will have event staff present to guide you and answer any questions.
A parking route map is at the bottom of this page. Printed maps also will be available from volunteers along the driveway route from Rural and Spence.
REGISTRATION:
Early-bird registration is Sept. 1 to Sept. 30. Discounted general admission of $84, and additional discounts for PRSA and IABC members and for ASU communications staff ($74) as well as our buy-two-get-one-free offer are in effect until 11:30 p.m. Friday. Sept. 30.
Regular registration of $104 for all attendees starts midnight Saturday, Oct. 1, and ends 6 p.m. Friday, Oct. 14. All those not registered by 6 p.m. Oct. 14 must pay walk-in registration (see next paragraph).
Walk-in registration: 8 to 10 a.m. Saturday, Oct. 16 only; $129. CASH or CHECK only for walk-in registration; no credit or debit cards.
Online registration ends 11:30 p.m. Friday, Oct. 14, 2022. Walk-in registration only at $129 per person from 8 to 10 a.m. the day of the event, Saturday, Oct. 15.
REFUND POLICY: Refund requests made to phoenixspj@cox.net on or before 8 a.m. Friday, Oct. 14, will receive a 100 percent refund, minus a $10 processing fee. No refund requests received after 8 a.m. Friday, Oct. 14, will be honored.
Questions? Email phoenixspj@cox.net or visit the SPJ chapter website.
The hashtag for this event is: #pubsum22
TENTATIVE SCHEDULE (to be updated)
8 a.m.                  Arrival and networking -- Continental breakfast inside the Community Center at the Vista del Sol residential community, ASU Tempe campus, 701 E. Apache Blvd.
8:45 a.m.             Welcome, introductions, instructions.
9 a.m.      Featured speaker: Dr. Battinto L. Batts Jr., dean and professor, ASU Walter Cronkite School of Journalism and Mass Communication.
9:45 a.m. Break.
10 a.m.           Speed-pitching with journalists at shaded tables outdoors at poolside.
12:45 p.m.               Event ends.
___________________________________________________________
Our event organizing committee consists of Valley of the Sun SPJ chapter members and several public relations practitioners in the Valley. Proceeds to benefit the Valley of the Sun SPJ chapter.
Our sincere thanks to Tara Williams, Ph.D., dean and professor, Barrett, the Honors College , and the Barrett staff for their generosity and hospitality in hosting this event.
(Photo of geodesic dome at ASU's Vista del Sol residential community: Courtesy ASU) (Photos of 2019 Valley Publicity Summit by Bill Pedene)