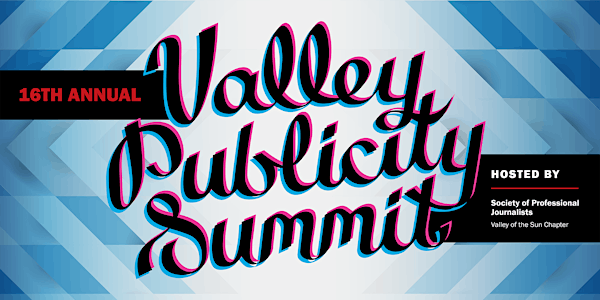 Valley Publicity Summit 2019, presented by SPJ
When and where
Location
Barrett, the Honors College (Honors Hall), ASU Tempe 821 E. Lemon St. (Lemon Mall) Tempe, AZ 85287
Refund Policy
Refunds up to 1 day before event
Eventbrite's fee is nonrefundable.
Description
Don't miss the best Saturday morning in Valley media-PR relations. The 16th annual Valley Publicity Summit, presented by SPJ (#pubsum19), is the valuable, amazing event where a roomful of locally based journalists share insights, give their story pitch preferences and industry updates with area public relations practitioners (keep scrolling down!) on Saturday, Sept. 28, 2019. (If you'd like to get the gist of the Valley Publicity Summit first -- boiled down to one paragraph -- before reading the following description, click here or forever hold your peace.)

---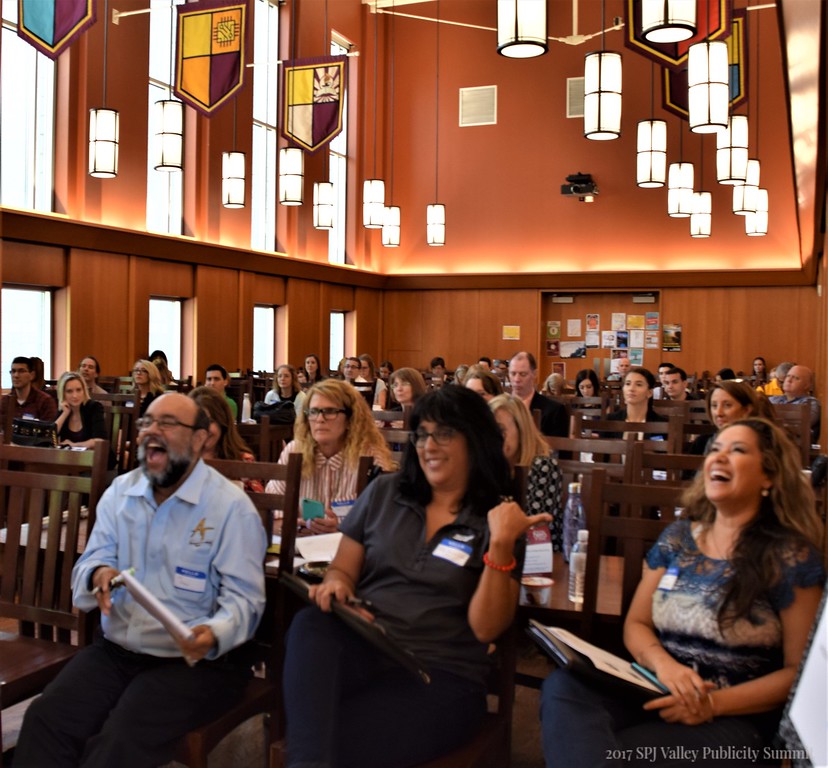 (Photos by Bill Pedene)
---
In fact, we have several rooms.
You could contact our more than two dozen journalists expected to attend on your own over the course of a typical year, but at the Summit you can accomplish the same thing in one day!
Here journalists will guide PR practitioners in their interactions and respond to their story interests. Likewise, PR professionals have the opportunity to acquaint journalists with potentially newsworthy information.
And bring your real pitches to pitch in our famed 3-minutes-per-pitch "speed pitching" session!
New this year: We have planned two media panels, each tailored for the career stage of PR professionals attending the Summit. While PR pros in early- to mid-careers will hear media people talk about deadlines, pitch preferences and communications preferences, longtime pros and agency heads will discuss with veteran journalists issues involving the PR-media relationship and ways to improve it.
As of Sept. 25, here's a list of media professionals expected to join us at this year's Valley Publicity Summit:

Greg Barr, editor-in-chief, Phoenix Business Journal
Natasha Beal, owner/publisher of Eculeus Group Publishing (Deer Valley Times, North Tatum Times, North 32nd News, Scottsdale North News, Scottsdale Standard)

Christy Bricks, executive producer, Cronkite News, Arizona PBS
Michael Crowley, weekend assignment editor, 12News
Heather Lovett Dunn, content director, Cronkite News, Arizona PBS
Michelle Talsman Everson, freelance writer and editor, Arizona Health & Living
Jennifer Jones, Senior Content Coordinator, Arizona's Family
Debra Krol, Environmental Writer, Arizona Republic/azcentral.com
Leah LeMoine, managing editor, PHOENIX magazine

Al Macias, news director, KJZZ-FM NPR
Adrian McIntyre, Ph.D., Partner, Business RadioX
Tyson Milanovich, Senior Executive Producer – Morning News, Arizona's Family
Kara Morrison, editor, Raising Arizona Kids Magazine
Patrick O'Grady, managing editor, Phoenix Business Journal
George Obi, Executive Producer, FOX10 Phoenix
Andy Ramirez, Senior Real-Time Editor, ABC15
Richard Ruelas, Reporter, Arizona Republic/azcentral.com
Jimmy Rhoades, Senior Correspondent, The List
Ed Roth, AZTV, Executive Producer, The Daily Mix,
Wayne Schutsky, Managing Editor, Scottsdale Progress
Colleen Sparks, Editor, North Central News
Carrie Watters, community editor, Arizona Republic/azcentral.com
Diane Faith Wright, News Producer, ABC15

We will list more participating journalists as they are secured.
NOTE: While every effort is made to ensure the participation of journalists who have agreed to be part of this year's Summit, circumstances beyond SPJ's control may result in changes to the list of participating journalists. We will make sincere efforts to keep the list of participating journalists current.
Back at Barrett: We're excited to once again be at Barrett, the Honors College, at the southwest corner of Rural Road and Lemon Street on the Tempe campus of Arizona State University. Our gathering will be in Honors Hall'e refectory (above), affectionately referred to by Barrett students as the "Harry Potter Room."
SAME GREAT LOCATION -- WITH SEVERAL PITCHING ROOMS!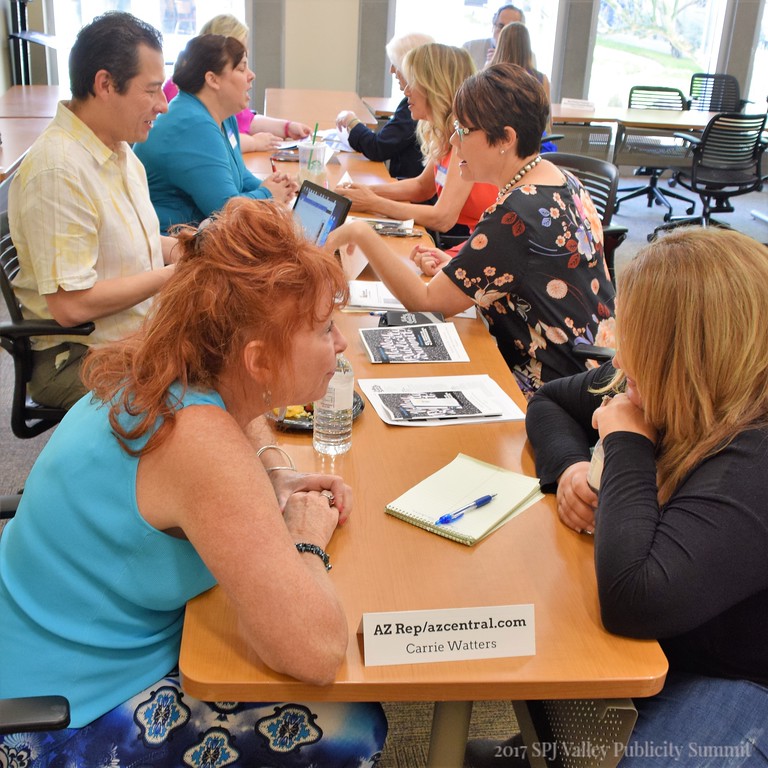 Larger quarters for the speed pitching sessions! More room to meet and share!

NEW THIS YEAR: Two panel discussions will start the day, one for veteran PR professionals and one for those in the first years in the business.
PARKING: Parking is free on that Saturday in the Rural Road Parking Structure at the northwest corner of Rural Road and Lemon Street. Then walk south across Lemon Street down East Lemon Street Mall to Honors Hall. Here is a map to guide your path to get from the parking garage to Honors Hall: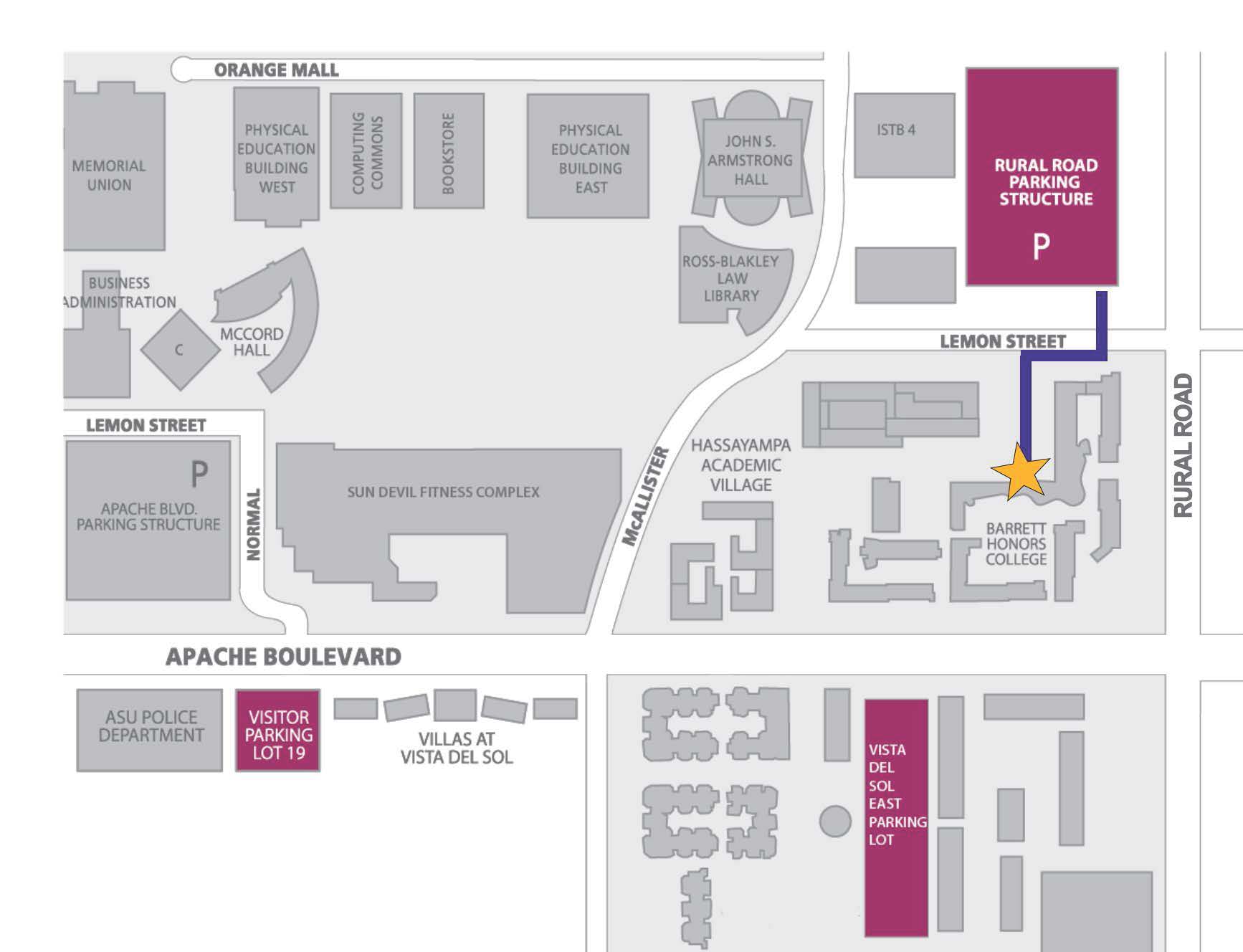 REGISTRATION:
Early-bird registration ends 11:30 p.m. Friday, Sept. 6, 2019. Early-bird fees: $79; Phoenix PRSA and IABC members, and ASU public relations/communications staff, pay $69.
Regular registration starts midnight Saturday, Sept. 7, and ends 5 p.m. Friday, Sept. 27. All those not registered by 5 p.m. Sept. 27 must pay walk-in registration (see next paragraph). Regular registration fees, all participants: $99.

Group discount: Sign up two attendees from the same office at the regular price and get a third attendee from the same office free. See registration area for details.

Walk-in registration: 8 to 10 a.m. Saturday, Sept. 28 only; $129. CASH or CHECK only for walk-in registration; no credit or debit cards. An ATM machine is located in Acourtia Hall approximately 100 feet northwest of our Summit location.
Online registration ends 11:30 p.m. Friday, Sept. 27, 2019. Walk-in registration only at $129 per person from 8 to 10 a.m. the day of the event, Saturday, Sept. 28.
REFUND POLICY: Refund requests made to phoenixspj@cox.net on or before 8 a.m. Friday, Sept. 27, will receive a 100 percent refund, minus a $10 processing fee. No refund requests received after 8 a.m. Friday, Sept. 27, will be honored.
Questions? Email phoenixspj@cox.net or visit the SPJ chapter website.
The hashtag for this event is: #pubsum19
SCHEDULE
8 a.m. Arrival -- Continental breakfast (Honors Hall Refectory, often referred to by Barrett students as "the Harry Potter Room" -- pictured on this page)
8:45 a.m. Welcome, introductions, instructions

9 a.m. Separate panels for veteran PR pros/agency heads and for early- and mid-career PR pros.

10:30 a.m. Speed-pitching with journalists in several rooms. Snacks will be provided during this time

1 p.m. Event ends

___________________________________________________________
Our event organizing committee consists of Valley of the Sun SPJ chapter members and several public relations practitioners in the Valley. Proceeds to benefit the Valley of the Sun SPJ chapter.
Our grateful appreciation is extended to our longtime Event Sponsor, Fingerpaint Marketing!

Our sincere thanks to Mark Jacobs, Ph.D., dean of Barrett, the Honors College and Arizona State University vice provost, and the Barrett staff for their generosity and hospitality in hosting this event.