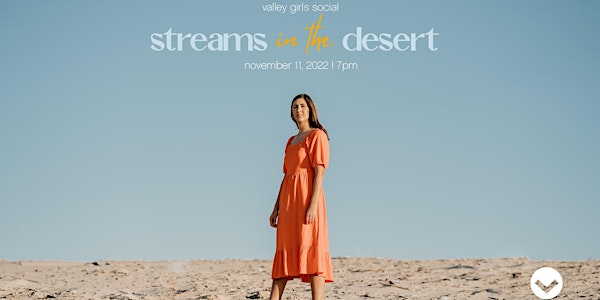 Valley Girls Social
Valley Girls Social is time for the girls of VFC to gather in friendship, encouragement, & purpose.
When and where
Location
Valley Family Church - Kalamazoo 2500 Vincent Avenue Portage, MI 49024
About this event
We are so excited to gather the girls again! This fall we are hosting a special Valley Girls Social, a one night event designed for the girls of our church to gather together in friendship, encouragement and purpose.
Join us on Friday, November 11th at 7pm for a night with the girls! During the event we will gather around the Word of God, spend time in worship, have moments of laughter and vulnerability, and at the end of the night we will have an after party! So grab your girls, your mom, sister, daughter, teammate, and co-workers and get signed up for Valley Girls Social. Women of all ages are welcome to join!
WHAT IS VALLEY GIRLS
Valley Girls Social is a place for women young and old to be encouraged and challenged to answer the call to be a vessel of the Holy Spirit so they can be women who bring heaven to earth. It's a gathering of women who are used by God to bring an outpouring of His goodness across our city and world. It's a place where young women see the strength and tenderness of those before them, where they see by example, women who know their identity and live confidently. A place where older women nurture and teach a younger generation. Valley Girls is a place where true friendship is formed, where women young and old link arms and build meaningful relationships. Valley Girls are girls who are full of grit and grace, they are tenacious, with an inner strength and kindness, love in their eyes, but fire in their hearts. Valley Girls defy the cultural standards of womanhood.
FAQs
Are there age requirements for this event?
No! Girls of any age are welcome, but given the content we would recommend 9 years old and up. We would love to see your daughters join us so they can build a strong foundation from a young age. It's important to note, there won't be childcare.
Will there be childcare?
No, there will not be any childcare available for this event. Enjoy a night investing in yourself!
Can I invite someone to join me?
YES! Please do.