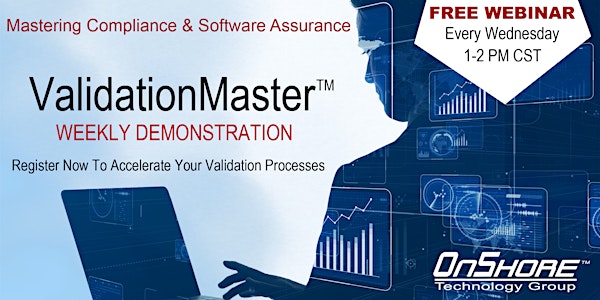 ValidationMaster Weekly Demonstration
Join us each Wednesday at 1PM CST to learn how ValidationMaster can help automate your validation processes.
About this event
Computer systems validation is changing! The FDA now refers to it as "Software Assurance" - a process designed to ensure that systems used for regulated processes are compliance and fit for intended use. Today's cloud technology is a real game-changer for validation. To keep up with cloud software release cadences, you MUST have efficient, automated processes. ValidationMaster is designed to support LEAN validation which automates the full validation lifecycle. ValidationMaster provides a SINGLE SOURCE OF TRUTH for your validation projects delivering all of your validation artefacts in one place! The system manages requirements, test cases (including AI test cases), planning documents, trace matrices, periodic review, validation risks and much more!
In addition to Computer Systems Validation, ValidationMaster is designed to manage ANY type of validation project including Process Validation, Equipment Validation, Cleaning Validation, Facility Validation, Cold Chain Validation, and much more!
Join our weekly webinar to learn how you can benefit and bring your validation program into the 21st century using ValidationMaster.
WE LOOK FORWARD TO SEEING YOU AT OUR NEXT WEEKLY DEMO!
REGISTER TODAY!