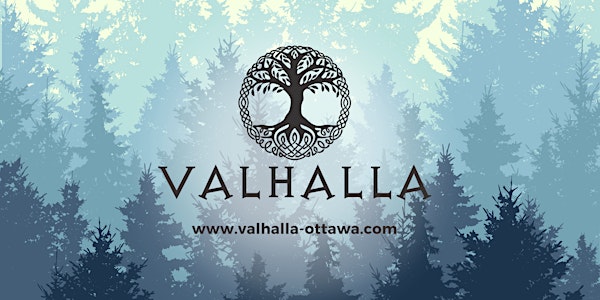 Valhalla Community Networking Event & Presentation
Join us for a fun in-person Social Networking Event, and learn about Valhalla's inspired new vision for the future of health and wellness.
When and where
Location
Collab Space 70 Bongard Avenue Ottawa, ON K2E 7Z9 Canada
About this event
Imagine your heart calling out to a place where it feels completely at home, a place that helps you build and restore all of the strength and resilience that you need to feel balanced and self-sufficient mentally, emotionally, and physically. A place where you can connect deeper with yourself and with others.
Now, imagine being part of a growing community whose primary focus is on bridging perceived differences, strengthening themselves and others, and helping to build better inner and outer health and wellness so that we can all live in greater harmony.
How might that look and feel to you, right here, right now?
On Thursday, October 20th at 6:30pm EST, join our visionary management team and board of directors, as we share with you a project that is going to change your life and the world as we know it. A place that combines the valuable skills, healing capacities, and empowering abilities of numerous services, educators, facilitators, and modalities; all in an effort to strengthen the warrior within us all.
Welcome to Valhalla: Centre for Strength and Resilience
Valhalla Centre for Strength and Resilience, is a place that will help us regenerate, relax, and integrate all of the fluctuations in life, while inspiring us in our skills and abilities to self-regulate and resolve conflicts; both internally and externally.
At Valhalla, we help people honour & celebrate who they are right here on Earth, while supporting them on their quest to live in greater harmony with themselves and others. Our programs and centre will help people build extraordinary persistence and determination, to reach beyond any limitations in the face of adversity, as we come together in our common principles of compassion, kindness, and grace.
If this sounds like something you might want to be a part of and help grow, or if you would just like to find out more; join us for a fun evening of networking with Ottawa's most revolutionary entrepreneurs, and hear us speak about who we are, what we are building, and how we plan to make "Valhalla" a reality for each and every one of us here on earth.
**IF you are unable to join us in-person at this live networking event but would like to find out more, registration is now open for our online founding investors presentation, to be held on November 17th at 8:00pm - 8:30pm EST.
Link for online founding investors presentation, below:
https://www.eventbrite.com/e/valhalla-founding-investors-opportunity-presentation-tickets-411432434487