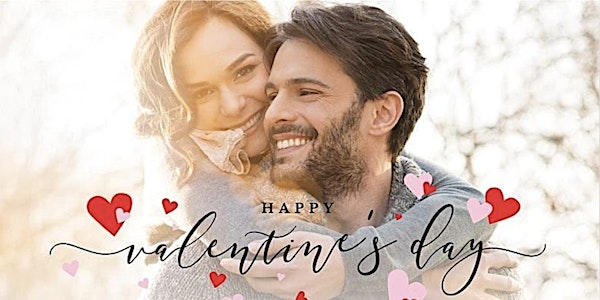 Valentine's Tantra Speed Date® - Boulder (Meet Singles Speed Dating)
Find your Valentine at the #1 dating event with the highest match rate! Try the fresh new speed dating dubbed "Yoga for your Love Life!"
Date and time
Saturday, February 11 · 5:30 - 8:30pm MST
Location
Unity of Boulder 2855 Folsom Street Boulder, CO 80304
Refund Policy
Refunds up to 7 days before event
About this event


Try the matchmaking event that's been dubbed "Yoga for your Love Life" by singles
In this new world of online dating, shallow conversations and superficial standards have become the norm...
Robbing us of the magic that comes with connecting on a deeply meaningful level.
That's why, here at Tantra Speed Date®, we do speed dating a little differently.
You'll engage with your dates in a way that's fun, authentic, and even healing.
We'll guide you through a ceremony of relationship-building exercises with up to 20 singles in a Puja circle. (See our FAQ section below for more details)
Each exercise will aid you and your date in playfully exploring the depth of your connection. (Think verbal dyads, dancing, and communication games!)
And all of them enhance your relationship skills in subtle, yet powerful ways.
So you'll walk away not only with matches...
But with all the tools you need to bring more love into your dating life!
Over 15,000 singles have gone on 100,000+ dates in 35+ cities worldwide. 94.09% have matched with one or more dates. If you don't match, your next event is on us!

Sold out? Can't make it? See other dates:


Why "Tantra" Speed Date?
"Tantra" has become a bit of a buzzword lately, due to its many misleading definitions. Translated from Sanskrit, it means "weaving," which means bringing oneness to yourself and consciousness to what you do.
In keeping with this philosophy...
We do our best to bring you and your dates into a state of presence. When you're in this state, our guided exercises will light that "spark" for you – no awkward small talk needed!
Plus, you'll learn how to bring that level of presence into all your future interactions.
So grab your ticket and get ready for a fun night of speed dating, matchmaking, and conscious relating!
* Events do sell out, so purchase tickets online to guarantee your spot.*
~ IMPORTANT DETAILS ~
* Please arrive on time to check in and receive your speed dating materials.
*The speed dating ceremony begins 30 minutes after start time. Doors will be closed for the duration of the ceremony. LATE ARRIVALS WILL NOT BE ADMITTED.
*Door tickets are subject to capacity and gender balance limits. Tickets are non-transferable and cannot be sold or exchanged.
~ COVID-19 INFORMATION ~
We follow government and venue guidelines that are in effect at the time of the event. These can change, so please check with your locality. All activities can be modified to be socially distanced (ask your facilitator). If you have flu-like symptoms, or have been exposed, play it safe and stay home. Just let us know and we'll refund or transfer your ticket so you can come another time.
~ TESTIMONIALS & SUCCESS STORIES ~ ~

"We couldn't have imagined how our lives would be impacted by attending Tantra Speed Date® in July 2017. Our connection was soft and sweet, what we both describe as the 'best first date of our lives.' Meeting in such a vulnerable and safe environment was the perfect catalyst for creating an authentic connection. Having that as the base for our first meetings laid the foundation for honesty and trust.
We've been together since and can't wait to see where the future takes us!"
— Jihan & Joseph (New York City, NY)
**2022 UPDATE: Jihan and Joseph are now married with a baby daughter!**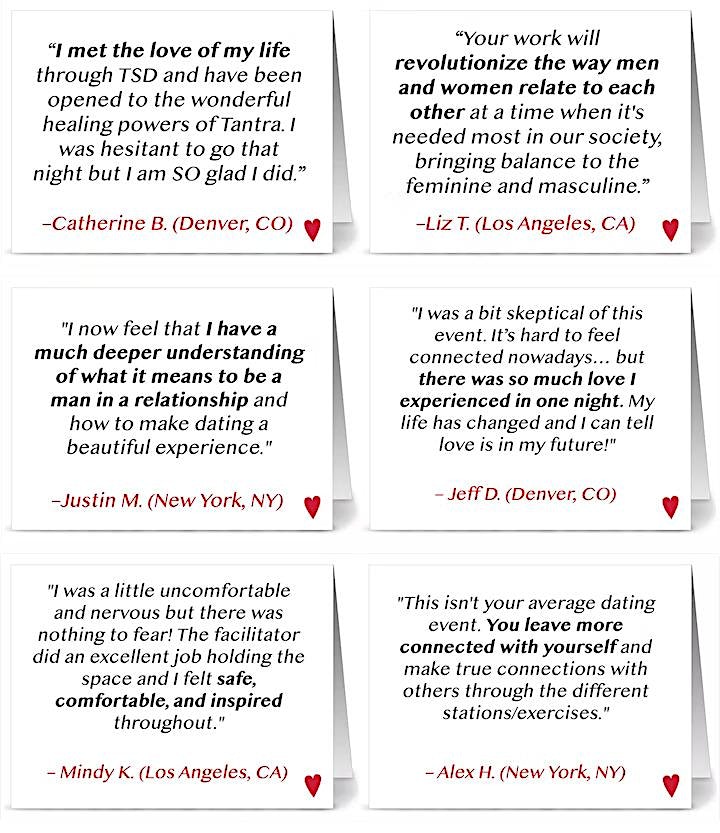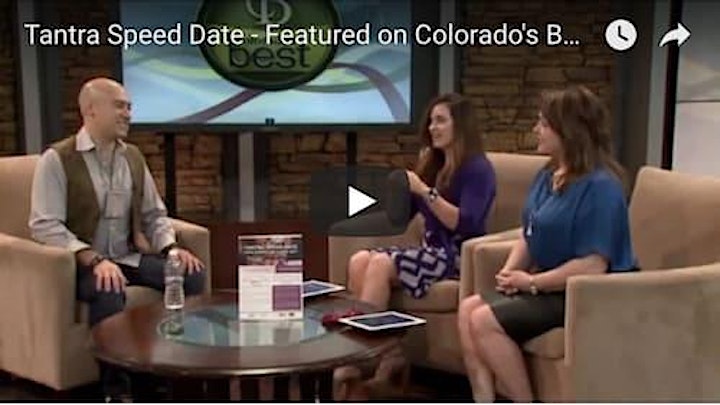 ~ FAQ ~
Don't see your question answered below? Check out the FAQ section on our website!
What is a Puja circle?
A Puja is an intentional ceremony. In Sanskrit it means reverence, honor, and offering. It's a ritual designed to open our hearts and allow us to see the inner beauty within ourselves and all beings. It invites us into the elegant dance of masculine and feminine in a warm space of oneness and connection. And if you ask us, that's a pretty darn good place to start when it comes to a first date!
What does it look like?
Participants form two concentric circles. The men form the outside circle and the women form the inside, with each woman facing a man. Each pair then share a meaningful exchange through a directed exercise (a Puja "station"). This can last anywhere from a few seconds to a few minutes. Then they put their hands together in Namaste, thank each other, and rotate to the next person. The ceremony ends when everyone has rotated a full circle.
What if I don't feel comfortable doing the exercises?
Thanks for asking! While the exercises are straightforward and fun, you are always 100% at choice for how you wish to participate. If you find an exercise that doesn't work for you, then – just like in yoga – you have the option to modify or completely opt out. We encourage everyone to participate at their own comfort level, and our facilitators will demonstrate what that looks like before you begin.
Are your events gender-balanced?
Yes! We make sure all our events have an equal number of men and women.
What's the age range?
Some events are open and some have a specific age range which is stated in the title (though it's merely a suggestion, not a rule). Our open events attract a wide range of age groups – from 19 all the way to 76! For more details, see the FAQ section on our website
What if I don't match with anyone?
As many of our attendees say, "I don't even care if I match with anyone, this was amazing!" That said, we geek out on data. Our statistics say there is a 94.09% chance you'll match with AT LEAST one person. But if for whatever reason that probability fails you, we've got you covered. Your next ticket will be free!
Why is this experience called 'More than Speed Dating'?
This is much more than just a speed dating event. It's about bringing more connection, and perhaps healing, to the masculine and feminine within us. That's the juicy part of a connection that makes relationships so fun. Men learn how to hold a grounded masculine space. And when that happens, women can relax into their feminine and not have to do or hold so much. This creates a new way of relating that is effortless and natural (and not something you'd be able to experience in a bar or on a dating app). We believe this is why people love it so much and why one participant said it will 'restore your hope in dating.'
More questions?
We're happy to answer! See our FAQ or Contact Us.
~ FACILITATED BY: Danny ~
Danny Neifert was born on the Navajo reservation in Monument Valley, Utah. True to being a former white water river guide she believes that life is an endless changing river of adventure and the best way to understand something is to jump in and get dirty. She has immersed in several communities including The Society of Friends (Quakers), the Right Use of Will movement, a Gurdjieff commune as well as studying closely with Michaela Boehm and Sofia Diaz from 2007 on. Danny is a holistic healing solo entrepreneur and mother of two grown children, ages 29 and 32. She has extensive experience in sustainable home building, elder care, gardening, nutrition, death & grief, yoga, somatic healing, eating chocolate, bubble baths and off-grid living. Danny is happily engaged and divides her time between Santa Barbara, CA and Boulder, CO.
Contact: ventura@tantrany.com
About the organizer
We offer classes & workshops, singles & dating events, and private coaching to help both singles and couples have more intimacy, connection, and pleasure.  We have events monthly in 25+ cities worldwide.