Description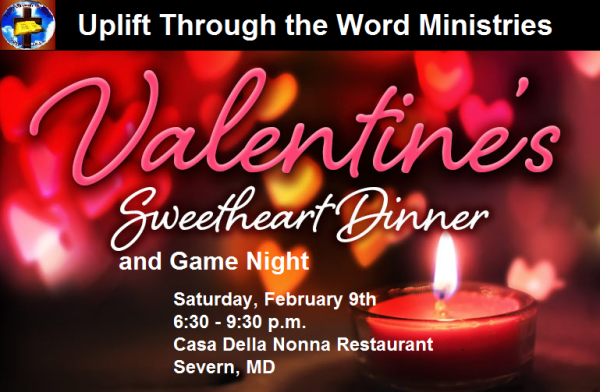 Couples, please join us for an evening of good food, fun, fellowship, and a celebration of LOVE at Uplift Through the Word Ministries' Valentine's Sweetheart Dinner and Game Night Fundraiser on Saturday, February 9th at Casa Della Nonna Restaurant in Severn. Casa Della Nonna is a casual, family Italian restaurant offering affordable, high quality Italian food. We will have dinner followed by a fun game similar to the Newlywed Game that may help you to make new discoveries about your partner and build communication...and there will be a prize!
This event is a fundraiser for Uplift Through the Word Ministries in order for us to build our church. In 2019, we will hold our 10:30 a.m. Sunday Morning Worship Service at the Van Bokkelen Elementary School in Severn, Maryland.
Registration is FREE. However, diners will be responsible for their bill(s) at the restaurant. The restaurant will give 20% of the proceeds of your dine-in or carry-out order to Uplift Through the Word Ministries. To participate, please present a copy of your registration to the restaurant.


Then, on Sunday, February 10th following our 10:30 a.m. worship service, we will have group vow renewals in celebration of World Marriage Day!
Register here: https://worldmarriageday.eventbrite.com
Location:
Van Bokkelen Elementary School
1140 Reece Road
Severn, MD 21144