Celebrate Valentine's Day with your friends, or come alone & connect with other women.
About this event
Champagne, chocolate strawberries & all the self-love things! There will be hairstylists, makeup artists, massage therapy, skin care services & so many other indulging opportunities, including giveaways.
As a mental health therapist, life coach, & momma I know all too well how as women we spend so much time nurturing everyone around ourselves, and how we usually fall last (if at all).
We're going to spoil all of you and indulge in all that we deserve.
So many women in Naples & the surrounding areas have no one to connect with or a safe space to connect with others.
I didn't want to take the day away from those who have a Valentine already, but I invite all of you to be YOUR best Valentine EVER!!!
Join me in celebrating & LOVING YOU!!!
Pre-registration: $25
(includes a welcome drink & appetizers)
VIP Pre-registration: $50
(upgrade to VIP for unlimited champagne, a goody bag & extra surprises).
At the door: $75
(no VIP or goody bag)
*space is limited*
For more information about my practice visit www.naplesoceansidewellness.com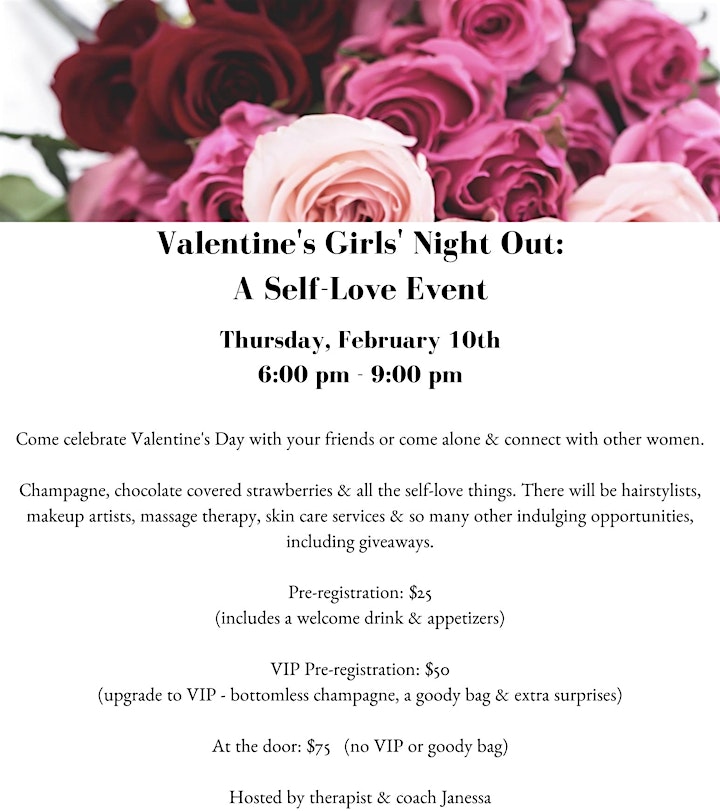 Organizer of Valentine's Girls' Night Out
Janessa is a therapist and coach who prides herself on being genuinely compassionate, non-judgmental, and supportive so that her clients can feel nurtured, empowered, and live happy, healthy and balanced lives.   She blends her nearly two
decade-long career in mental health + private practice + entrepreneurship to help you live your life with balance and fulfillment. As the mother of two toddlers, she prides herself on working her business around her life, so that she can live the life that she herself supports her clients in living and loving.
For her stories, tips, and inspiration on relationships, family, and life visit www.janmarietlc.com