Event Information
Valentine's Dinner
Olive Branch Community Church, Corona, CA
Event Description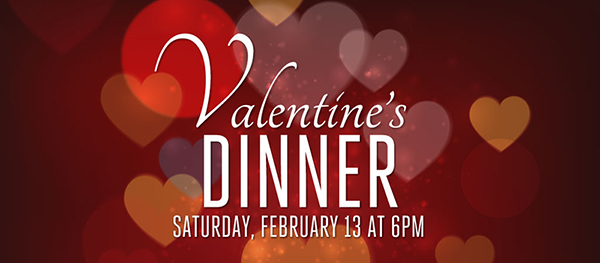 Marriage Matters invites you to an evening of laughter, magic, and inspiration.  Let us take care of the dinner reservation, the childcare and the entertainment with the high energy and mindblowing show of Illusionist Danny Ray.  Don't worry, Valentine's Day isn't just for married couples either. So whether you're married, engaged, or just dating, you're invited to attend.
PURCHASING TICKETS
Tickets are available on the courtyard starting Sunday, January 10 for $50 per couple through January 31.  Dinner will provided by Blue Agave Southwestern Grill and includes all of the following, along with Texas beans, Mexican rice, sweet corn cake, chips, salsa, and guacamole:
1) Enchiladas: Rolled corn tortilla filled with steak marinated in fresh tomatoes, green chilies, onions and spices, topped with Salsa de Tomatillos. Vegetarian Option: Ancho-cheese enchiladas are filled with spinach and ancho-cheese, and topped with a chipotle cream sauce.
2) Carnitas: Braised pork wrapped in a banana leaf, cooked and served with fresh pico de gallo, guacamole, cilantro and tortillas
3) Apache chicken breast: Grilled Chicken Breast topped with a light cream sauce of charred cilantro, tomato and onion.

After February 1st, tickets are $55 per couple.  Childcare is $7/child and includes their meal. 
Seating is limited and sold out the past two years, so be sure to register early if you plan to attend!
When

Where

Olive Branch Community Church - 7702 El Cerrito Rd Corona, CA 92881 - View Map

Tags