Valentine's Dinner Comedy in the Hudson Valley

Saturday, February 16, 2019 from 7:00 PM to 10:00 PM (EST)
Event Details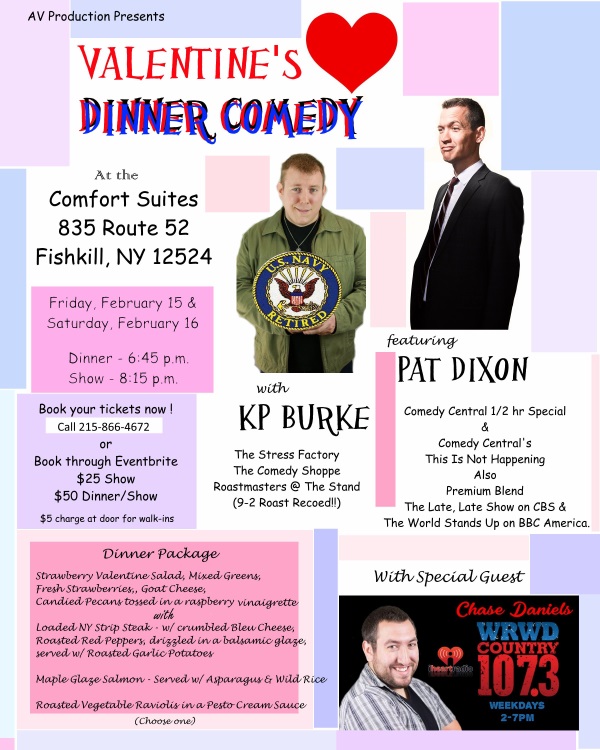 We will be producing a special Valentines Day Dinner Comedy Event. So, come join us in Fishkill at the Comfort Suites Hotel, where laughter heals the soul, and so do food and drink.  Order tickets here.  Please do NOT call the hotel.  For additional information, please call or text 215-866-4672.  For dinner information, please scroll down.
These shows feature:
Pat Dixon
Pat Dixon is a NYC-based comedian and journalist who has been seen on his own half hour special on Comedy Central and last year was featured on the network's This Is Not Happening. 
Dixon is an unusually funny comic writer and performer. Every show is different as he gets to know people in the room and bases material on members of the audience, who find themselves playing along and loving every minute of a very in-the-moment stand-up show which keeps them laughing on the edge of the seats. 
Dixon is the host of multiple weekly webcasts including Crime Report and Trump on the Compound Media network and also hosts multiple podcasts which are eagerly anticipated each week by fans around the world. 
Pat Dixon was selected as a cast member on Vh1's Best Week Ever and has appeared on FOX News Redeye, Headline News and on Momsters: When Moms Go Bad on ID. 
Stand-up appearances also include The Late, Late Show on CBS, Premium Blend on Comedy Central and The World Stands Up on BBC America.
KP Burke
KP Burke started comedy in 2012 and by every conceivable metric, it's ruined his life.
While stationed in Jacksonville, Florida with the US Navy, Burke quickly established himself as a talented joke writer when he began performing stand-up comedy at local shows.  Upon completion of his Active Duty Service, he returned to his native New Jersey becoming a fixture on the local comedy scene.
KP blends a blue-collar likeability with intelligent yet hard-nosed takes on deeply personal topics such as his military service, his struggles with alcohol, growing up adopted and his hatred of social media.
In the past five years, Burke has earned a reputation as one of New Jersey's most
talented comics and has received praise for his writing and performances from well-known
comedians such as Doug Stanhope, Dave Attell, Big Jay Oakerson
Burke is currently a regular on the New York/New Jersey comedy scene and can be
found at Uncle Vinnie's Comedy Club, The Stress Factory, The Comedy Shoppe and The
Roastmasters at The Stand; where he currently posts a 9-2 record in Roast Battle.
KP recently launched his passion project, "American Loser", a weekly podcast he hosts with his
Father where each in each episode they discuss the bizarre stories of some of the most famous
"losers" in American History.
Chase Daniels (WRWD Country 107.3)
"I can't wait to get to know my new iHEART family in the HUDSON VALLEY, and help mark 30 years of heritage with WRWD." 
DINNER INCLUDES
Each Dinner includes: Strawberry Valentine Salad, Mixed Greens, Fresh Cut Strawberries, Goat Cheese, Candied Pecans. Tossed in a Raspberry Vinaigrette. 


Dinner 1: Loaded New York Strip Steak W/ Crumbled Bleu Cheese, Roasted Red Peppers, drizzled in a Balsamic Glaze. Served W/ Roasted Garlic Potatoes. 
Dinner 2: Maple Glazed Salmon. Served with Asparagus and Wild Rice.
Dinner 3: Roasted Vegetable Raviolis in a Pesto Cream Sauce. 
(Select Appropriate Ticket Dinner Option)
When & Where

835 NY-52
835 New York 52
Comfort Suites (off I-84)
Fishkill, NY 12524


Saturday, February 16, 2019 from 7:00 PM to 10:00 PM (EST)
Add to my calendar