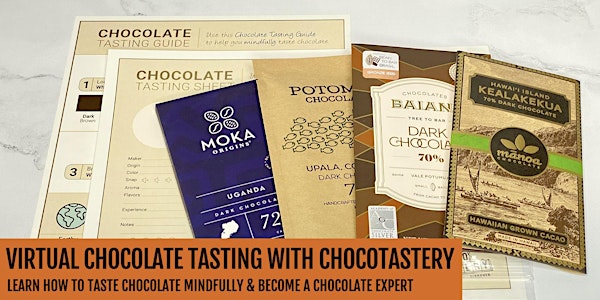 Valentine's Day Virtual Chocolate Tasting with Chocotastery
Join Chocotastery on an exclusive virtual chocolate education and tasting journey to deepen your love and appreciation for craft chocolate.
Date and time
Monday, February 13 · 3 - 4:30pm PST
Refund Policy
Contact the organizer to request a refund.
Eventbrite's fee is nonrefundable.
About this event
OVERVIEW
** SPECIAL VALENTINE'S DAY VIRTUAL CHOCOLATE TASTING FOR YOU AND YOUR SPECIAL VALENTINE! **
Learn directly from a chocolate sommelier who has experience as a chocolatier, chocolate maker and chocolate educator and who has been certified in tasting chocolate and cacao and has educated hundreds of people on these very topics.
You will gain the knowledge and skills to deepen your love and appreciation for chocolate and further gain hands on training to mindfully taste chocolate and discover its fine flavored nuances and the craftsmanship of each chocolate maker.
This exclusive virtual chocolate tasting experience is a one-of-a-kind culinary experience to taste four different craft chocolate bars from four different chocolate makers varying in percentages of cacao and made with cacao from four different cacao producing regions around the world.
We guarantee that you will truly enjoy this 1.5 hour experience on your own or with your family, friends or even other chocolate lovers and enthusiasts from around the country. Below you will see some of our testimonials to show just how much our previous customers have enjoyed the experience and have walked away with a newfound appreciation for craft chocolate.
TOPICS COVERED WILL INCLUDE:
Where chocolate comes from
How chocolate is made
How to mindfully taste chocolate
WE CREATED THIS CLASS FOR ANYONE WHO...
Enjoys chocolate and is curious to learn more about it (we like to refer to you as those who are "Chocolate Curious")
Wants to deepen their love for chocolate in a fun and educational way
Wants to improve their chocolate tasting palate
Loves chocolate and wants to hang out with other chocolate lovers and enthusiasts
Wants to experience a fun virtual event with friends and/or family
WHAT DO YOU GET
When you purchase a virtual chocolate tasting experience with Chocotastery you will receive an exclusive chocolate tasting kit which includes:
Four (4) Craft Chocolate Bars (retail from $8 to $10+ each!)
Two (2) Roasted Cocoa Beans from two cacao producing origins
Chocotastery's Chocolate Tasting Guide
Chocotastery's Chocolate Tasting Sheet
FREE Domestic Shipping within the USA via UPS (see below for note on International customers)
During the tasting it is encouraged to have the following:
Water (warm temperature to help cleanse your palate)
Napkin
Pen
REGISTRATION FEE
General Admission: $67 per household
This registration fee includes FREE shipping domestically in the USA via UPS (Ground or 2 Day Shipping).
For International Customers, we welcome you to join! Please email us at support@chocotastery.com so we can work all of those logistics out with you. International Shipping may cost an additional fee based on your location.
In order to ensure timely shipment of your chocolate bars and chocolate tasting resources, we ask that you purchase your virtual admission(s) at least a week in advance!
Tickets sales for each tasting will end on the Monday at 12:00AM ET of the week of the tasting via Eventbrite.
Scroll down to the end of this listing in order to see the available event dates for the remainder of 2023!
You also have the opportunity to add on additional craft chocolate bars to enjoy after the tasting. You will have a choice from Dark, Dark Milk, Milk, White, or Inclusion Bars. Glenn, our Chocolate Sommelier will choose the bar, subject to availability.
GIVING BACK
A portion of proceeds from each Virtual Chocolate Tasting admission will be donated to a charitable cause to support the increasing of the livelihood of cacao farmers and their families in cacao producing countries around the world. Learn more about our impact on our website.
COURSE INSTRUCTOR
Glenn Petriello is the founder of Chocotastery. He is applying his 10+ years of chocolate experience which includes creating chocolate confections, making chocolate bean to bar, tasting craft chocolate and educating others on these topics to share his passion for chocolate and educate chocolate consumers and enthusiasts to deepen their love and appreciation for craft chocolate through fun, educational virtual chocolate experiences.
TESTIMONIALS
Here are a few of the testimonials that we have received. All of our testimonials can be found on our website:
"Replace, or rather combine, your wine flights with your chocolate flights and you will be happy you did so. Glenn's Chocotastery provides the perfect opportunity for chocolate lovers to become chocolate experts. This chocolate tasting experience makes for a fun date activity, social hour with the girls, or even a fun mother-daughter day. Glenn is very knowledgeable of the topic and his admiration for its craft is infectious. The chocolate bars are not a snack, but have become a collectors item. It has become a hobby to analyze the packaging, place of origin, and chocolate content of the chocolate bars. As if chocolate couldn't be loved any more, after Glenn's Chocotastery, I now have a new appreciation for craft chocolate." ~ Eileen R., Kendall Park, NJ
"We loved our chocolate tasting with Glenn. He really knew everything about how to make chocolate and the whole process from tree to bar. Then we got to taste some really good chocolates." ~ Seth G. & Rachel H., Livingston, NJ
"The Chocotastery's Virtual Chocolate Tasting was a great experience for my husband and I to enjoy together. While we both enjoy dark chocolate, it was so intriguing to learn the process from bean to bar. Glenn was an excellent host and provided lots of interesting details for us. The best part though, was being able to try unique bars and being able to identified underlying flavors with the group! We would highly recommend this tasting to family and friends." ~ Jessica H., Coralville, IA
"You won't regret joining Glenn for a tasting - educational & fun. Try it !!" ~ Brian B., Irving, TX
"I absolutely loved the tasting! I learned so much about craft chocolate, and it was an amazing experience to learn how to properly experience these products. I highly recommend this!" ~ Kim F., Madisonville, KY
"This was an amazing event. Quite possibly one the best that I've taken part in on a virtual platform. The host was knowledgable, attentive, and very passionate." ~ Cameron
"I thought that Glenn's presentation was very well put together and executed! It was really informative, educational, and interesting. It was clear that Glenn really has a vested passion for the craft of making chocolate and it made for a genuinely enjoyable experience. Also, I thought the chocolate bars were very good too! I really like to consider flavors and focus on the process of making things so the entire event really appealed to me. Would definitely do again and I am grateful for the experience! Also, the Moka bar was immaculate! Thank you!!" ~ Karen G.
PRIVATE AND CORPORATE TASTINGS AVAILABLE
If you are interested in having us lead a private or corporate virtual chocolate tasting we would love to work with you. Please visit this webpage for more information!
Thank you for considering joining us for one of our virtual chocolate tastings. We have several tastings available on our Eventbrite page and also have additional craft chocolate bars available for sale on Chocotastery.shop.
AS SEEN IN THE MEDIA
Over the past year we have been featured in various articles where we were able to share about our chocolate journey and the great impact we've had since we've started our virtual chocolate tastings. Check them out here:
Articles:
We've been recently mentioned in Edible Manhattan, Edible Jersey, East End Taste, and Texas Lifestyle & Travel Magazine. Those and all of our previous article mentions can be accessed in our Press Kit.
Videos:
Contact us if you'd like to include us and share our story in any of your online publications or social media channels!
Check out our video which further describes our Virtual Chocolate Tastings
Event Dates for 2023:
March 11, 2023 - 3:00PM to 4:30PM
April 14, 2023 - 6:00PM to 7:30PM
May 19, 2023 - 6:00PM to 7:30PM
June 16, 2023 - 6:00PM to 7:30PM
More dates for the remainder of 2023 coming soon and if none of these dates work for you, you can always contact us to schedule a private tasting!
About the organizer
Chocotastery is your destination for chocolate education and tasting experiences. We offer our customers an opportunity to deepen their appreciation, love and enjoyment for craft chocolate. During our virtual and in-person events customers will learn about where cacao is grown, how it is grown and harvested and how chocolate is made and participate in a guided chocolate tasting.