Description
Crawl That You
LOVE
That You Crawl
Updated info regarding registration at http://crawlinboston.com/
The Valentine's Crawl by Crawl In Boston is back. We hope you'll be back with us this year. You'll be partying again with 750 new and old friends visiting the best bars Boston has to offer.
On Saturday February 8th, grab your best red and pink apparel and join us for this annual tradition.
Check out photos of this event from 2010 , 2011, 2012 and 2013. As you can see, people dress in their Valentine's best. We're already working on what to wear and here's our Pinterest site to help you with ideas.
The bar crawl begins at Noon in Faneuil Hall. Participants will be visiting different bars all day and getting plenty of swag with their ticket price
L.E.D. Flashing Red Silk Rose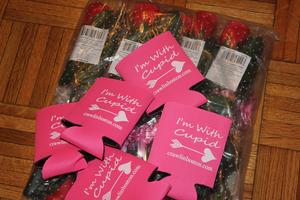 Candy Necklace
Koozie
Heart Shaped Stress Ball
Drawstring Backpack
Mini Heart Noise Drum
$3 or less drink option at every bar
Photo Booth
This event sells out every year. So get your tickets before they're all gone. Price will increase the closer to the event we get. The bars have been rented out for this event so you will need a special wristband for entrance.
This time we'll be raising money for Make-A-Wish
Tickets are non-refundable. You must arrive to register by 3:00 or your ticket may be resold. Registration will be split up by last name at multiple bars for check in. So if you're coming with a group it might be easier for one person to buy the tickets in bulk and pick up all your goodies at once.
You will receive the entire schedule when you register in person at the event. We will have 12 - 14 total bars participating. All the bars will be in the Faneuil Hall and Financial District areas. We are not releasing the schedule prior to the crawl to avoid crawl crashers (we've already seen the Facebook and Twitter posts). We want to keep this event as exclusive as possible for your own comfort. Please note, the bars have the right to refuse entry to anyone due to bar capacity or personal incapacity
Organizer of Valentine's Crawl with Crawl In Boston
Crawl In Boston is a social networking group that gives professionals a chance to meet new people in a casual and fun atmosphere. People of all ages have gathered to join the bar crawls, and we've raised money and goods for local charities.