About this Event
Saturday, February 1, 7:00-11:00 PM
Hear ye! Hear ye! By royal decree, Prince Charmings and Cinderellas across the land are gathering for a night that is truly grand!
You're invited to Single+Passion's Valentine's Singles Celebration!
7th Annual ❤️VALENTINE'S CINDERELLA BALL ❤️ A Singles Celebration Extravaganza on Saturday, February 1, 7:00-11:00 PM. Couples welcome. We're at a new beautiful venue in Orange County this year with a big dance floor and room to meet, mingle and celebrate!
Come meet new Cinderellas and Prince Charmings and invite friends with over 200-260 attending every year!
❤️ NO DATE REQUIRED... 99% Singles Attend Solo.
❤️ FUN Icebreaker Speed Dating Mixer begins a Fun Evening.
❤️ FREE Dance Lesson Mixer "Nightclub 2-Step" with Barbie Foster.
❤️ MEET CINDERELLA "Princess Cindy" for Photos and don't miss her Special Performance*.
❤️ DJ JOHN will play a Big Variety of Music for Everyone.
❤️ APPETIZERS & DESSERT BAR at 7:00 PM when doors open until gone.
👉🏼$15 EARLY BIRD TICKETS Here or Call 1-800-838-3006 for Tickets by Phone: Early Bird Ends January 31, 10 PM. OR, Pay $20 at the Door, cash/card.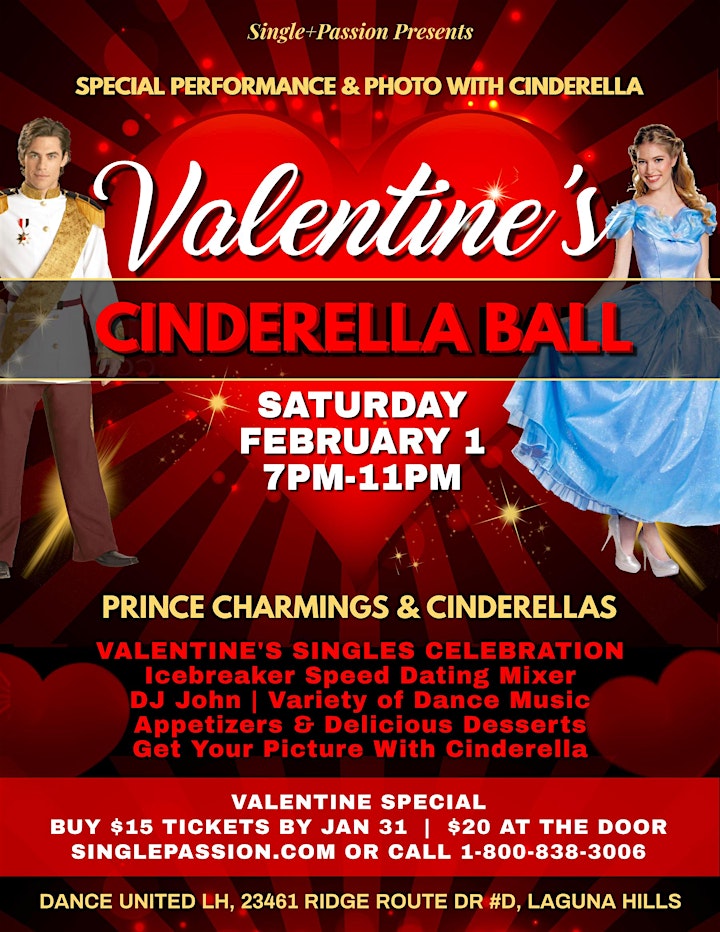 ❤️BEAUTIFUL BALLROOM
Large ballroom dance floor and 2 smaller ballrooms (over 5,000 sq. ft.). Our Winter Wonderland Ball was a huge success and we've expanding the dance floor area!
❤️ICEBREAKER MIXER
Break the ice with a fun "Nightclub Two-Step" Dance Lesson Mixer with dance instructor, Barbie Foster, before the dance begins. NO dance experience needed.
❤️ROYAL COURT
"Prince Charming & Cinderella" will be selected for 2020 with awards and photos taken of this year's winners.
❤️DRESSY PARTY ATTIRE
Suggested dressy party attire. Ladies have the option to wear gloves and tiaras. Please NO jeans.
❤️LOCATION
Dance United LH, 23461 Ridge Route Drive #D, Laguna Hills CA 92653
4 miles from the Irvine Spectrum; 3 miles from the freeway.
❤️FREE PARKING
After turning on Ridge Route Drive, take the first right into the parking lot. Park anywhere with plenty of free parking.
*Cinderella "Princess Cindy" is an actress with Enchanted Characters and is not affiliated with Disney.
Single+Passion • 501(c)(3) Nonprofit Organization •
Email onesinglepassion@aol.com • Call (951) 440-4201