Description
True Respite Brewing Company and Say Cheese are bringing you a Valentine's Beer Dinner for craft beer and grilled cheese lovers alike. The dinner will include four pairings and a bag of chips to use as a pallet cleanser. Each pairing will consist of an 8 oz beer and one quarter of a specialty sandwich from Say Cheese. The dinner will be led by Co-Founders and married couple, Brendan and Bailey O'Leary. Christopher Wyton, a classical guitarist, will be performing thoughout the dinner. After the dinner you will be given a special glass to take home with you. Whether you are a couple, a group of friends, or an individual looking for a craft beer focused Valentine's celebration, we look forward to sharing the evening with you!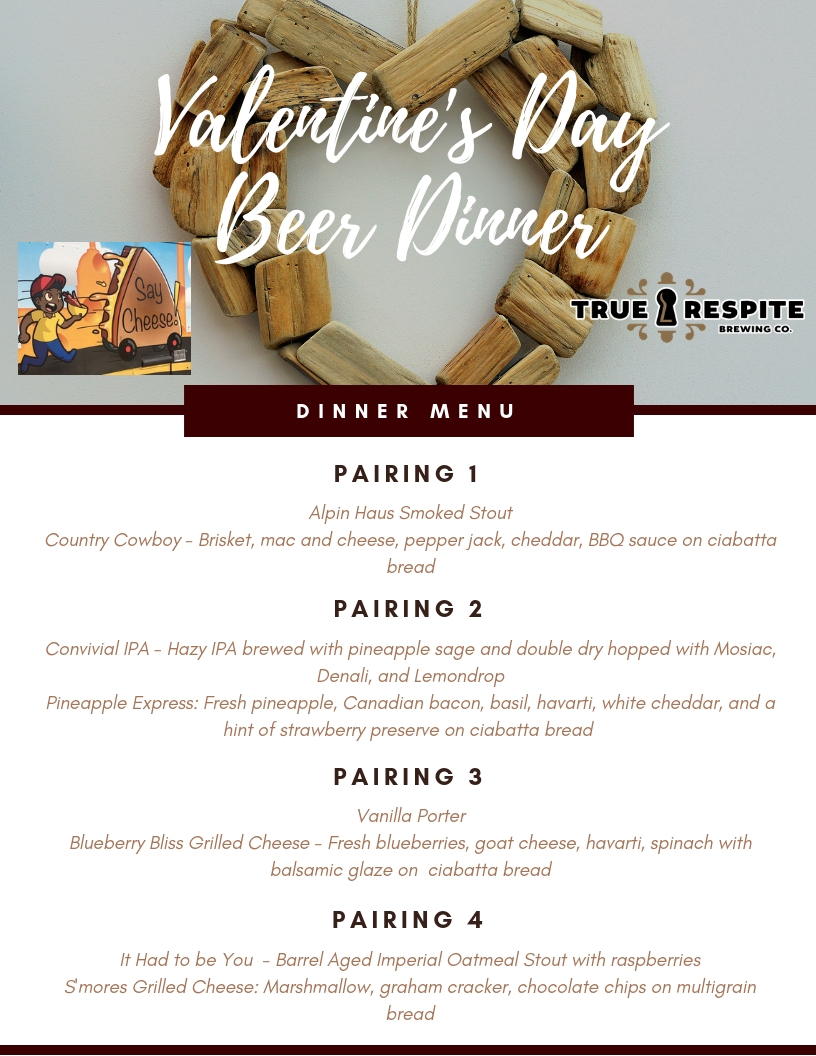 ---
About Say Cheese - Our Story
Say Cheese! started with a dream of making awesome grilled cheese sandwiches, everyone's favorite comfort food. Since starting the food truck in 2016, Say Cheese! has gotten rave reviews about its freshly prepared and delicious grilled cheese sandwiches. Fresh, all-natural ingredients, made just how you like it. That's what we do at Say Cheese!
Meet the Team
Every time you have a delicious grilled cheese sandwich at Say Cheese! Eric, Thomas, and Christin can't help but smile.
Eric Kilgore is the chef behind Say Cheese! One day after talking to a friend after a long shift at a restaurant, he decided that DC, Maryland, and Virginia (DMV) deserved better grilled cheese. After going through a list of recipes and endless testing with friends and family, he's finally doing what he loves!
Christin is Eric's partner behind Say Cheese! Through thick and thin, they've been together making sure that Say Cheese! continues to provide its grilled cheese sandwiches across the DMV area!
Thomas is Eric's other partner and his sous-chef. He always makes sure that those grilled cheese sandwiches are golden brown and cooked to perfection and that every customer is satisfied!