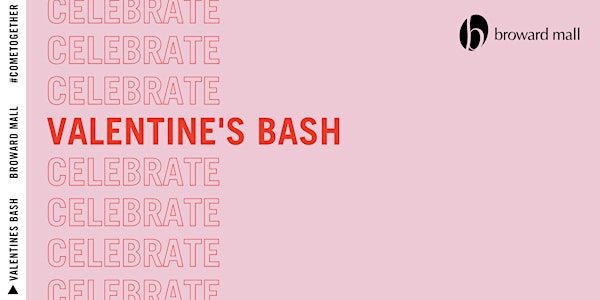 Valentine's Bash at Broward Mall
Bring the family and join us for the 1st Annual Valentine's Day Bestie Bash! Saturday, February 11 from 2pm-5pm!
When and where
Location
Broward Mall 8000 West Broward Boulevard Plantation, FL 33388
About this event
Bring the family and join us for our 1st Annual Valentine's Bash! Enjoy local music, giveaways, arts & crafts, and shopping while celebrating with your loved ones.
We're kicking off 'Valentine's Bash' with VALEN-DINE , a social media gift card giveaway, make sure to follow us on Facebook & Instagram for updates.
Text HEARTS at 89881 to stay in-the-know!
LOCAL MUSIC 2pm
Jen Martinez-Bre - Vibe with Jen's Percussion Session
Rudy Fernandez - Groove with Rudy's Saxophone Love Notes
Show Mexicanisimo - An Ode To YOU with some Mariachi Music
ACTIVITIES
Visit Young At Art Museum (in the Dillard's wing)
HeART Painting Workshop
$10 per canvas
LOVE Open-air Photo Booth
'WIN THIS' RAFFLE
Shopping on Feb 11th?
Get 1 Raffle Ticket for every $25 spent
Win a prize from these retailers:
YANKEE CANDLE
JOSEPH JACOB JEWELERS
RACHEL'S BEST SOAPS
JCPENNEY BEAUTY
CRAZY COMICS
KUNG FU MASSAGE
POWER VR
OUTFIT TRAINING
Collect your ticket in center court, look for the Broward Mall team!
Raffle winners will be texted to claim their prize during the event
Confirm your participation on EventBrite
Text HEARTS at 89881