Valentina Bosetti at The Interval: Conceptualizing the Risk and Uncertainty of Climate Change

Tuesday, June 23, 2015 from 6:30 PM to 8:30 PM (PDT)
Event Details
The Long Now Foundation welcomes
Valentina Bosetti
economist, lead author IPCC Fifth Assessment Report (WGIII Chapter 2), CASBS Fellow
Life's a Great Balancing Act:
Conceptualizing the Uncertainty and Risk of Climate Change

in collaboration with the Center for Advanced Study in the Behavioral Sciences (CASBS) at Stanford University
@ The Interval at Long Now: check-in begins at 6:30; talk will start at 7:30 
Join us afterwards for drinks and conversation with our speaker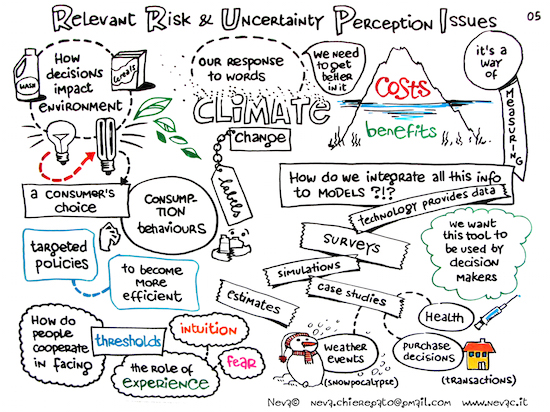 Illustration by Neva Chieregato of a Valentina Bosetti lecture

Valentina Bosetti studies the economics of climate change and of green technology innovation. Dr. Bosetti's work includes a focus on risk and uncertainty around climate change and how it affects both individual perceptions and government policies. She is based in Milan, Italy, but is currently completing a Fellowship at Stanford's Center for Advanced Study in the Behavioral Sciences (CASBS). Long Now is proud to regularly feature CASBS Fellows in our "Conversations at The Interval" series.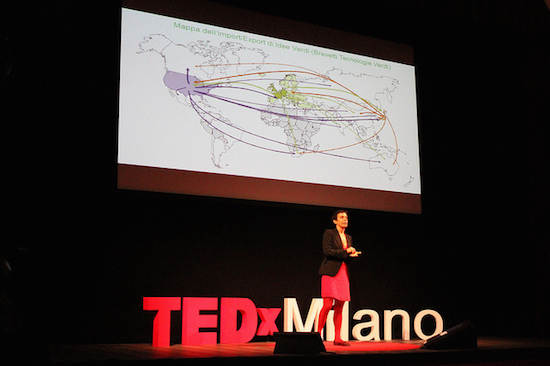 At The Interval Dr. Bosetti will talk about the many uncertainties around climate change, ranging from the limitations (and variations) of predictive models to the possibilities for technological innovation. Her talk includes approaches for evaluating and making decisions amongst all that uncertainty. Valentina will also discuss her work as the lead author of the "Integrated Risk and Uncertainty Assessment of Climate Change Response Policies" chapter for Working Group III of the 5th IPCC Assessment Report and the IPCC process more broadly.
The Intergovernmental Panel on Climate Change (IPCC) is the international body for assessing the science related to climate change, set up in 1988 by the World Meteorological Organization (WMO) and United Nations Environment Programme (UNEP). It provides policymakers with regular assessments of the scientific basis of climate change, its impacts and future risks, and options for adaptation and mitigation.
More about Long Now's partnership with CASBS
For over sixty years CASBS has been a national and international locus for transformative thinking and research on the most important issues in social science. The Center's residential fellowship program attracts the finest scholars from psychology, sociology, economics, political science, anthropology, history, philosophy, linguistics, and related disciplines. They are now extending the fellowship program to define social problems that CASBS teams can come together to solve, reaffirming the Center as a source of innovative, cutting edge ideas and practice.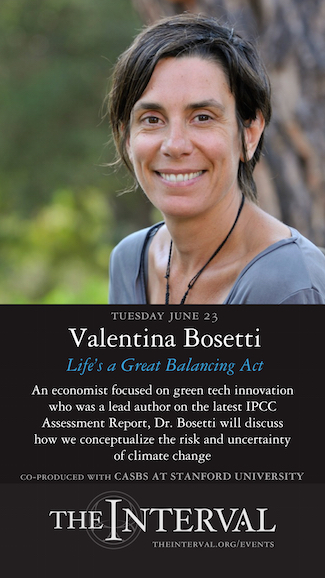 Valentina Bosetti is associate professor at Bocconi University and senior researcher at Fondazione Enrico Mattei and Euro-Mediterranean Center on Climate Change. She has a bachelor's degree in environmental Sciences and an MSc in Environmental Economics (University College London). Her PhD is in Computational Mathematics and Operation Research.
Her recent work has focused on expert elicitation and the future cost of clean energy technologies, on climate negotiations, and on the individual incentives to contribute to public goods.
She was recently awarded a European Research Council grant with the objective of substantially advancing the way we conceptualize, model and frame climate change policy making under uncertainty.

Long Now members hear about Interval events first: become a member today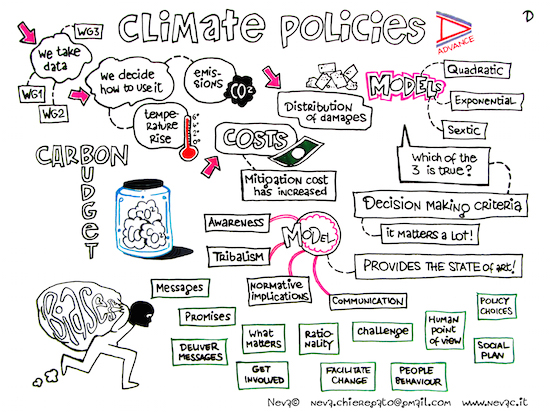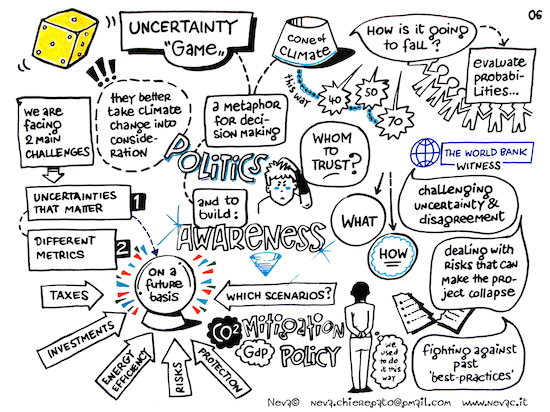 Illustrations by Neva Chieregato of Valentina Bosetti's lectures
When & Where

The Interval at Long Now
Fort Mason Center
2 Marina Blvd
San Francisco, CA 94123


Tuesday, June 23, 2015 from 6:30 PM to 8:30 PM (PDT)
Add to my calendar
Valentina Bosetti at The Interval: Conceptualizing the Risk and Uncertainty of Climate Change