Val Verde Unified School District´s Spring Family Reading Festival
Description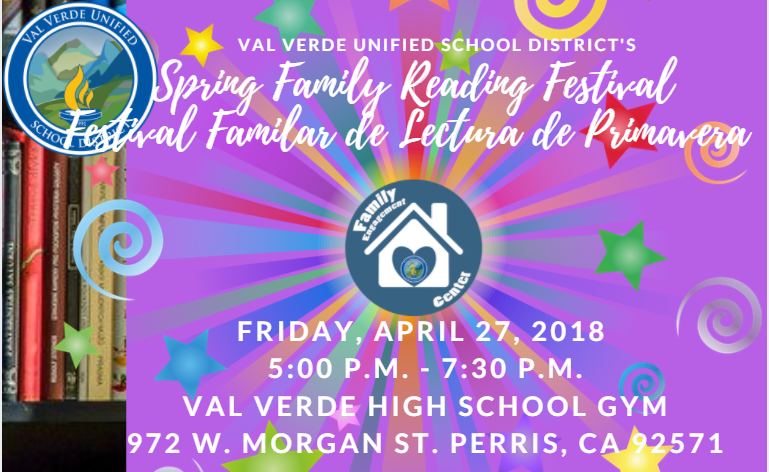 Val Verde Unified School District invites all parents and children from preschool to 3rd grade to our First Spring Family Reading Festival. Be sure to come to this fun-filled event full of practical, hands-on strategies to promote reading! Come and meet a real author, there will be raffles, prizes and books and fun for the whole family! Dinner provided.
Child supervision and interpretation in English and Spanish will be available. We hope you can join us!

The event will take place at the Val Verde High School Gym from 5:00p.m. to 7:30p.m. on Friday, April 27, 2018.
---
El Distrito Escolar Unificado de Val Verde invita a todos los padres de familia y niños de preescolar a tercer año a nuestro primer festival familiar de lectura de primavera. ¡Asegúrese de venir a este evento lleno de diversión y de estrategias prácticas para fomentar la lectura! Se ofrecerá cena.
Habrá supervisión de niños e interpretación al español. ¡Esperamos nos puedan acompañar!
El evento se realizará en la Escuela Preparatoria Val Verde de 5:00 p.m. a 7:30 p.m. el viernes 27 de abril, 2018.
---