Event Information
Refund Policy
Contact the organizer to request a refund.
Eventbrite's fee is nonrefundable.
ONLINE Vail Comedy Show, free thanks to Vail Valley Young Professionals Association
About this Event
Vail Comedy Show (www.vailcomedyshow.com)
Thursday January 21, 2021 5:30PM MDT (7:30PM East Coast, 4:30PM West Coast)
Pre show begins 30 minutes early, tune in!
Dave Waite [Jimmy Fallon, Comedy Central, Last Comic Standing]
Leah Bonnema [Late Night with Stephen Colbert, truTV, IFC, VH1]
Casey Crawford [Jimmy Kimmel]
Sofiya Alexandra [Comedy Central, Second City]
Long John The Comedian [Comedy Test Kitchen, 2020 Outstanding Comic of the Year, 2019 Steve Harvey award winner]
Chris D. [Rob Gronkowski's Unsportsmanlike Comedy]
Hosted by Mark Masters
More details here: https://www.vailcomedyshow.com/events/January-21-2021-Vail-Comedy-Show-Dave-Waite-Leah-Bonnema-Casey-Crawford-Sofiya-Alexandra-Mark-Masters.html
Link to LIVE show will be sent to ticketed audience members. Please monitor your email!
Watch from backstage and be a live laugher or join the stream, you'll laugh either way. If you are very intent on getting backstage please email vail comedy show at gmail dot com and tell us why you or your viewing party would be great.
We are grateful for our sponsors: Vail Valley Young Professional Association (VVYPA), Vail Brewing Co. (VBC), DefendYourDrink.com, The Bookworm in Edwards, The Riverwalk Theater and Root & Flower Vail
Please support the show by shopping our store at www.gumroad.com/vailcomedyshow we have museum quality poster prints and a face mask for sale. Get more stuff cheaper at www.markmasters.co/store
SUPPORT THE PERFORMERS
You can support our comics!
(show order)
Mark Masters
Be a part of his weekly Friday night virtual comedy showcase. 30 minutes. Hilarious. Free. www.markmasters.co/showcase
Support his book www.notgoodyet.com
Follow on Twitter twitter.com/themarkmasters
Listen to his podcast / watch his web series markmasters.co/podcast-and-webseries.html
Send a couple dollars venmo.com/markmarkcolorado
Chris D.
Check out website chrisobct.com
Send a couple dollars venmo.com/ChrisOBCT
Long John The Comedian
Check out YouTube youtube.com/channel/UCx3qwtcHviLkP1dJQLfMWWA
Follow on Twitter twitter.com/long_John_
Send a couple dollars paypal.me/longjohn1
Sofiya Alexandra
Follow on Twitter twitter.com/TheSofiya
Follow on Instagram instagram.com/thesofiya
Check out website sofiyaalexandra.com
Send a couple dollars venmo.com/SofiyaAlexandra
Casey Crawford
Follow on Twitter twitter.com/caseycrawford78
Send a couple dollars venmo.com/Casey-Crawford-16
Leah Bonnema
Check out website www.leahbonnema.com
Follow on Twitter twitter.com/leahbonnema
Send a couple dollars venmo.com/Leah-Bonnema
Dave Waite
Follow on Twitter twitter.com/davewaitecomedy
Follow on Instagram instagram.com/davewaitecomedy
Check out website davewaitecomedy.org
Check out his YouTube youtube.com/channel/UCPGBKhLThzecf6DsN6TByDw
Send a couple dollars venmo.com/davewaitecomedy
Dave Waite: Los angeles-based comedian Dave Waite is a charismatic oddball whose shows are non-stop fun. Thanks in part to stellar performances on late night with Jimmy Fallon, Comedy Central's not safe with Nikki Glaser, and Last Comic Standing, comedy fans everywhere are enthralled by the Kentucky native's offbeat outlook on life. Dave is a beloved guest on several top-rated podcasts and radio shows, including Doug Loves Movies and the nationally syndicated Bob & Tom show. His highly anticipated album "Dead Waite" by on tour records is available now on amazon and iTunes, and his previous albums can be heard frequently on SiriusXM and Pandora. In addition to maintaining a healthy tour schedule, Dave also co-produces the Secret Show, a popular comedy night at the Blind Barber in Culver City, CA.
Leah Bonnema: Leah Bonnema is a stand-up comic based in New York City. She's been featured on AXS TV's Gotham Comedy Live, IFC's Comedy Crib, TruTV's Comedy Knockout, Elite Daily's Schlep and Why It's Ok To Be A Single Girl On Valentine's Day, Broadway Video's The Henkle Factor with Michael Che, Vh1's 100 Greatest series, VProud's You're Not Crazy and is a regular on SiriusXM Radio. Huffington Post named her one of their Favorite Female Comedians and she was on The America Stands Up Showcase at The International Glasgow Comedy Festival.
Casey Crawford: Casey Crawford, who now lives in Boston, is from Gettysburg South Dakota and graduated from the University of South Dakota with a mass communications degree. He moved to Omaha for graduate school, where there was a small comedy scene there. The comedian is known for his short jokes in the style of Zach Galifianakis, Emo Phillips or Steven Wright. He has appeared on Jimmy Kimmel Live!
Sofiya Alexandra: Sofiya is a writer and comedian who grew up in Odessa, Ukraine, and moved to Los Angeles at the age of 11. You might have seen her on Comedy Central's This Is Not Happening talking about her grandpa's dick surgery while using some colorful Russian. Sofiya's written on Amazon's Danger & Eggs, an Emmy-winning animated series starring SNL's Aidy Bryant. She's been featured as a standup at Limestone, Laughing Skull, Women in Comedy, Out of Bounds, and many other comedy festivals. Sofiya was named one of The Fifty Funniest Women on Twitter by Playboy and one of 18 Funny Women You Should Be Following by Huffington Post. Her tweets regularly appear on Mandatory, Buzzfeed, Splitsider, Funny or Die, and HuffPo. Her mystery-lineup comedy variety show SURPRISE! was featured in LAist, LA Weekly, The Los Angeles Review of Books, OneThingLA, and WeLikeLA. She currently co-hosts, Private Parts Unknown, a comedy-travel podcast that uncovers stories about love and sexuality around the world. It's dope. AND she beat breast cancer, but if cancer is listening, THIS IS NOT A CHALLENGE.
Long John The Comedian: Long John The Comedian, is a Zimbabwean stand-up comedian, actor and MC. He is also known as "The Village Boy" and has won the 2019 National Arts Merit Awards as the Outstanding Comedian of the Year and the 2019 Savanna Comic Choice Awards as the Pan African Comic of the Year. He was people's choice award winner in Steve Harvey's Stand Up Spotlight competition in 2019. In 2020 he won the National Arts Merit Awards as the Outstanding Comedian of the Year.
Chris D.: Chris Dimitrakopoulos aka Chris D. aka O.B.C.T. is a Greek-American comedian and amateur rapper from Peabody, MA. With his blend of jokes about his quirky, immigrant family and his unique perspective on the world around him, Chris is quickly becoming one of the nation's rising, young talents. He has been a standout at The Beantown Comedy Riots, The Boston Comedy Festival, and The Burbank Comedy Festival in LA. In addition to regularly opening for national headliners like Juston McKinney and Lenny Clarke, Chris once held the prestigious title of "Comic in Residence" at the famous Comedy Studio in Cambridge, MA.
Mark Masters: Mark Masters lives in Colorado. He hosts and produces the monthly Vail Comedy Show as well as a weekly online showcase called the Comedy Test Kitchen. He has a podcast and web series, creatively named "Mark Masters", and you can buy the story of his comedy journey "Not Good Yet" almost anywhere books or audiobooks are sold. Learn more at www.markmasters.co and buy his merch here. He has pandemic-performed at The Comedy Studio (Boston, MA) and Broadway Comedy Club (NYC).
As always we may have some special guests dropping in too, so get your tickets early. There are two ways to watch and interact live, you can be backstage and have your laughs heard during the broadcast or tune into the stream and interact through on screen comments. Live laughers are eligible for prizes. Lineup subject to change.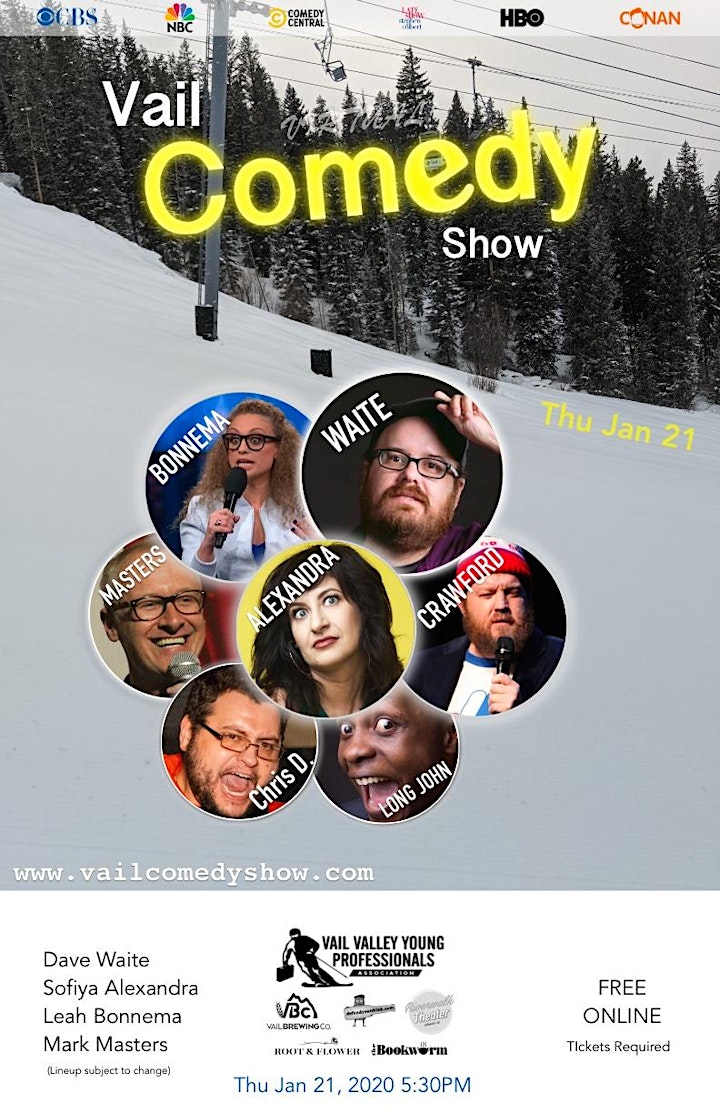 Date and Time
Location
Refund Policy
Contact the organizer to request a refund.
Eventbrite's fee is nonrefundable.