Description
VADYN NESELOVSKYI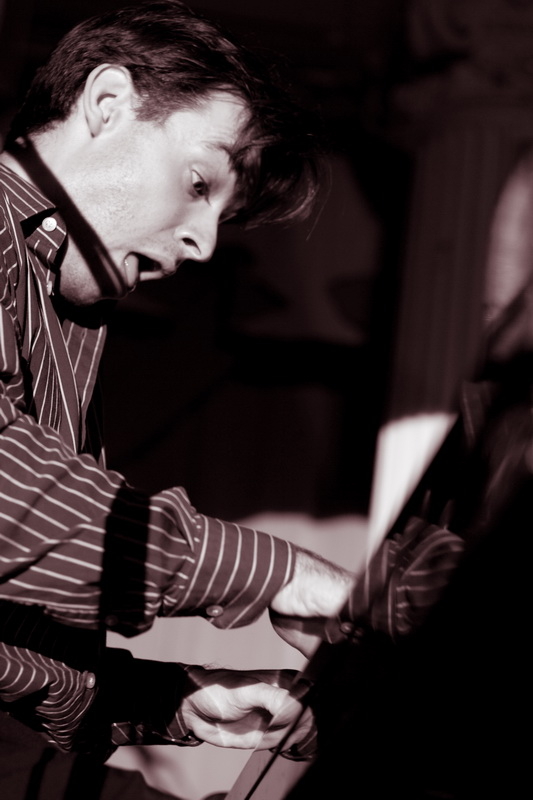 Vadim Neselovskyi is a Ukrainian pianist and composer based in New York City.
He currently serves as Professor of Jazz Piano at Berklee College of Music in Boston, MA.
Neselovskyi a member of 6-Time Grammy-Winner Gary Burton's Generations Quintet in 2004 and has been working as Gary Burton's for more than a decade.
The "Next Generation" CD has reached Nr.1 on Jazzweek chart in US on April 27, 2005.
As a solo pianist and a leader of his trio touring US, Europe and Japan.
In 2010 German Neue Musik Zeitung (NMZ) included him into "Best Musicians of 2010" list
Vadim's composition San Felio was recorded in a classical rendition by Canadian saxophonist and Sony Classical Artist Daniel Gauthier for his CD "Spirito Latino" received an ECHO Award "Classic Without Borders"


https://www.youtube.com/watch?v=lNbLD7Mo-cY




Get Up and Go, out April, features bassist Dan Loomis and drummer Ronen Itzik on Neselovskyi's sweeping, wide-ranging trio debut.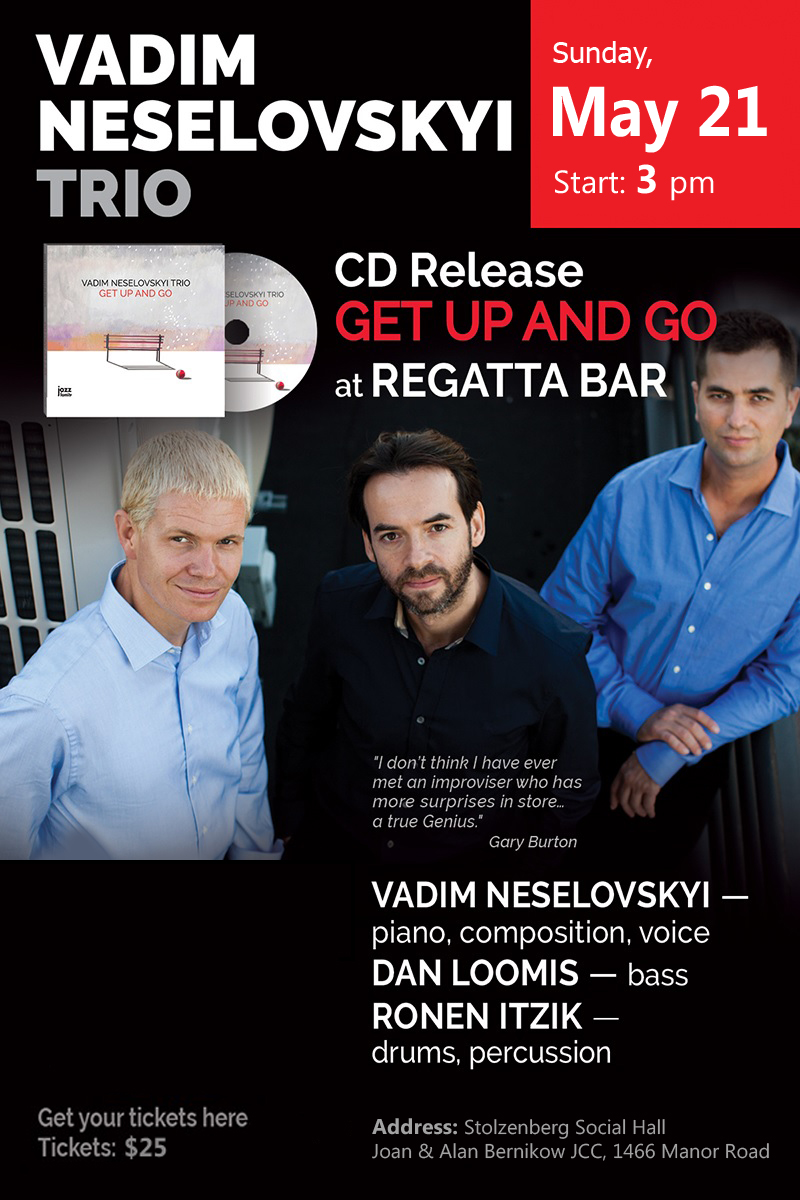 "More than just a strong pianist, [Vadim] Neselovskyi is a composer who blends form and freedom in new ways." — John Kelman, All About Jazz

"Neselovskyi… managed to suggest Chopin, Debussy, Schubert, while developing simple phrases into expansive solo forms with piano-pounding climaxes." – Jim McNeely, Chicago Sun-Times

Though he left the country more than 20 years ago, returning home to his native Ukraine is always a special occasion for pianist/composer Vadim Neselovskyi. His summer 2014 performance at the country's largest jazz festival, Alfa Jazz, took on an added poignancy, however, because of the political turmoil afflicting the nation. Having assembled a trio especially for the occasion, Neselovskyi forged a strong and meaningful bond with his bandmates – bassist Daniel Loomis and drummer Ronen Itzik – through this act of musical communion with his homeland.

"Neselovskyi's a remarkable pianist: Ukrainian-born, raised partly in Germany, at home with blues, funk, and Latin, with an extra Middle European dimension. It's like John Lewis' classical one, but with Slavic and Romantic harmonic and rhythmic extension and the rest further extending the band's palette."
Robert R. Calder, AllAboutJazz


Vadim's discography:

As a Leader
Spring Song (Vadim Neselovskyi Group feat. Amanda Baisinger, Eric Bloom, Oleg Osenkov and Pedro Ito) Released 2007
Music for September (Solo Piano), Sunnyside Records 2013, produced by Fred Hersch, liner notes by Gary Burton
Get Up and Go (Vadim Neselovskyi Trio feat. Ronen Itzik on drums, Dan Loomis on bass and special guest vocalist Sara Serpa), JazzFamily Records, Release Date: March 2017

With Gary Burton
Next Generation (Gary Burton Quintet feat. Julian Lage, Vadim Neselovskyi, Luques Curtis, James Williams), Concord Records 2005

Duo with Arkady Shilkloper
Last Snow (Artbeat Records 2013)
Krai (Neuklang 2014)
Lustrum (Neuklang), Release Date 2017

As composer
Common Ground (Gary Burton New Quartet feat. Julian Lage, Antonio Sanchez, Scott Colley), MackAvenue 2011
Spirito Latino (Daniel Gauthier), MDG Records 2005

As featured guest and composer
Mixtura (Luba Mason Group, produced by Jimmy Haslip, appearing on Neselovskyi's composition "Last Snow" together with Randy Brecker)