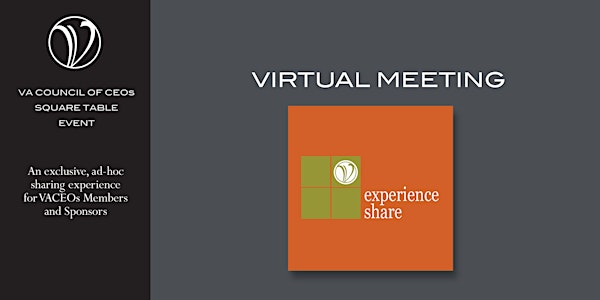 VACEOs Square Table: Work + Space: Considerations & Conversations for Your Workplace's Next Act
Description
No one knows what the future holds. How quickly, or effectively, we transition back to the office environments of which we've grown so accustomed is unknown. What we do know? Our spaces matter - now, perhaps, more than ever before. Social psychology (and a few months of distancing at home) reminds us that, as humans, we crave the obvious and not-so-obvious ways in which we are enriched - emotionally, creatively, spiritually, and physically - by the routines and interactions of commuting, arriving and working together. With so much to consider in bringing your people back safely, how do we adjust?

Join Baskervill Workplacce leaders Burt Pinnock and Susan Orange for an engaging discussion on the policies, practices, materials, and adaptations we're considering for our own office spaces and how you can apply them for your own.

Host and presenters:
Susan Orange, Baskervill
Susan Orange, CID is an interior designer for workplace environments, working closely with clients to uncover their needs and craft designs tailored to their unique history, work style, and vision for the future. As a Principal and Director of Workplace Strategies, Susan has helped the workspace studio build a nationally-renowned reputation and claim a spot on Interior Design's list of Top 100 Giants. It's no coincidence that Susan shares a name with one of the most vibrant, optimistic hues on the color wheel; bold and polished, her vivid philosophy brings brand stories to life through fresh, powerful design. A graduate of VCU, Susan has been honored with an IIDA Interior Design Excellence Award, spoken at NeoCon East, and been published in numerous workspace publications.

Burt Pinnock, Baskervill
Burt Pinnock, FAIA is known for his passion for design; a passion that has resulted in award-winning work for countless communities, from historic sites and cultural institutions to forward-thinking companies and inspiring foundations. With a firm grasp on contextual design, Burt's work is rooted in the belief that architecture can provide solutions and change to cultural challenges. His approachable attitude and friendly smile have opened many doors as both a speaker and design leader. He serves on the Commonwealth of Virginia Art and Architectural Review Board, among many other volunteer roles, and is the co-founder of Storefront for Community Design. For Burt, architecture and design isn't a job; it's his personal contribution to the wellbeing and vitality of our communities. Burt is a graduate of Virginia Tech, a Fellow of the American Institute of Architects, and the Virginia AIA Award of Distinguished Service recipient.
About VACEOS Square Table events:
Ad hoc peer learning in small groups
For VACEOs members and sponsors only
VACEOs Safe Haven culture applies. The host will set the confidentiality level.

Any member or sponsor can propose an event
Topic, meeting format, etc. determined by the host
Free to participants.
Learn more about how Square Table events work, and how you can propose one here