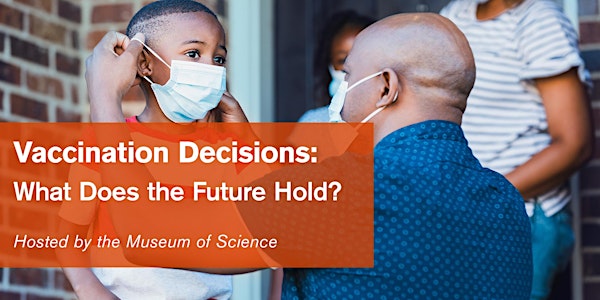 Vaccination Decisions: What Does the Future Hold? ¿Qué nos trae el futuro?
Join us as we discuss what our future might look like in a world transformed by COVID. ¿Que nos espera en el futuro?
About this event
Join the Museum of Science for the third in a series of three virtual Town Halls where we discuss the critical decisions our society faces as vaccination rollout continues.
As the country struggles to vaccinate the general public as quickly as possible, many people are wondering how (or if) we will get to a post-COVID future and what our lives will look like then.
Should schools and workplaces require COVID-19 vaccines?
What will travel look like?
Will the general public's phase of vaccine roll-out be equitable for all populations?
What long-term changes will our society face after COVID-19?
Explore these question and more as we invite experts to discuss our "new normal."
After hearing from our panelists, participants can join small group conversations to share their concerns, ask questions, and continue this important discussion.
This event will be conducted in English. A recording of this video with Spanish translation will be posted to the Museum's website and YouTube page after it concludes.
FEATURING:
Marisol Amaya-Aluigi, MPH, Executive Director La Alianza Hispana
Casey Baines, Senior Policy & Communication Manager, Greater Boston Chamber of Commerce
Larry Madoff, MD, Medical Director, Bureau of Infectious Disease and Laboratory Sciences, Massachusetts Department of Public Health
Moderated by Sabrina Sholts, Curator of Biological Anthropology at the Smithsonian's National Museum of Natural History
Decisiones de vacunación: ¿Que nos espera en el futuro?
Acompáñenos para charlar sobre el proceso de ensayos clínicos para probar la vacuna contra el COVID-19.
Sobre el evento
Acompañanos en la tercera y última de las asambleas virtuales públicas donde discutiremos las decisiones críticas que enfrenta nuestra sociedad al comenzar la distribución de las vacunas.
Mientras el país se esfuerza por vacunar el público general lo antes posible, muchos se preguntan cómo (o si) llegaremos a un futuro post-COVID y cómo será nuestra vida entonces.
¿Deberían las escuelas y lugares de trabajos exigir las vacunas contra el COVID-19?
¿Cómo será ir de viaje?
¿Será equitativa la fase de vacunación para el público general para todas las poblaciones?
¿Qué cambios a largo plazo enfrenta nuestra sociedad después del COVID-19?
Explora estas preguntas y más con nuestros expertos invitados que discutirán nuestro "nuevo normal". Después de escuchar a nuestros panelistas, la audiencia puede unirse a conversaciones en grupos pequeños para compartir sus inquietudes, hacer preguntas y continuar esta discusión.
Este evento se presentará en inglés. Después del evento, una grabación de este video con traducción al español se publicará en el sitio web del Museo y en la página de YouTube.
CON LA PARTICIPACION DE:
Marisol Amaya-Aluigi, MPH, Executive Director La Alianza Hispana
Casey Baines, Senior Policy & Communication Manager, Greater Boston Chamber of Commerce
Larry Madoff, MD, Medical Director, Bureau of Infectious Disease and Laboratory Sciences, Massachusetts Department of Public Health
Moderada por Sabrina Sholts, Curadora de Antropología y biología en el Museo Nacional de Historia Natural del Instituto Smithsoniano