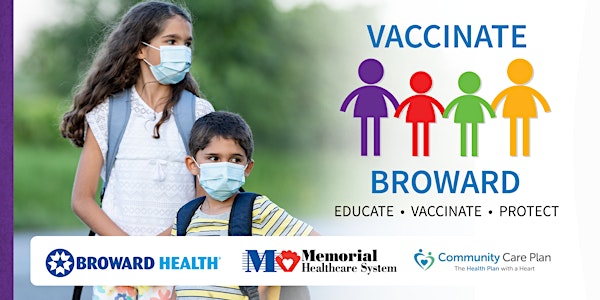 Vaccinate Broward 2021
Vaccinate Broward is an initiative to help ensure that all children in Broward are up to date on their vaccinations.
When and where
Location
Select Broward Health & Memorial Primary Care locations 4105 Pembroke Rd Hollywood, FL 33165
About this event
Broward Health, Memorial Healthcare System, and Community Care Plan are pleased to announce that we will be holding our 3rd Annual Vaccinate Broward initiative to help ensure children in Broward County are fully vaccinated.
The Vaccinate Broward event will provide free vaccinations to Broward County children and young adults, ages 4 to 20, on Saturday, August 7, from 9 A.M. – 1 P.M. at four locations in Broward County.
Please register EACH child or teen receiving a vaccination.
FREE vaccinations will be available for children and young adults between the ages of 4 to 20 years old. Vaccines to be offered include:
• DTaP: Diphtheria, Tetanus, Acellular Pertussis (Whooping Cough)
• IPV: Inactivated Poliovirus
• MMR: Measles-Mumps-Rubella
• Varicella: Chickenpox
• HPV: Human Papillomavirus Infection
• Tdap: Tetanus, Diphtheria, Acellular Pertussis (Whooping Cough)
• Meningococcal: Meningitis
• Hepatitis A
• Hepatitis B
COVID-19 Vaccinations will NOT be offered at this event.
FREE vaccinations will be available at the following locations:
Broward Health:
• Broward Health Weston | 2300 N. Commerce Pkwy., Weston, FL 33326
• Cora E. Braynon Family Health Center| 200 NW 7th Ave., Fort Lauderdale, FL 33311
• Pompano Pediatric Center | 601 W. Atlantic Blvd., Pompano Beach, FL 33060
Memorial Healthcare System:
• Memorial Primary Care - Hollywood | 4105 Pembroke Rd., Hollywood, FL 33021
To protect patients, families, and caregivers, each vaccination site has put additional safety measures in place, following CDC recommendations for COVID-19. Youth and parents must wear masks during the vaccination visits, and visitors will be socially distanced.