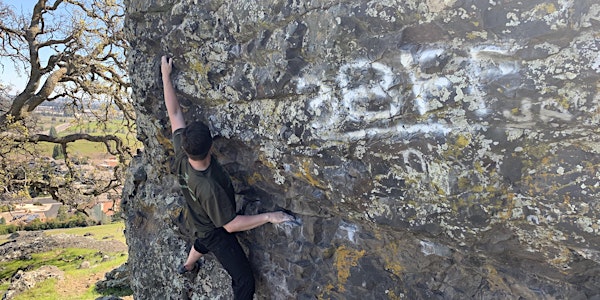 Vacaville Woodcrest Boulders 2019 Adopt-A-Crag
Vacaville Woodcrest Boulders 2019 Adopt-A-Crag
When and where
Location
Woodcrest Dr Trailhead 320 Woodcrest Dr Vacaville, CA 95688
About this event
Join the Bay Area Climbers Coalition in partnership with the City of Vacaville for our Woodcrest Boulders Adopt-A-Crag
The Woodcrest Boulders are a wonderful set of boulders in the Browns Valley Open Space Preserve. They are in need of a little TLC though, and some of them have a little graffiti, which we'll do our best to remove.
We ask that you bring a water bottle and wear closed-toe shoes, a long sleeve shirt, and pants. Please consider carpooling. We encourage you to chat with other volunteers and coordinate rides within the Facebook event. Gloves, tools and lunch will be provided. The graffiti removal involves a little water, so a small towel may come in handy. Our work will conclude around 12 pm.
Bring your climbing gear for any post-event crushing! Climbing is not part of this event, but you are welcome to go on your own afterwards.
Logistics
Meeting Point - On 10/19 we'll meet over by the Woodcrest Boulders entry here: https://goo.gl/maps/4JwawAZbJnbh8a4x8. Trailhead located on Woodcrest Drive, approximately 150' south of Wrentham Drive . Keep an eye out for the Bay Area Climbers Coalition sign by the entrance.
Safety - We are HUGE on safety! There will be a safety talk at 9am on the day of the event. We require all participants to be present for the safety talk and wear closed toe shoes, otherwise you will not be allowed to participate.
Food - Coffee, lunch, and snacks will be provided for all volunteers. Please let us know if you have dietary restrictions.
Water - Please bring your own water bottle with at least 1 liter of water! We will be able to provide some additional water, but cannot promise refills for everyone.
Tools - We will be providing tools and gloves, but you're welcome to bring your own work gloves if you prefer.
Bathrooms - There are no bathrooms available. I am working on getting a porta-potty and will update accordingly. Otherwise, please use the facilities located offsite at Centennial Park
Clothing - Sturdy, closed toe shoes are mandatory. Work gloves, long sleeve shirts, long pants, a hat, sunglasses, and sunscreen are all highly recommended. Be prepared to get some sun. It may be very hot, too.
BACC and The City of Vacaville look forward to seeing you at the cleanup. Space is limited, so register today!