Learn to convert a front lawn into water-wise, edible garden!
About this event
Join us May 29 to help install a demonstration food forest garden based on permaculture principles in Vacaville!
This public, hands-on installation workshop series will create a demonstration food forest garden in Vacaville, providing an opportunity to learn about rainwater capture, water efficient drip irrigation and how to plant and mulch for a water wise garden that builds healthy soil and yields food.
Day 2: Saturday, May 29-Planting & Drip Irrigation
Learn what plants help your garden thrive by working together as an ecosystem and how to install drip irrigation
.Volunteer tasks: planting the understory, installing drip irrigation and moving wood chips
* wear mask, bring gloves and refillable water bottle
* Free lunch provided courtesy of The Rasta Mama's Kitchen
*If you have special dietary needs please bring your lunch
PPE and Social Distancing Guidelines
Staff and volunteers shall maintain at least a 6-foot distance from others, excluding other household members.
Staff and volunteers shall wear a face covering/mask that covers nose and mouth.
Volunteers that violate social distancing and the aforementioned safety protocols will lead to the volunteer being excused from the event.
If you have any questions please contact nicole@sustainablesolano.org
Name of Future Demonstration Food Forest: The Shepherd's Heart
Future Food Forest Keepers Bio, as written by his daughter:
Winston Bryce was born and raised on a farm in Jamaica. Being raised on a farm, my father has a deep understanding of the value that the land can bring forth, not only to bless his family, but all the surrounding family in Jamaica. Often his mother would take from the land and cook amazing dishes to share with those who were in need. This love and dedication for the land was passed down to my father, and all the recipes were passed down to my sisters and I. My father currently lives in Vacaville on a double lot, he can fit 3 good size pools in his yard if he chose to. In fact all the neighboring houses have done so. My father has refused and has always wanted a small farm in his backyard and to have what the land has yielded be shared with the community.
Now, you're probably wondering why my father has not done this himself? My mother had an aneurysm in the back of her brain stem about 20 years ago; this left her completely paralyzed and she is now a quadriplegic. She cannot talk or take care of even basic bodily function. My father's love for her is so deep that he cares for her every day and has even found a way to communicate with her. My parents have been married for 44 years and they still act like newlyweds. My mother needs 24-hour care, my father has help from my sister and I but it's not enough. His dream is to have a garden. We are so very excited and feel truly blessed to have the Sustainable Solano community help make this dream into a reality.
This is the official site for all Sustainable Solano events. Please register for free classes or purchase tickets only through Sustainable Solano's Eventbrite listings. We never sell tickets that can be resold. If you notice another party claiming to sell our tickets, contact us at info@sustainablesolano.org. This program is funded by the Solano County Water Agency.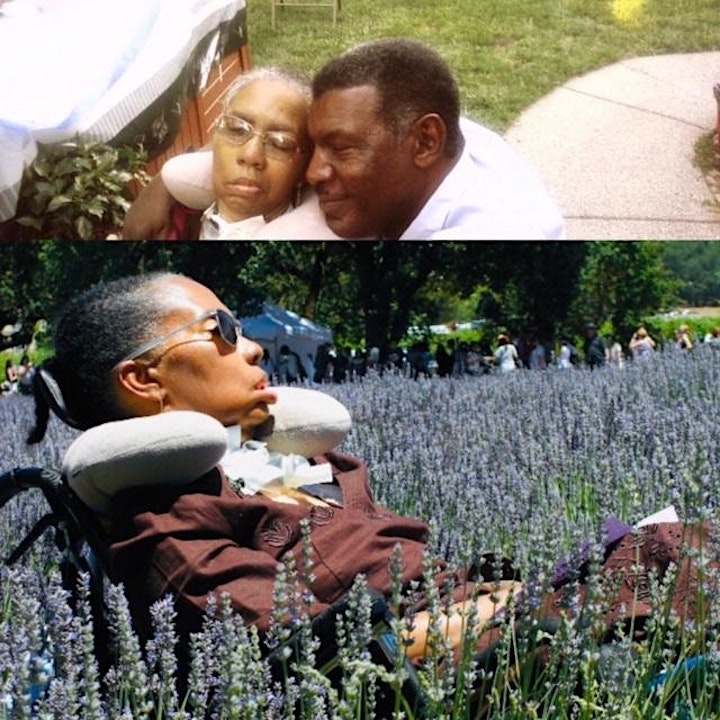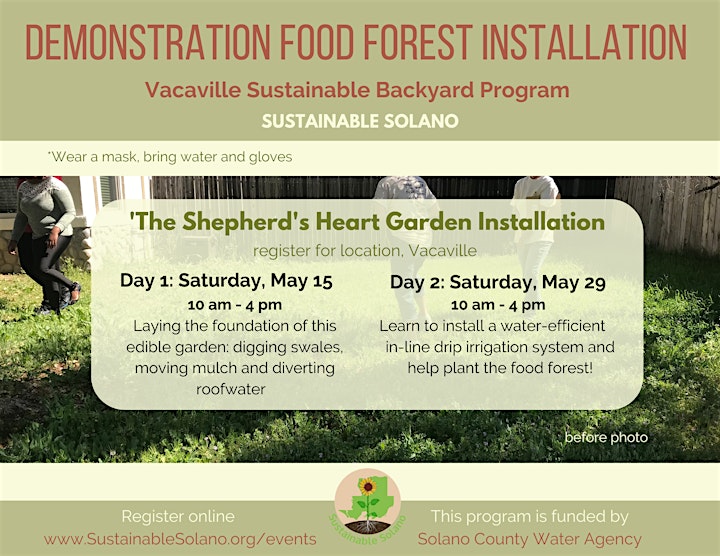 Organizer of Vacaville Demonstration Food Forest Installation: Day 2 of 2