Vacations w/ Special Guests TBA
About this event
COVID-19 PROTOCOLS:
All concert goers must provide proof of a negative COVID-19 test within 72 hours prior to entry, in order to attend this show. As an alternative, proof of vaccination may be voluntarily presented by the attendee, instead of a negative COVID-19 test result.
An original copy, photocopy or electronic picture of this documentation is acceptable. A Photo ID is required to match the name on your test results or proof vaccination. A date and time stamp must be present on your test results. At home tests are acceptable. If you have lost your vaccine card, please contact your point of vaccination or local health department for a copy.


Furthermore, we'd also like to encourage voluntary mask-wearing while indoors at these events, unless actively drinking and/or eating.
------------------
Hailing from Newcastle, Australia, VACATIONS is an indie alt band making waves across the globe. Their music encapsulates a dreamy intention, soundtracking moments in everyday life. In 2020 their song "Young", which has amassed over 450K video uses on TikTok and a cumulative 50M streams, went viral from being featured as the backdrop to a TikTok user's collage of scenes from the British TV show Skins and the Knock Knock trend. The momentum is far from slowing down with 10M+ Spotify streams in the past month alone and pressing towards 1M total catalogue streams.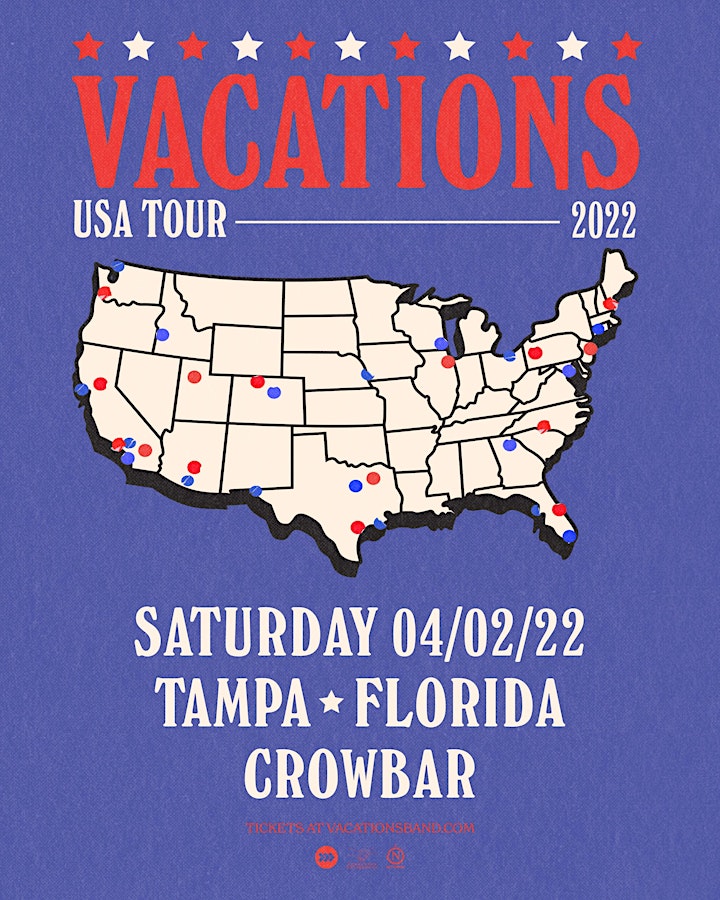 We've been promoting ALL SORTS of MUSIC ( Alternative / Americana / Avant-Garde / Blues / Country / Dub / Electronic / Emo / Experimental / Folk / Garage / Hardcore / Hip-Hop / IDM / Indie / Jam / Jazz / Latin / Lo-Fi / Metal / New Wave / Noise / Pop / Progressive / Psychedelic / Punk / R&B / Reggae / Rock / Rockabilly / Ska / Surf / Etc ) for ALL SORTS of PEOPLE in the greater TAMPA / ST. PETERSBURG area since 1997! Eternal thanks to everyone that's contributed and/or supported!!!