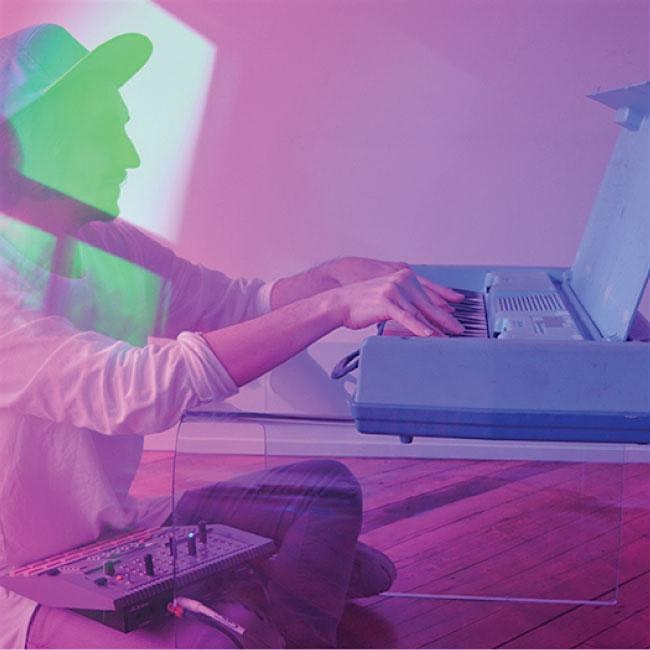 About this Event
The third full-length from Vacationer, Mindset is built on delicate melodies and crystalline rhythms that seem to alter the very texture of the world around you. Ornately composed but breezy in energy, Vacationer's warm-hearted dream-pop perfectly mirrors frontman Ken Vasoli's intentions in making the album. "The objective was to write songs that remind me how my brain needs to operate for my own wellbeing and happiness," Vasoli says. "That's where the title comes from—the record's filled with all these reminders that put me in a good mindset for the day."
Despite its often-euphoric effect, Mindset began in frustration for Vasoli. After countless false starts on the follow-up to 2014's Relief, the Philadelphia-based musician decided to completely upend his creative approach. While Vacationer's previous albums came to life in close collaboration with fellow members Matthew Young and Grant Wheeler, Vasoli shifted his focus from songwriting to production and worked entirely on his own for months on end. During that time, he immersed himself in exploring the nuances of Ableton and analyzing the construction of beloved albums by artists like the Beach Boys, Barry White, and Curtis Mayfield.
"Those albums feel like the magic moments that I'm always chasing after in my own music," says Vasoli, who co-founded Vacationer in 2010. "It's such an unbelievable display of production and composition happening at the same time, and it inspired me to keep that integrity of '60s and '70s record-making while using the technology that I'd been studying."
With his love for making music reignited, Vasoli locked in his vision for Mindset upon penning a song called "Entrance": a lush and luminous track that opens the album with swirling harp arpeggios and shimmering synth. On "Magnetism," Vacationer maintains that dreamy mood and reveals the band's newly embraced experimental sensibilities with its gently dizzying arrangement. Described by Vasoli as "a love record in every sense of the word," Mindset also delivers a valentine to his dog Waldo with "Strawberry Blonde," an uptempo serenade infused with sweetly guileless storytelling. And on the sublimely hazy "Being Here," Vacationer matches flashes of psychedelia with softly instructive lyrics capturing the message at the heart of the album ("Seeing the trees for the leaves/And all the grass for the weeds/Going to sleep for the dreams").
When it came time to sculpt Mindset's elaborate yet unfussy soundscape, Vacationer paired up with producer Daniel Schlett (selected for his ambitious and masterful work on Ghostface Killah's 36 Seasons). "I was talking to Daniel about that Ghostface record and how I couldn't believe there were no samples on it, and he just looked me and said, 'Oh—you wanna use the studio as an MPC,'" recalls Vasoli, referring to MPCs as "the classic stand-alone sampler and gold standard in beat-making." Working at Schlett's Brooklyn studio Strange Weather, Vacationer enlisted a cadre of world-class musicians to offer their interpretations of Vasoli's demos. "I can only imagine how it felt for Brian Wilson to make Pet Sounds, and I'm not comparing the experiences at all, but I got a taste for what it's like to see your ideas played out by people with some amazing abilities," Vasoli says. Once they'd completed those recordings, Vasoli and Schlett assembled the album by merging elements of the live performances with the electronically crafted material from Vasoli's home studio. "We dismantled everything, then chose what we wanted to use from different sessions," says Vasoli. "We had a total blast sampling the players, sampling ourselves, and deciding what to leave raw." 
At the end of the years-long process of creating Mindset, Vasoli found himself more self-assured in his artistry. "I used to always feel like I was in over my head, but now I feel so much more empowered to take my ideas and get them down on tape in a way that's true to what I hear in my mind," he says. Not only key in shaping the album's distinct and elegant sound, that sense of self-possession ultimately reflects the essence of Mindset. "A lot of this record is about experiencing things as they happen, and not giving into the pressure of anxiety and depression—especially since those things are so easy to creep up on you," says Vasoli. "That was a big struggle for me to get out of in the early stages of this album, but then the music I was working on ended up being my solution. My hope is that it works the same way for anyone who hears it."