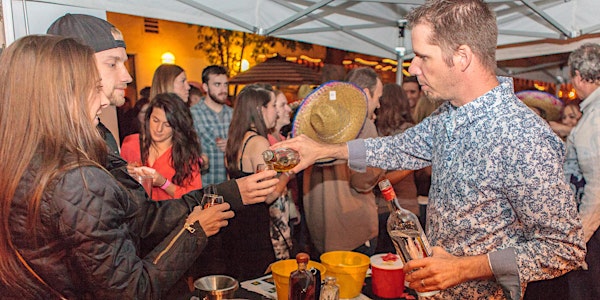 V1 - (Almost Sold Out) 2019 Denver Summer Tequila Tasting Festival (July 27)
When and where
Location
Blake Street Tavern 2301 Blake St Denver, Colorado 80205
Description
"Test Your Taste Buds"
Calling all tequila lovers and connoisseurs...
Take your taste buds on a flavor adventure at The Denver Summer Tequila Tasting Festival taking place Saturday July 27, 2019 at Blake Street Tavern presented by Social Scene.
From Blanco, Reposado, Anejo or even Mezcal… your taste buds will be in heaven as you sample dozens of amazing tequila & agave varieties.
Now the real question is… which brand and variety will give you the mouthfeel and leave your taste buds asking for more?
Lock in your tickets ASAP! This event has a limited number of tickets available and will SELL-OUT…
As an additional BONUS with your ticket sale, you'll be entered to WIN the trip of a life-time to visit Mexico!
Signup for future promotions today and SAVE $5 on your Summer Tequila Tasting Festival ticket.
Check In Location: Blake Street Tavern (2301 Blake St) - $5 Cup of Ceviche For Tequila Pairing And All Of Weekend Specials Will Apply: $5 Pint of Leinenkugel's Summer Shandy, $5 Stoli & Flavors, Milagro Silver & Reposado, $6 Jack Daniels & Flavors, $9 Dew & A Brew (Tullamore D.E.W. Irish Whiskey Shot & Any Canned Beer), $13 Blackened Chicken Sandwich with Crunchy Crinkle Cut Fries
Ticket Options
Join our larger group during our afternoon tequila tasting experience with our VIP and GA tickets options:
VIP Tickets (3:30-6:00PM)
Two and a half [2.5] hour tequila tasting
15 Tastings + More w/100% To Charity
Small bites 3:30-4:00PM
Additional food and drink specials
Enter early, beat the crowds and lines
Additional 30 minutes to taste and meet the brands, compared to GA tickets
Fun giveaway
General Admission (4:00-6:00PM)
Two [2] hour whiskey tasting
15 Tastings + More w/100% To Charity
Additional food and drink specials
Discount for groups with 4 or more
During the afternoon tequila tasting experience, you'll enjoy dozens of tequila varieties from the following brands:
Aguamiel Blanco Tequila - www.aguamieltequila.com
Bombas Tequila - www.speakeasywineandspirits.com
Don Julio Tequila - www.donjulio.com
Dulce Dorado Honey Tequila - www.dulcedorado.com
Dulce Vida Tequila - www.dulcevidaspirits.com
Get Hot Tequila - www.gethottequila.com
Grand Mayan Tequila - www.gmtequila.com
Ixa Tequila - www.greenbardistillery.com/ixatequila
Keel Vodka - www.keelvodka.com
Maestro Dobel Tequila - www.maestrodobel.com
Mexican Moonshine Tequila - www.mexicanmoonshine.com
Mezcal de Leyendas - www.mezcalesdeleyenda.com
Peloton de Muerte Mezcal - www.pelotondelamuerte.com
Sparkle Donkey Tequila - www.sparkledonkey.com
Suavecito Tequila - www.suavecitotequila.com
Sunora Bacanora Tequila - www.sunorabacanora.com
Tequila Mi Campo - www.tequilamicampo.com
Yolo Rum - www.yolorum.com
Sponsored by: Home Food Services - www.homefoodservices.com
Charity We Support: Purposity - www.purposity.com
FAQ:
I saw a cheaper price the other day, will you price match?
Unfortunately, Social Scene does not price match, refund, or offer credits. Prices might go up or down as different promotions are offered. We encourage you to purchase your ticket ASAP to avoid this issue.
What do I need to check in?
Please be prepared to show your Eventbrite ticket with QR code on a mobile device or a printed ticket.
Do you provide transportation?
We do not provide transportation however, we have partnered with Lyft. New users will receive $5 off their first ride using promo code "BeSocial"
Unable to attend?
Unfortunately, there are no refunds, but we do allow tickets to be transferred to a friend. Simply login to your Eventbrite account, select transfer and edit the attendee info.
Any additional questions feel free to email us connect@besocialscene.com.
Check out who is going on Facebook.
https://www.facebook.com/events/843922049308576
Join The Be Social Movement & Earn $$ & Perks For Sharing With Friends
https://www.eventbrite.com/affiliate-register?eid=48732940537&affid=225728601