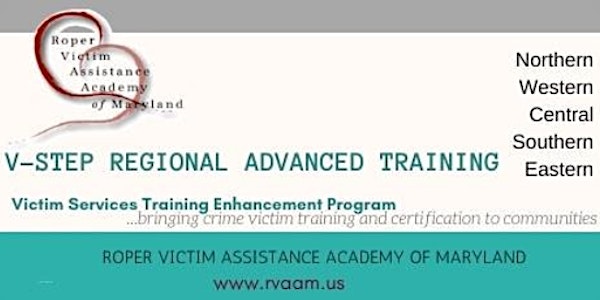 V-STEP WEBINAR: Victim Assistance Certification Program (May - September)
This one hour training will provide a brief introduction of the basic steps to becoming a certified victim assistant professional
About this event
ROPER VICTIM ASSISTANCE ACADEMY OF MARYLAND (RVAAM), University of Baltimore
Victim Services Training Enhancement Program (V-STEP)…Bringing Crime Victim Training and Certification to Maryland Communities
(This training is in Eastern Standard Time)
Tuesday, May 23 ~ 10:00 AM - 11:00 AM
Thursday, June 23 ~ 9:00 AM - 10:00 AM
Wednesday, July 27 ~ 10:00 AM - 11:00 AM
Wednesday, August 24 ~ 10:00 AM - 11:00 AM
Monday, September 19 ~ 10:00 AM - 11:00 AM
Training Contact: Anne Litecky, VASIII, Program Coordinator, 410-837-5055, alitecky@ubalt.edu
TITLE: Maryland Victim Assistance Certification Program (MVACP)
TRAINER: Debbie Bradley, C.A., VASIII 410-638-4905 or bradleyd@harfordsheriff.org
In order to receive a Certificate of Training, participants video cameras must remain on during all V-STEP Webinar trainings.
What does it mean to be a Certified Victim Assistance Professional in Maryland?
This brief introduction will provide the basic steps to becoming a certified victim assistant professional. Learn how service providers in other states are using certification to their benefit. Becoming certified is easy!
Certification Processing Certification application assistance Qualification preparation Information gathering Qualification Processing
Time and space for filling out certification application
NOTE:
RVAAM selected curriculum has been approved for specific professions (e.g. social work, law enforcement, corrections, probation/parole) Participants will receive Continuing Education Units (CEUs), and are welcome to ask for academic credits. All participants will receive a Certificate of Training (1 credit per hour).
2020 V-STEP: Regional Victim Services Advanced Trainings are held in 5 regional locations across Maryland. Please contact Anne Litecky, V-STEP Program Coordinator for information or to schedule a training at your agency or organization.